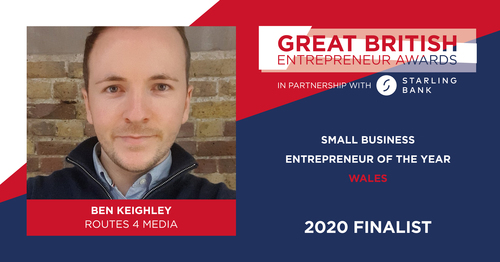 'Founder of Routes 4 Media digital ad agency receives national nomination'

Against the backdrop of a global health crisis and ongoing economic uncertainty, Cardiff-based Entrepreneur Ben Keighley has received a shortlisting for the 'Great British Entrepreneur Awards 2020'. The shortlisting process has seen a plethora of worthy nominations from across the United Kingdom, whittled down to only five finalists in each category.

Encompassing the entire UK, the 'Great British Entrepreneur Awards' is an annually held event designed to recognise, celebrate and support the achievements of entrepreneurs from the four nations. Cardiff-based entrepreneur Ben Keighley has been announced as a finalist in the Welsh region's 'Small Business Entrepreneur of the Year' category, in a field of strong competition.

Ben commented: "I'm delighted to have been told my nomination has been shortlisted as a finalist in this category. I'm passionate about what I do...
Read full release