Short term rental sector creates an economy of new jobs – case study and pic included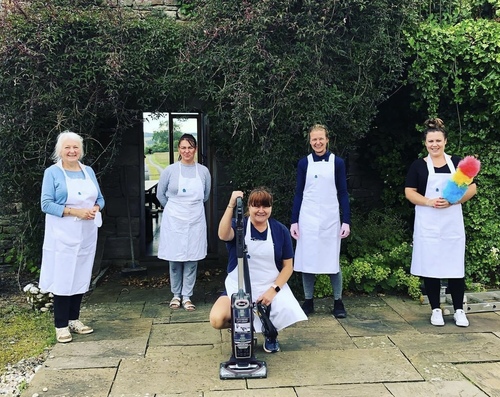 The growth of the short term rentals sector has helped to create an economy featuring several new types of jobs that benefit local communities and fit the demand for more flexible ways of working, according to the UK Short Term Accommodation (STAA), the organisation that represents the industry.

A recent report by Oxford Economics, that was commissioned by Sykes Holiday Cottages in conjunction with the STAA, showed that the short term rental sector contributed £27.7bn to the UK economy in 2021 alone - the equivalent of 1.4% of GDP - sustaining nearly half a million jobs.

The biggest positive contribution was found in geographical communities that are more reliant on tourism and in rural areas where there is typically a lower than average level of household income. In some areas, short term rentals activity contributes up to 4% of their GDP. The sector also boosted the UK Exchequer to the tune of £4.6bn in taxes.

A key element of the positive economic impact the short term rentals sector has on communities is in the creation of new jobs for local people. The STAA has identified three new roles that people in local communities are undertaking to earn valuable income, vital in the current cost of living crisis, thanks to the flexibility of hours and the new tasks that need to be delivered:

• Multi-property housekeeper (see case study below)– operating mainly between mid-morning check-outs and late afternoon check-ins, they carry out housekeeping duties for a number of private properties being let out. Their tasks include restocking kitchens and bathrooms, cleaning and tidying, organising the laundry and preparing welcome packs. These roles are proving to be attractive to parents with school-aged children who have time free between the school drop-off and pick-up.

• Maintenance handyperson and gardener – operating mainly during daylight hours but on call outside of these times, they take care of the gardens and their furniture, do running repairs on the property and its appliances, carry out maintenance on things like bicycles and lawnmowers and take away rubbish to the recycling centre. These roles are proving attractive to people in their 50s and 60s who may have left the corporate workforce or taken early retirement but want to continue to earn a living with reduced and flexible hours that enable them to pursue a better quality of life.

• Meeters and greeters – operating at check-in and check-out times they welcome guests to properties, handing over the keys and providing instructions as well as offering useful information for the guests' stays such as recommendations for restaurants, places of interest to visit and leisure activities. They'll run through the use of appliances and things like rubbish disposal. They'll also come to see off guests to check everything is in order, that guests haven't forgotten anything and to get a review from them. These roles have proved to be attractive to students, especially during the university holidays when they have more time on their hands to earn extra cash.

Andy Fenner, CEO, STAA, said, "Many people simply underestimate or are unaware of the positive impact that the short term rentals sector has on the UK economy, especially in those areas of the country that are typically not best served by highly paid jobs. The Oxford Economics report highlights how important short term rentals are to many communities in rural Britain and illustrates just how many people benefit from their operation.

"The flexibility of hours the industry offers means that a whole wave of people who were previously unable to take up a full or even part-time job can now be employed to do important jobs that fit around their family or other commitments. The UK is a leader in this industry and we need to make sure that we enable it to grow responsibly to meet the increasing consumer demand for a 'home-from-home' holiday or business stay experience and continue to provide quality employment opportunities for local communities."

CASE STUDY OF A CLEANING BUSINESS - catering exclusively for short term rentals has seen its business double in the last 12 months

Lisa Telford from Cumbria is the founder of Signature Concierge Housekeeping that she started in April 2019 to provide housekeeping, management and maintenance services for holiday lets. It also offers a towel and linen hire service and organises gardening, window cleaning, safety certificates and decorating, using local companies.

Lisa, a teacher by profession, also owns her own holiday cottages. Her co-director Lucy Raffel worked in hospitality for Center Parcs and also delivered cottage cleaning with another company before joining Lisa at SC Housekeeping.

They now look after 200 properties across Cumbria. 100% of its business is generated by short term rentals, many of which are let via Sykes Holiday Cottages. The company's turnover and number of properties they look after has doubled year-on-year from 2020 and has recently expanded its areas of operations to include the Yorkshire Dales, West Northumberland, Gretna and the Borders and North Lancashire.

It employs 95 part time cleaners from the local areas and all of its supplies are bought from local companies. Any work that is outsourced such as maintenance, decorating and safety certification is done by local tradespeople. Because everyone they employ and suppliers SCH uses are from the local area the properties are located in, the vast majority of the revenue generated and paid in wages goes back into the local economy.

Lisa said, "If there was a decline in tourism and short term rentals in Cumbria, the local economy would be severely damaged. This can be evidenced by looking at the turnover of the majority of retail, leisure and hospitality in the area on a seasonal level. We are now also launching a concierge services company to link local providers directly with guests who are already booked to come to the area thus adding value to our business and supporting other local companies."

[ ENDS ]

Notes to editors
For STAA media enquiries, please contact:
Rob Davies at oneonone communications, rob@oooc.co.uk 07709 366310

Sources
The socio-economic impact of short-term lets in the UK – a review by Sykes Holiday Cottages and Oxford Economics, Sept 2022

About the STAA
The UK Short Term Accommodation Association (STAA) was founded in March 2017 to support the development of short-term accommodation in the UK, ensure greater co-operation in tackling common industry challenges and seize shared opportunities. It seeks to work with all stakeholders towards a stable and supportive regulatory environment that promotes the UK as a global leader in the provision of short-term accommodation.
This press release was distributed by ResponseSource Press Release Wire on behalf of OneOnOne communications in the following categories: Business & Finance, Travel, Construction & Property, for more information visit https://pressreleasewire.responsesource.com/about.