Drink Interesting this Summer, with Seedlip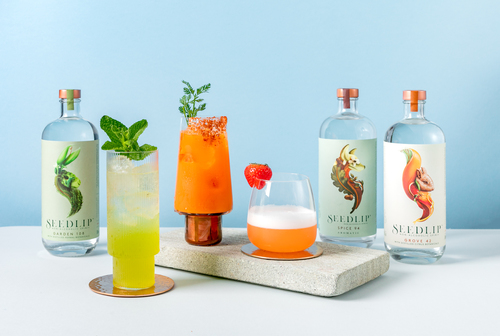 Join Seedlip this summer and redefine the art of drinking interesting. Savour the unparalleled taste, indulge in the alluring botanics, and create delicious alcohol-free cocktails.

Revel in refreshing company and make the most of moments together, with delicious bold cocktails, perfect for BBQs and summer parties. Embrace the essence of summer like never before with Seedlip Spice 94, Seedlip Garden 108, and Seedlip Grove 42, and embark on a remarkable journey of flavour and fascination.

So go on, what are you waiting for? The usual doesn't cut it anymore. Drink Interesting this summer, with Seedlip

You can purchase your Seedlip alcohol-free spirits on Amazon or better yet, feel inspired and try a delicious alcohol-free cocktail at The Ivy, Bacchanalia, Sexy Fish, Hakkasan, Yauatcha, Public, Gatsby, Cottonopolis or New Century Kichen.

Seedlip Grove 42 (0% ABV)
If a burst of zest and vibrancy is what you desire, look no further than Seedlip Grove 42. Crafted with a tantalizing blend of sun-ripened oranges, mandarins, and lemons, this invigorating nectar awakens the senses and brings forth a radiant burst of citrusy joy. Seedlip Grove 42 will be your trusted ally in making the most of the sunny days, infusing your summer with a delicious taste.

RRP: 70cl, £22*, ABV: 0%, Available at Amazon

Seedlip Spice 94 (0% ABV)
Seedlip Spice 94 boasts an enchanting fusion of warm, aromatic spices, beckons adventurers and connoisseurs alike to embark on a sensory journey. This refined alcohol-free spirit tantalizes the taste buds with the aromatic harmony of allspice berries, cardamom, and pepper, perfectly balanced to deliver a distinctive, full-bodied experience. So create a delicious cocktail with Seedlip Spice 94 this summer, and stir up your spirit of wanderlust.

RRP: 70cl, £22*, ABV: 0%, Available at Amazon

Seedlip Garden 108 (0% ABV)
For those seeking the essence of tranquility and serenity, Seedlip Garden 108 beckons with its vibrant, herbaceous blend. Immerse yourself in the refreshing notes of hand-picked peas, rosemary, and thyme, masterfully crafted to deliver a crisp and invigorating sensation. This revitalizing alcohol-free spirit is the ultimate companion for moments of relaxation, be it basking in the sun or enjoying a laid-back picnic.

RRP: 70cl, £22*, ABV: 0%, Available at Amazon Amazon

*Pricing is at the discretion of the retailer.
This press release was distributed by ResponseSource Press Release Wire on behalf of Taste Communications Limited t/a Taste PR in the following categories: Health, Home & Garden, Food & Drink, for more information visit https://pressreleasewire.responsesource.com/about.