Gees Restaurant & Bar Brings Back Express Lunch Menu!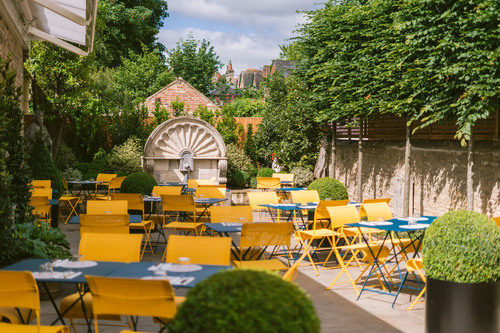 7th September 2023, Oxford, UK — Gees Restaurant & Bar is thrilled to announce the return of their highly anticipated Express Lunch Menu which started on Monday 4th September. The new menu is available weekdays, Monday to Friday (excluding Bank Holidays), from 12:00 to 6:00 pm.

Served alongside their All Day Menu, this new addition offers a lighter dining option catering for those looking for a quick lunch break, casual midday indulgences, and energising business meals.

After a brief hiatus due to a stunning refurbishment that took place last year, Head Chef Lee Parsons and his dedicated team are excited to revive this tradition, one that has contributed to Gees' well-deserved reputation as a beloved neighbourhood gem, embraced by both locals and visitors.

"The return of the Express Lunch Menu is an exciting moment for all of us at Gees. It's a chance for us to weave together the diverse tastes of the Mediterranean into a concise, simple and delicious dining experience. It's the kind of lunch you'll want to sneak away from work for, and honestly, we're just excited to share it with you again." says Head Chef Lee.

Like Quod, its sister restaurant also by The Oxford Collection, Gees' new offering features an enticing two or three-course selection for a set price: two courses for £23.50 or three courses for £27.50.

The re-launch on Monday the 4th of September showcases Gees' signature Mediterranean style with dishes inspired by the regions of Spain and Italy throughout the year. Expect a celebration of flavours, an homage to the seasons, and a warm invitation to savour something exceptional.

A few opening dishes include…

Figure 1 'Artichoke, fig and prosciutto pizzetta'
Figure 2 'Grilled red mullet, new potatoes and romesco'
Figure 3 'Churros with chocolate sauce'

Reservations for the Express Lunch menu are now open and can be booked online or by phone on 01865 553540.
With its rich history and newly enhanced setting, Gees Restaurant & Bar invites everyone to come and enjoy an unforgettable lunchtime experience be it in their Victorian glasshouse or the new 'Secret Garden' while the sun lingers…

____________________

Notes to Editors
1. When writing "The Oxford Collection", please ensure the 't' in 'the' is capitalised.
2. When writing the name of 'Gees Restaurant & Bar', please ensure there is no apostrophe in-between the last 'e' and 's' of 'Gees'. Please also ensure you use the ampersand when writing out the full name of the brand.
3. Images are embedded for reference. High-resolution images are available on request.

About Gees Restaurant & Bar

Gees Restaurant & Bar is a bustling, independently-owned, restaurant, bar, and terrace set within North Oxford's famous Grade II listed Victorian conservatory, once home to the Gee family's greengrocers and floristry, on Oxford's Banbury Road, just a ten-minute walk away from Oxford's bustling city centre.

Enjoyed by locals and visitors alike since 1989, Gees serves a distinctly Mediterranean-inspired menu using the best seasonal ingredients, simply prepared and expertly cooked, featuring regional dishes of Spain, Portugal, Italy and France.

The light-filled conservatory amidst olive trees and plants is an Instagram-worthy setting, complimented by 'Gees Gallery', an adjacent private dining space for up to 30 guests, and 'Gees Secret Garden'; a covered and heated private terrace for up to 60 diners.
Address: 61-63 Banbury Road, Oxford, OX2 6PE

Capacity:
• Glasshouse: 80
• Front and side terrace: 30
• Secret Garden: 60
• Gees Gallery: 30

Telephone number: 01865 553540
Website: https://www.geesrestaurant.co.uk/
Facebook: www.facebook.com/geesrestaurant
Instagram: www.instagram.com/geesrestaurant
Twitter: www.twitter.com/GeesRestaurant
LinkedIn: www.linkedin.com/company/geesrestaurant

About The Oxford Collection

Founded by experienced hotelier Jeremy Mogford in 1982, The Oxford Collection is an independently owned collection of two 5-star plus luxury hotels and three restaurants, all in central Oxford.

Both hotels; the Old Bank and Old Parsonage, are situated in historic landmark buildings within easy reach of the most popular attractions in the city centre, and are the best places to stay in Oxford.
The restaurants; Quod, Gees and Parsonage Grill, are Oxford's most popular destinations for visitors to the city and locals alike for breakfast, lunch, afternoon tea and dinner. They believe in sourcing local ingredients where possible, expertly prepared dishes and beautiful presentation.

The Oxford Collection prides itself on being an innovative, independent, family company and believes in good quality food, drink and equipment to do the best job and provide the highest level of service. It employs over 200 "collectives" who each have their own personalities that bring The Oxford Collection's individual brands to life.

Website: https://www.theoxfordcollection.co.uk/
Recruitment: https://www.theoxfordcollection.co.uk/work-with-us/
Facebook: https://www.facebook.com/TheOxfordCollection1987
Instagram: https://www.instagram.com/the.oxford.collection/
Twitter: https://twitter.com/theoxcollection
LinkedIn: https://www.linkedin.com/company/theoxfordcollection

For all press enquiries please contact: Tamara de Jong, Head of Marketing, The Oxford Collection: tamara.dejong@theoxfordcollection.co.uk. 01865 517541
This press release was distributed by ResponseSource Press Release Wire on behalf of The Oxford Collection in the following categories: Leisure & Hobbies, Food & Drink, Travel, for more information visit https://pressreleasewire.responsesource.com/about.