KinderPerfect - a new Cards Against Humanity-type game for parents - launches in the United Kingdom with Chaos Cards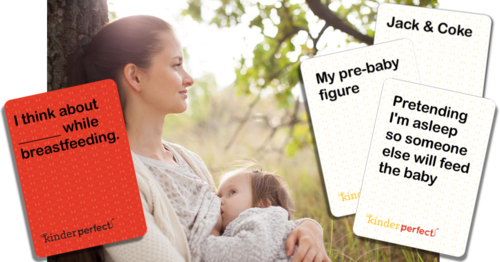 We created KinderPerfect because we wanted a Cards Against Humanity-type game that would speak to our experiences as parents of young children
FOLKESTONE, KENT, April 27 /For Immediate Release/ - - U.K parents and parents to be, can now enjoy KinderPerfect - a new Cards Against Humanity-type card game for parents - through an exclusive distribution partnership and special stretch goal.

Chaos Cards, the number one source for collectible trading cards and accessories in the UK, will be introducing to the UK market, KinderPerfect, the highly-acclaimed card game by KinderPerfect LLC, a USA-based game design company.

"We are excited to introduce KinderPerfect to UK parents," said Anthony Skinner of Chaos Cards. "KinderPerfect is a unique way for parents to laugh about the challenges of parenting in a family-friendly card game."

KinderPerfect is a word association game like Cards Against Humanity and Apples to Apples, but with a twist that every parent will appreciate. Players compete to answer questions like, "Why is mummy mad?" or "What is that smell?" with 200 casino-quality cards created from over 5,000 entries sent in by parents in the USA, Canada, and the U.K.

"We created KinderPerfect because we wanted a Cards Against Humanity-type game that would speak to our experiences as parents of young children," said Amy Vota, co-creator of KinderPerfect. "We are always asking ourselves, 'Why is mummy mad?' and now we have the answer, 'Chasing poop in the bathtub... again!' or 'Another damn stuffed animal' which every parent can relate to."

KinderPerfect can be played at Mum's Night Out, baby showers, birthday parties, or anywhere else that parents congregate and share the voyage of discovery that is parenthood.

"KinderPerfect is a great game to play with family, or other parents," said Wayan Vota, co-creator of KinderPerfect. "It is as fun as Cards Against Humanity, and has plenty of innuendo for parents, but it is clean enough to play with my own mother or when children are running around the room."

++ Availability

KinderPerfect is available for pre-order on Kickstarter until the 10th of May, and then on Chaos Cards through December 31, 2016. The Kickstarter has already raised over $14,500, exceeding the original funding target, and new stretch goals were announced, with one specific to the UK market.

If the KinderPerfect Kickstarter receives 300 or more U.K pre-orders by the 10th May 2016, KinderPerfect backers in the U.K will receive a special mini-expansion pack of British parental humor.

++ Reader Offers

UK parents can submit card ideas and host Design Parties to help develop the game.
- Card ideas that are used in the final game will be rewarded with a free deck.
- Deign Party hosts will receive prototype cards to play with an a stipend for refreshments.

++ Previous Coverage

KinderPerfect is already generating positive press in the USA, with media coverage including:

- Good news, parents! There's now a version of "Cards Against Humanity" that you can really relate to. - Parenting
- KinderPerfect is the perfect excuse to pour a little (or a sh*tload) of wine and hang out with like-minded friends. - Scary Mommy
- You're Going to Love This Cards Against Humanity Parody Made Just For Parents -PopSugar
- 'Cards Against Humanity' Fans Make An Ingenious Version For Parents - HuffPost Parents
- Hilarious game is like Cards Against Humanity — for parents! - BabyCenter

++ Press Contacts

Wayan Vota
wayan@kinderperfect.com
+1.202.746.8269

More information, media background, and visual assets for media use can be found here.

++ About KinderPerfect LLC

KinderPerfect LLC was founded by Wayan and Amy Vota, parents of two daughters, 5 and 7 years old. Wayan Vota is a co-founder of JadedAid, a card game to save humanitarians that was successfully launched on Kickstarter in 2015. Amy Vota is a co-founder of several parents groups in Washington, DC, USA.

The KinderPerfect card game is being co-developed through an extensive collaboration process between parents in the USA, UK, and Canada. There are multiple Design Parties for game testing and anyone can submit a card idea – if it is used in the final game, the submitter will receive a free card deck.

++ About Chaos Cards

Chaos Cards are the number one source for collectable trading cards and accessories in the United Kingdom. Products range from Pokemon Cards and Tins to X-Wing Miniatures and Yu-Gi-Oh Cards. Headquartered in Folkestone, Kent, Chaos Cards services the United Kingdom with same weekday dispatch and free shipping on orders over 20GBP.

Chaos Cards is the official distributor in the United Kingdom for Arcane Tinmen, Dek-Prot, Ultimate Guard, Mantic Games, Gery Fox Games, HCD Supplies, Prodoss, Player's Choice, Monster Protectors, Dex Protection and now KinderPerfect.
This press release was distributed by ResponseSource Press Release Wire on behalf of KinderPerfect in the following categories: Entertainment & Arts, Leisure & Hobbies, Women's Interest & Beauty, for more information visit https://pressreleasewire.responsesource.com/about.