Employment: Key EU Referendum Questions Answered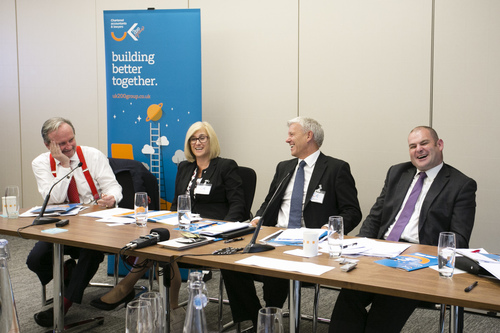 the UK200Group asked its members and their clients to contribute their most important business questions
As part of its commitment to the small and medium-sized enterprise (SME) business community, the UK200Group has launched its Campaign for Clarity ahead of the EU Referendum on June 23.

With this in mind, the UK200Group asked its members and their clients to contribute their most important business questions to a document that was then submitted to Britain Stronger in Europe and Vote Leave. The answers were received between May 12 and 24 2016 and are documented in the report.

The UK200Group, established in 1986, represents a significant group of trusted, quality-assured business advisers – chartered accountants and lawyers – who have over 150,000 SME clients in total. As such, the UK200Group acts as the voice for 1,500 charities, over 10% of all registered academies, more than 3,700 farms, 800 healthcare businesses and over 500 property and construction professionals.

Below are the answers to the key employment questions. The Remain camp, as the nearest to status quo, has had its answers listed first, followed by those of the Leave camp.

The UK200Group is impartial in the EU referendum debate and seeks only to provide clarity to its members on issues that will affect them. As such, the following answers are provided verbatim from Britain Stronger in Europe and Vote Leave and are combined for the first time in this document.

1. Many SMEs cannot find the skills they need to do the work they have, so free movement of people is important. How will SMEs' ability to find and retain the right people be affected? This applies across the board, from minimum wage workers to skilled professionals.

Remain:

Within the EU, small businesses can draw on skilled labour from across Europe with no red tape or complications. Were we to leave the EU, many businesses would find it harder to recruit the brightest and best to help them grow and create jobs.

Leave:

After we Vote Leave, the UK Government could introduce an immigration system that is fair and works for the UK's economic interests. The EU's immigration system is immoral, expensive and out of control. EU law demands that the UK has an open door to European countries, while simultaneously stopping highly skilled people from outside the EU coming to the UK to contribute. This has resulted in large numbers of people from across Europe coming to our country.

2. The UK relies on the freelance community to provide a highly skilled flexible workforce, as do most other EU countries. With so many UK freelancers physically working elsewhere in the EU or at least their clients being based there, having unified and relatively simple VAT rules combined with mobility of labour is key. There is enough red tape in operating a small limited company – will leaving the EU help or hinder this business model?

Remain:

Leaving the EU single market would prove a nightmare for any business that wants to recruit or trade with the EU. Independent experts at the LSE have pointed out that if Britain left the EU it would lose access to the coordinated VAT collection of the EU, so a 20% VAT would need to be paid at the UK border and the importer would no longer have the convenience of combining this with domestic VAT payments.

Leave:

After we Vote Leave, our VAT rules would no longer be determined by EU law. The Government accepts that VAT rules for cross-border trade 'can be complex and confusing' and that 'UK businesses also experience delays in the processing of cross-border VAT refunds in some EU Member States'. The annual cost of completing VAT declarations in the EU is estimated to be €40 billion (BIS, February 2014).

Outside the EU's common system of VAT, we could simplify VAT rules substantially. After 40 years of membership, only around 6% of British companies export to the EU, but 100% are caught by EU red tape and have to comply with the full burden of EU regulation (Business for Britain, January 2014). This is damaging. If we take back control we can run our economy in the interests of millions of small businesses and entrepreneurs.

3. At present the freedom of movement within the EU allows the NHS to fill staff shortages with workers from outside the UK. What would happen to this is we were to leave the EU? Would there be restrictions on recruiting new staff and would this result in a shortage of skilled workers?

Remain:

Over 100,000 EU nationals work in the health and social care sector. If we left Europe, our ability to staff the NHS would be put at risk, causing waiting times to go up and the quality of care to go down.

Treasury analysis shows that the economic damage from leaving would leave our tax receipts facing an annual £36 billion black hole. That's the equivalent of NHS England losing over a third of its budget. Hospitals, ambulance services, and health professionals are all at risk if we leave Europe.

The people campaigning to leave the EU, including Nigel Farage and Vote Leave Director Matthew Elliot, have for years campaigned to privatise the NHS. They can't be trusted with the NHS.

Just 1% of government spending goes to the EU, about £7 billion. If we left the EU, the Treasury estimates public spending would be hit by £36 billion. It's simply not true that leaving the EU would free up resources for the NHS. It won't. Leaving means less money for the NHS, not more.

Leave:

EU freedom of movement rules actually undermine patient safety. Despite the General Medical Council's objections, EU law requires the UK to recognise automatically the qualifications of doctors trained in other EU member states. 10.9% of doctors registered in the UK qualified in another EU member state. EU law means it is not possible for the General Medical Council (GMC) to require all EU doctors currently practicing in the UK to undergo systemic language tests (European Commission, 22 June 2011).

Whilst it is true that the UK is more reliant than many other countries on foreign healthcare professionals, a vote to leave the EU would allow the UK to recruit more highly skilled healthcare professionals from outside the EU. We would also have sufficient funds available to invest in training and retaining UK doctors and nurses.

According to the British Medical Association (BMA), one of the main causes of the junior doctors' strike is the end of automatic annual pay progression. If we Vote Leave on 23 June, we could afford to reintroduce automatic annual pay progression, which would cost just under £1 billion and is just 5% of our annual contribution to the EU (Vote Leave, 25 April 2016). We could also use savings from our contribution to the EU to prioritise training more doctors and medical staff in the UK.

4. If the UK leaves the EU, will workers be at risk of no longer being protected by the Working Time Directive?

Remain:

Workers' rights are protected by EU legislation, including entitlements to paid holiday of at least four weeks a year, maximum working hours, anti-discrimination laws and statutory paid maternity and paternity leave. If we left the EU, a future government would no longer be bound to adhere to these hard-fought protections and minimum standard.

Many of those campaigning to leave have called for worker's rights to be scrapped, viewing them as unnecessary red tape. Workers are better off in, and this is why over ten trade unions, including the TUC, Unite and Unison, have backed remain.

Leave:

The Working Time Directive (Directive 2003/88/EC) has given the European Court control over doctors' working hours. 71% of doctors think the Directive has had a negative impact on the continuity of patient care and has harmed medical training. 93% of surgeons did not agree with the statement that the implementation of the European Working Time Directive has benefited the NHS. An overwhelming majority of medical graduates (58% to 17%) say the Directive has not benefited the NHS. (Journal of the Royal Society of Medicine, 1 March 2016, link). The European Court will remain in control of doctors' working hours in the event of a vote to remain.

After we Vote Leave, it would be for the UK Parliament to legislate in this field, protecting workers' rights to not be overworked in a manner which is proportionate, ensuring that this does not have the harmful effect it currently does in undermining people's health. It would be for elected politicians and UK voters, or our own domestic courts, to decide these rules rather than unelected bureaucrats in Brussels and foreign judges in the European Court.

The full report can be found here. A video of the media briefing that launched the report can be found here.

Useful links:

The UK200Group: http://www.uk200group.co.uk/
Campaign for Clarity 30 Questions and Answers report: http://www.uk200group.co.uk/web/FILES/EU_Questions_answers_v...
Media briefing video: https://www.youtube.com/watch?v=K-fHaWkALac
Britain Stronger in Europe: http://www.strongerin.co.uk/
Vote Leave: http://www.voteleavetakecontrol.org/


ENDS

Media information provided by Famous Publicity. For further information, please contact George Murdoch on 0333 344 2341 or george@famouspublicity.com, Adam Betteridge on 0333 344 2341 or adam@famouspublicity.com or Tina Fotherby on 07703 409 622 or tina@famouspublicity.com.

On May 11, the UK200Group hosted a debate at which 30 questions from SME owners were given to leading politicians, who discussed the implications of a Remain or Leave vote. The questions were then given to the official Remain and Leave campaigns, and the report was put together between 12 and 24 May.

About the UK200Group:

The UK200Group was formed in 1986, and is the UK's leading association of independent chartered accountants and law firms, with connections around the world.

The association brings together around 150 member offices in the UK with more than 500 partners who serve roughly 150,000 business clients. Its international links in nearly 70 countries give its members access to expertise across the globe.
This press release was distributed by ResponseSource Press Release Wire on behalf of The UK200Group in the following categories: Education & Human Resources, for more information visit https://pressreleasewire.responsesource.com/about.