Peugeot Rolls Out Its BlueHDi Technology To The Boxer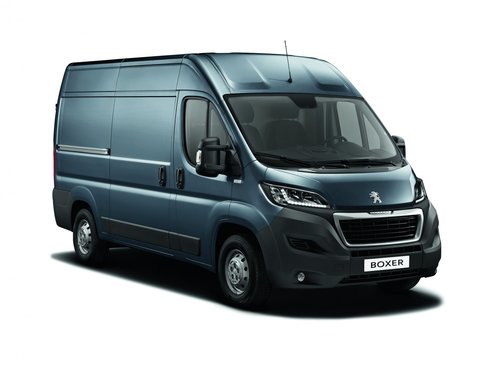 The Peugeot Boxer will now be available with a new range of 2.0-litre BlueHDi Diesel engines, designed and produced by the PSA Group.
Peugeot is completing the roll-out of its range of Euro 6 engines with the large van segment. The Peugeot Boxer will now be available with a new range of 2.0-litre BlueHDi Diesel engines, designed and produced by the PSA Group. BlueHDi technology has been tried and tested in Peugeot saloons and SUVs since 2013, treating up to 90% of NOx and 99.9% of even the finest particulates. Not only is it considered the most effective technology on the market for treating emissions; it has the added advantage of optimising fuel consumption and CO2 emissions. At the same time, Peugeot has extended the Boxer's range of new, modern and efficient features, to make life easier for professionals and motorhome customers.

Lower fuel consumption; higher performance

The new range of Peugeot Boxer 2.0-litre BlueHDi engines offers three power levels:

- 110hp and 300Nm, an increase of 50Nm compared to the previous engine
- 130hp and 340Nm, an increase of 20Nm compared to the previous engine
- 160hp and 350Nm, an increase of 10hp compared to the previous engine

The engines are paired with a 6-speed manual gearbox and Stop & Start technology is available across all of the versions.

The BlueHDi engines fitted to the latest Peugeot Boxer means it now has:

- record consumption levels for the large van segment, starting from 47.0mpg, with 154g/km of CO2, a reduction of 30g/km CO2 for the 130hp mid-range version
- The same payload and maximum speed as previous Euro 5 versions
- Acceleration and in-gear acceleration improved by up to 4.0 seconds for 0-62 mph and 8.0 seconds for 50 to 80mph for the 110hp version, respectively.

The BlueHDi technology incorporates SCR (Selective Catalytic Reduction) upstream of the additivate cleansing DPF (Diesel Particulate Filter). The engine options therefore meet the Euro6 standard with what is considered the most effective pollution control technology on the market.

The 15-litre AdBlue tank provides a range of approximately 6,200 miles. It's easy to fill up with AdBlue, due to the external filler flap which is located above the fuel filler and is also compatible with existing heavy goods vehicle AdBlue pumps at service stations.

The Peugeot Boxer offers competitive whole life costs, due mainly to its best-in-class fuel consumption and maintenance costs which rank amongst the lowest in the segment.

Design focused on quality and strength

The New Peugeot Boxer that was introduced in 2014 was the first step in the brand's ongoing process of improving its large vans. With design constantly focused on robustness and quality that stands up to use, they are now being fitted with new Euro6 BlueHDi engines which have been designed and produced entirely by the PSA Group.

The new engines have been made at the Tremery plant in France, which has allowed them to benefit from the proven expertise of a plant that has already made more than 12 million engines. They are based on the latest generation of 2.0-litre DW Diesel engines from the PSA Group, incorporating the Euro 6 BlueHDi technology that has already sold in excess of 1 million units.

The 2.0-litre BlueHDi has been proving its worth since the end of 2013, particularly in the Peugeot 508 and 308. The 2.0-litre BlueHDi versions for the Peugeot Boxer have been subjected to over 10,000 hours of validation on test benches and 1.3 million specific driving tests representing different types of heavy commercial vehicle use.

These include:

- Specific tests to boost the endurance and durability of the turbo and the exhaust manifold;
- Tests with a 50% greater load than for private vehicles;
- Tests in climatic chambers at -30°C and 6,000 extra cycles of thermal shocks compared to private vehicles, equivalent to 15 years of heavy use;
- Specific ground clearance and endurance tests of the exhaust pipe, with post-treatment spraying with water and mud.

New modern, effective equipment
The connectivity of the Peugeot Boxer has been enhanced, making it even easier for professionals to make their vehicles an extension of their offices: a holder for a digital tablet or smartphone, a USB connection and a 12V socket on the instrument panel to power them are now available as standard for the Professional version.

To make life easier at the wheel, the central glove compartment has now been replaced with a double cup-holder, a storage compartment and a compartment for a smartphone with a USB and auxiliary connection, as a standard or optional feature, depending on the level of finish.

For motorhome customers, the Peugeot Boxer features a shut-off function to preserve the battery life when the vehicle is parked for long periods, as well as new 'captain chair' seats, which are even more comfortable.

Finally, the Peugeot Boxer now comes with a new ESP system which is specific to back-to-back cabs with an AL-KO chassis. Its calibrations suit a wide range of wheelbases, creating additional options for converting the Peugeot Boxer. These applications are available for motorhome or professional variants, up to the heavy versions with 2 or 3 axles.

Range summary

• Two body styles: Panel and Window van
• Panel and Window van can be specified in four lengths (L1, L2, L3 and L4) and three heights for the Panel van and two in the Window van
• The range basic price (not including VAT) starts from £20,970, with Professional models from £21,970 and Window vans from £23,070.
• Standard Panel van: Loadspace between 8m3 and 17m3, Payload between 1115kg and 1900kg
• All models now feature: Bluetooth® with USB input, full steel buckhead, ESP, deadlocks
• Professional Panel van features add: Air Conditioning, alarm, cruise control and speed limiter, rear parking aid, touchscreen with integrated navigation


PEUGEOT

Since 1810 Peugeot has been producing durable products of excellence, since 1858 all are branded with the Lion logo – chosen to demonstrate strength, suppleness and swiftness to personify the durability of its products. As one of the earliest automotive producers, the Peugeot brand can trace its roots back to 1889 when it began producing automobiles and since then over 65 million vehicles have been produced, advancing technology with style and efficiency to enhance the customer experience. Demonstrated through its Brand signature 'Motion & Emotion', Peugeot is present in 160 countries, has 10,000 franchised Dealerships and is recognised the world over for the quality and design excellence of its products.

PEUGEOT UK

The UK is the third largest market for Peugeot with its UK Headquarters located in Coventry. The UK car line-up includes the 108, 208, 308, 508, 2008, 3008 and 5008 supplemented by people-carriers and a four-model van range that includes the Bipper, Partner, Expert and Boxer.

If you would like to keep up to date with the Peugeot UK Press Department activity and be the first to see what exciting new projects we are launching, please follow us on Twitter and Instagram:
www.twitter.com/PeugeotUKPR / www.instagram.com/PeugeotUKPR

For high-resolution downloadable images of the Peugeot product range, information and news stories, log onto the dedicated Peugeot Press website at: www.peugeotpress.co.uk (Newspress passwords apply)
Peugeot UK website: www.peugeot.co.uk
This press release was distributed by ResponseSource Press Release Wire on behalf of Peugeot in the following categories: Men's Interest, Motoring, Travel, for more information visit https://pressreleasewire.responsesource.com/about.