BAE Systems' Future Programmes & Services achieves Investor in Innovations standard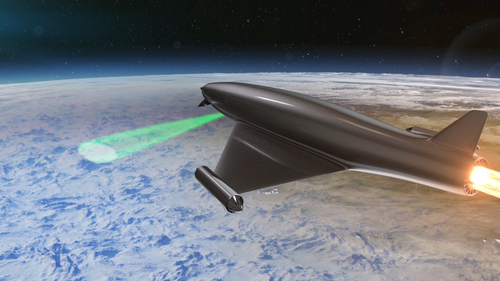 We're committed to creating an environment where we can be bold, innovative and forward thinking about the future of Military Air & Information."
The Future Programmes & Services (FP&S) arm of BAE Systems' Military Air and Information business has successfully been awarded Investor in Innovations standard from the UK's professional body for Innovation - the Institute of Innovation and Knowledge Exchange (IKE).

The award was presented to Michael Christie, Director of Strategy and Chief Technologist and Professor Nick Colosimo, Strategy and Planning Executive on 26th January at the Royal Society in London by Baroness Verma and Stephen Metcalfe, MP.

Receiving the award Michael said: "It's a real honour." Michael added,"We're committed to creating an environment where we can be bold, innovative and forward thinking about the future of Military Air & Information."

"This award has recognised the technologies we are developing, alongside other activities like establishing a technologist career structure and innovative working."

"The next step for us now we have achieved this standard, is to work closely with the IKE Institute to bring together the right skills, tools, metrics, processes, platforms, incentives, roles, and values to accelerate our innovative programmes both inside and outside our business."

Prof Sa'ad Medhat, IKE Institute's Chief Executive said: "Giants such as BAE Systems are often considered as being slow in responding and adopting innovations. However, the assessment team which included technology and innovation specialists as well as senior executives from large businesses has found FP&S' approach to innovation to be strategic and systematic. We found the company's innovation pipeline to be robust enough to meet BAE Systems' growth plans. The FP&S senior leadership team has been able to reconfigure the skills and assets and retool the business's management processes to assemble attractive innovation portfolios that strengthen its core products and services and explore new business opportunities in adjacent markets. This is a good sign that demonstrates innovation is becoming more and more integrated within the business."

End.

NOTES FOR EDITORS

About BAE Systems' Future Programmes and Services
(http://www.baesystems.com/)
BAE Systems is a global defence, aerospace and security company employing around 82,500 people worldwide. It's wide-ranging products and services cover air, land and naval forces, as well as advanced electronics, security, information technology, and support services.

The Future Programmes & Services (FP&S) is one of five lines of business within the Military Air & Information (MAI) Business Unit of BAE Systems Plc. FP&S consists of 600 staff. Its purpose is to:
• Develop cutting-edge technology to support the entire MAI business
• Generate long term future core products (i.e. the next generation of major products for the whole of the MAI business
• Find a sustainable and healthy future for MAI outside of its 'core' product and services business
• Drive the longer term strategy and run some of the shared infrastructure activities (e.g. testing) for MAI.

Operationally, FP&S undertakes horizon scanning; future concept generation; R&D investigations; R&T; demonstrator programmes; share services such as simulation capabilities and testing facilities.

About the Institute of Innovation and Knowledge Exchange (IKE Institute)
(www.InnovationInstitute.org.uk)

IKE Institute is the professional body for innovators in the UK. It accredits and certifies innovation practices, and confers the Investor in Innovations® standard and the IKE Assured® accreditation. The Institute influences the inter-relationship between education, business, and government through research and collaborative networks. IKE's Innovation Manifesto highlights its commitment to support the development of innovative people and organisations.

IKE's accreditation work is guided by the Innovation Council, which brings together over forty C-suite executives representing different economic sectors. Companies such as Thales UK and Panasonic (Research and Development) have also been through the Investor in Innovations Standard.

Investor in Innovations® is an integrated, leading-edge Standard that offers a practical way for an organisation to assess, validate and benchmark its innovation capability. It uses a well-defined six-category Framework that brings together: strategy and alignment; organisational readiness; core capabilities, technologies and IP; industry foresight; customer awareness and impact and value. In addition, Investor in Innovations® is a business diagnostic, used to understand where an organisation is and where it needs to be from an innovation standpoint. A coherent Action Plan to close the innovation gap is a key outcome from this programme.

PRESS CONTACTS

IKE Institute
Emma Crates & Michelle Medhat
emma.crates@ikeinstitute.org
michelle.medhat@ikeinstitute.org
07720 286633

BAE Systems
Andrea Kay
andrea.kay@baesystems.com
This press release was distributed by ResponseSource Press Release Wire on behalf of Institute of Innovation and Knowledge Exchange (IKE) in the following categories: Manufacturing, Engineering & Energy, for more information visit https://pressreleasewire.responsesource.com/about.