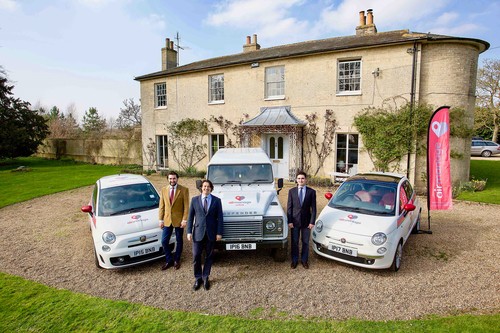 Something in the air

With a track record of success in London, a new entrant to the holiday let market called Air Manage Suffolk (http://www.airmanagesuffolk.com) is coming to the Suffolk coast.

In August 2014 Tim Day an Estate Agent in London decided to holiday let his own apartment in Earl's Court on airbnb (the hugely successful global holiday letting company) while he was on holiday in Italy. The rent he achieved from this one booking was enough to pay for his entire summer holiday. Tim continued to offer his property on airbnb for weekend stays and within a very short space of time, bookings started to fill up. Off the back of his own experience on airbnb, it was an obvious choice to offer his own clients an airbnb management service which gave them a lucrative alternative to long term letting and allowed them to stay in their property when they wanted. It was quickly apparent that owners in London liked the flexibility that holiday letting gave them.

Fast forward to present day and Tim and his team at Air Manage now represent over 50 properties in London on airbnb. After Tim bought a house in Orford last year, and with a proven track record of holiday letting in London it seemed a smart move to take his Air Manage brand to Suffolk. Tim Day commented "We have a proven track record in London and we are now entering the Suffolk holiday letting market with something completely different".

Tim's vision of making an impact in the Suffolk Coastal market moved ahead swiftly when he teamed up with Harry Embleton and Ollie Weller both of whom grew up around Aldeburgh and share Tim's entrepreneurial spirit and desire to offer owners and guests an entirely different holiday letting experience. From this Air Manage Suffolk was born.

Harry Embleton Head of Operations in Suffolk commented "We are mindful that we have strong competitors; however we are seriously raising the bar here. After extensive work we have produced a service offer that exceeds anything that is currently available and really takes full advantage of both the traditional and modern methods of holiday letting." It is clear that Tim and Harry have toiled hard to scrutinise every single aspect of the current market. "We realised that owners were being locked into what we consider unfavourable contracts with minimal hands-on management – we will be changing this" added Harry.

Tim Day is confident that the model that Air Manage Suffolk has adopted is based on flexibility and customer service. "The ability for every guest to leave an honest review online, in a prominent position, means that we take the utmost care in providing an impeccable service because we appreciate that we are held directly accountable to reviews." Air Manage have made a good impression in London and are fully equipped to repeat that in Suffolk. "The aim is to check in all guests on arrival and be on hand to answer any queries guests may have during their stay. We are offering owners favourable payment terms whereby we pay the rental income within a week of the guest moving in" added Tim. When guests leave a property, Air Manage Suffolk send in their team of professional cleaners that will also replenish household items. "The bottom line is that our landlords will make more money and we sort out the cleaning".

Air Manage Suffolk will not only be using the airbnb holiday let platform to market their properties but also Owners Direct & holidaylettings.co.uk (part of the Trip Advisor group). "The sum of the parts is that we will be giving our properties significant online marketing exposure which will drive enquiries and bookings for our clients".

ENDS
Notes for Editors:
(1) A photo attached of Tim Day (centre) - Managing Director with Harry Embleton (right) – Head of Operations Suffolk and Ollie Weller (left) – Head of Operations London
[high res image available upon request]

(2) Air Manage Suffolk is an airbnb and holiday letting management service and is not affiliated with airbnb

(3) Over 460 customer reviews achieved by Air Manage can be viewed by clicking on this link:https://www.airbnb.co.uk/users/show/15411688#reviews

For further comment and interview opportunities, please contact Harry Embleton on 01728 677989 or

email:hello@airmanagesuffolk.com

Air Manage Suffolk
Bay House
20-22 Market Place
Saxmundham
Suffolk, IP17 1AG

Air Manage is the trading name of Real Estate Ventures Ltd
This press release was distributed by ResponseSource Press Release Wire on behalf of Air Manage in the following categories: Home & Garden, Travel, Construction & Property, for more information visit https://pressreleasewire.responsesource.com/about.