Vision Direct and Fight for Sight launch #ThinkUV Campaign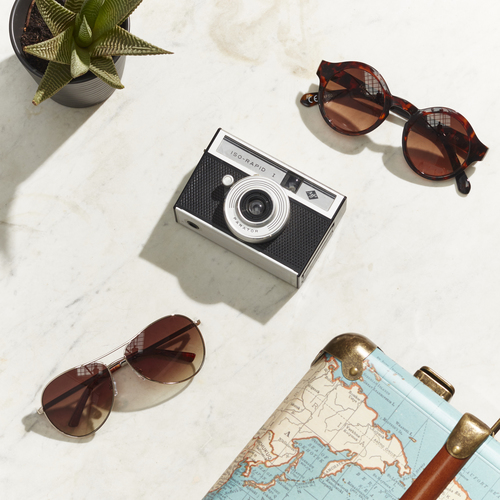 LONDON, 9th August 2017. Europe's largest online contact lens retailer and the UK's leading eye research charity have joined forces for the second year in a row to #ThinkUV.

Vision Direct and Fight for Sight are urging the nation to protect their eyes and think about the dangers of ultraviolet (UV) rays this summer. As part of their campaign, they'll be encouraging everyone to take a sunglasses selfie to raise funds for pioneering research into sight loss prevention.

The campaign is designed to highlight the importance of looking after your eyes in the sunshine and to protect them from harmful UV rays. Many people are proactive in wearing sunglasses, but are unaware that even during cloudy days their eyes are vulnerable to high levels of UV exposure. Sun damage to eyes is cumulative, and over exposure can increase the risk of developing conditions such as cataracts or macular degeneration over time.

A good quality pair of sunglasses can block up to 95% of UV radiation, and can even help reduce the amount of glare that reaches your eyes.

To help spread the word, Vision Direct is asking everyone to retweet the hashtag #ThinkUV on Twitter. Vision Direct has pledged to donate £3 to Fight for Sight for every customer that tweets #ThinkUV from Monday 1st August until 31st August 2017.

For the duration of the campaign £3 from every pair of sunglasses Vision Direct sells will also be donated to the charity.
To help Fight for Sight fund vital eye research, you can also donate via text:

Just text TKUV17 £3 to 70070. (You can give up to £10 at a time by altering the donation amount).

Brendan O'Brien, COO of Vision Direct added: "Many people don't realise the potentially damaging effect that UV can have on their eye health. That's why we're encouraging people to ThinkUV this summer and wear their sunglasses. We're proud to be working alongside Fight for Sight on this campaign and to continue to support their pioneering research."

Fight for sight's Chief Executive, Michele Acton, said: "We are pleased to partner with Vision Direct to highlight how significant it is to wear sunglasses to help keep your eyes healthy. We are urging the nation to support the fight for sight and take a #ThinkUV selfie to raise funds for vital eye research."

Get involved and show your support by donating today and sharing your #ThinkUV selfie.

ENDS

Vision Direct contact: Amy Pritchett, Outreach Manager
Tel: 020 8099 5366 (office) – Mon – Friday 9am to 5:30pm
Email: Amy.Pritchett@visiondirect.co.uk
Address: 6 Camden High Street, London, NW1 0JH
Website: www.visiondirect.co.uk

Fight for Sight contact: Christine Tama, PR Manager
Tel: 020 3828 2936 (office) – Mon – Friday 9am to 5:00pm
Email: Christine@fightforsight.org.uk
Address: 18 Mansell St, London E1 8AA
Website: www.fightforsight.org.uk

Interesting facts about sunglasses and UV rays:

· Not all sunglasses are made equal! Look out for shades with the CE mark to guarantee they meet the European standard for UV protection.
· Clouds only reduce the amount of UV by around 10 percent, so on an overcast day, remember to wear your shades.
· As you get older, your lens naturally absorbs more UV to protect your retina. Kids under 5 have particularly vulnerable eyes, so it's especially important that they're protected.

Notes to editors:

About Vision Direct

Vision Direct is Europe's largest online contact lens supplier, stocking over 1 million lenses from world leading brands, including Focus Dailies, Air Optix and Acuvue Moist. Vision Direct is dedicated to making the purchase of contact lenses easy, quick and affordable. It offers free, fast delivery and seven days a week customer support, as well savings of up to 42% against high street opticians. Customers can order their lenses through the UK Vision Direct website, www.VisionDirect.co.uk, any of its European web properties, or by calling the telephone number, 0207 768 5000. Customers can also benefit from a free repeat prescription and reminder service, and receive free eye care advice from Vision Direct's resident optician.

About Fight for Sight

1. Fight for Sight is the leading UK charity dedicated to funding pioneering research to prevent sight loss and treat eye disease. Fight for Sight is funding research at leading universities and hospitals throughout the UK.
2. Major achievements to date include: saving the sight of thousands of premature babies through understanding and controlling levels of oxygen delivery; restoring sight by establishing the UK Corneal Transplant Service enabling over 52,000 corneal transplants to take place; providing the funding for the research leading to the world's first clinical trial for choroideremia; bringing hope to children with inherited eye disorders by co-funding the team responsible for the world's first gene therapy clinical trial; and identifying new genes responsible for glaucoma, retinitis pigmentosa, keratoconus and other corneal disorders, and Nance-Horan syndrome.
3. Fight for Sight's current research programme is focusing on preventing and treating age-related macular degeneration, diabetic retinopathy, glaucoma, cataract and corneal conditions. We are also funding research into the causes of childhood blindness and a large number of rare eye disorders.
This press release was distributed by ResponseSource Press Release Wire on behalf of Vision Direct Group LTD in the following categories: Health, Public Sector, Third Sector & Legal, for more information visit https://pressreleasewire.responsesource.com/about.