Get Infused with the love of growing herbs through new private online course taught by Dr Rachel Petheram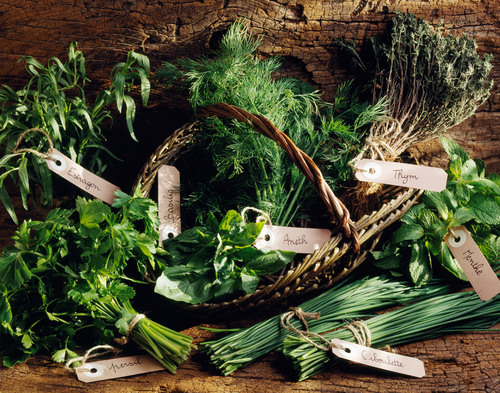 Unassuming herbs are pretty fabulous I think. As a scientist, they blow me away. As a gardener I am amazed at how easy they are to grow
London, August 16th, 2017. Acclaimed herbs expert and author, Rachel Petheram has launched her own online herbs course with Learning with Experts.

Enthusiasts unite to learn in a private online classroom where a selected global community shares tips and gets access to herbs-expert Rachel Petheram. You can book Rachels's courses from today, they cost GBP140.00 (or USD 185.00) and you can book now and start when you want. With this unique private classroom environment, you start at your convenience, wherever you are in the world. Rachel's lectures include unseen and unique footage and she's on hand to coach you personally for four weeks.

Dr Petheram explains: "Unassuming herbs are pretty fabulous I think. As a scientist, they blow me away. As a gardener I am amazed at how easy they are to grow and how multifunctional they are. As someone who loves food they taste great. They are a true example of flower power in my opinion"

"I believe strongly in encouraging people to garden even in the smallest of spaces and in this context herbs are great, as not only can they thrive in the most unlikely containers, they are multi-functional – they are medicinal, ornamental, and culinary, attract wildlife and are great for flower arranging. The aim of this course is to consider the amazing properties of herbs, to talk about how to grow herbs in the garden whether that is in containers or in the ground and to introduce you to some lovely varieties to try"

The format of the course is that you will watch video documentary style lectures with Dr Rachel Petheram, who teaches you the secrets and stories of her trade. You are within an interactive classroom online watching your videos, with your classmates of up to 20 people at a time. Rachel will set you an assignment, and Rachel herself will critique your response. She will also be on hand in the classroom to answer your questions throughout the course.

Founder and CEO of Learningwithexperts.com Elspeth Briscoe commented: "We have been planning this project for several years now, and are delighted to be able to bring enthusiasts and life long learners access to a true herb specialist wherever they are in the world. Our students love learning with someone they can tell their friends about, are people who enjoy continuing to understand our world more, and care deeply about growing things and the planet."

Notes to Editors

About Dr Rachel Petheram
My name is Dr Rachel Petheram. I am an artisan florist, a gardener and a teacher.

My flower story started in 2002 when I grew some of my own wedding flowers. As a full time lecturer in animal nutrition becoming a florist was the last thing on my mind! However, one thing led to another - a bit of faffing, experimenting and flowering on the side -and then Catkin Flowers was launched in 2006. All these years later it's hard to imagine that I once had a life without flowers.

Now I grow many of my own flowers in the walled kitchen garden of Doddington Hall in Lincolnshire and am an ardent champion of British grown flowers.

I was included in the Independent newspaper's list of top 50 florists, I am a BBC Lincolnshire garden expert and I was featured in the first series of the BBC's Great British Garden Revival. I have been featured in numerous national garden and lifestyle publications such as Radio 4. Now I am known globally via my private online classes with Learning with Experts.

As one of the original grower/florists who were part of the revival of using British grown flowers in floristry, I use my extensive experience to run many courses on floristry and gardening at Doddington Hall, RHS Harlow Carr, Welbeck School of Artsian Food, the Chelsea Physic Garden and with MyGardenSchool.

So, whether you are looking for beautiful, seasonal wedding flowers or you are a florist looking for some inspiration or someone who is just looking for a fabulous course then it would be my privilege to contribute to your own flower story.

About Learningwithexperts.com
Learningwithexperts.com was founded by Elspeth Briscoe (eBay, Skype) and has taken £1.5m investment from VCs and angels in 2015. It now serves students from over 50 countries worldwide, their most far-flung students come from Argentina, New Zealand and Indonesia. They have delivered thousands of hours of lessons to students and well over a million users have visited their sites. Learning with Experts is building The Gardening and Photography schools at learningwithexperts.com have won The Good Web Guide Awards three times and are partnered with many highly respected industry leaders, such as The RHS, BALI, APLD, The Daily Telegraph, The Guardian.


The learningwithexperts.com community of enthusiasts values the convenience of online learning, wants trusted and acclaimed experts, but needs a more in-depth, private and interactive experience than other forms of online learning like Massive Online Open Courses. MOOCs have a course completion rate of 10-20% MyOnlineSchool has completion rates of 80-90%. Learningwithexperts.com is bringing back the concept of 'tribal learning' where expert tutors pass down their learnings in small tribal groups online to future generations.

Watch a video from Rachel Petheram about the course here: https://www.youtube.com/watch?v=bVaYkNbFQDw

For more information please email elspeth@learningwithexperts.com. For a spokesperson from Learningwithexperts.com please email juliette@learningwithexperts.co.uk or call Elspeth Briscoe CEO/Founder www.learningwithexperts.com 07884263706. High res images available.
This press release was distributed by ResponseSource Press Release Wire on behalf of learningwithexperts.com in the following categories: Entertainment & Arts, Health, Leisure & Hobbies, Home & Garden, Women's Interest & Beauty, Environment & Nature, Consumer Technology, Food & Drink, Education & Human Resources, Medical & Pharmaceutical, Media & Marketing, Farming & Animals, for more information visit https://pressreleasewire.responsesource.com/about.