The NHS at 70: the faces of today's National Health Service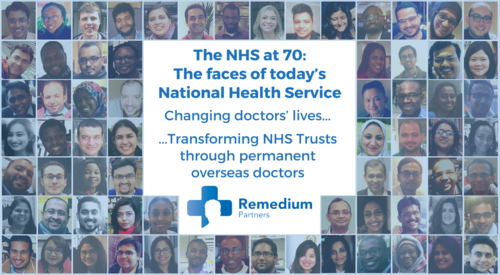 BlueSky PR

Remedium Partners - a consultancy which specialises in helping overseas doctors relocate and continue their professional development in UK hospitals – is celebrating the 70th anniversary of the NHS by sharing the images of 70 of the 600+ permanent doctors it has placed, each of whom have played a vital role in supporting the health service of today.

Commenting, Co- Founders of Remedium Partners Philip Braham and David Green said:

"Today marks an incredibly exciting milestone for the NHS, the patients it serves and the talented individuals that make up its workforce. And while it would be remiss to suggest that this great British institution is not without its challenges, we are taking this opportunity to celebrate the vital contribution that overseas doctors have played in shaping today's workforce.

"The NHS has long relied on the knowledge and expertise of this rich talent pool, many of whom relocate their entire families and lives when they start work in the UK. Since our inception in 2013, we have placed over 600 permanent doctors into hospitals from a range of countries – including India, Dubai, Trinidad & Tobago, Nigeria, the Philippines and Singapore – and have seen first-hand the vital contribution they make to the NHS. Not only do these doctors bring a much wider range of skills, knowledge and professional experiences gleaned from their home nations, but they also help Trusts alleviate ongoing talent shortages and save huge amounts on their agency locum spend.

"While the future of the NHS is unpredictable, one thing is for sure: overseas doctors will continue to provide Trusts and their patients with first class skills and continuity of care - something we should all be celebrating on this momentous day."

Steph King
BlueSky PR
stephanie@bluesky-pr.com
01582790700

ABOUT REMEDIUM PARTNERS

Established in 2013, Remedium Partners is fast becoming one of the leading providers of permanent and fixed-term doctors into the NHS. At Remedium Partners, we believe that placing permanent and fixed term doctors, rather than locums, saves the health service time and money. Having placed over 600 doctors since we were founded, we estimate to have saved the NHS in excess of £50M.

With over 20 years healthcare and recruitment experience collectively, our team truly understand the market we operate in and the qualities of our doctors, best matching them to the needs of our clients. The positions we work on require a unique understanding of medical specialties and our team of highly experienced market specialists, both in the UK and India, enable us to source high calibre candidates from around the world.
This press release was distributed by ResponseSource Press Release Wire on behalf of BlueSky Public Relations Ltd in the following categories: Health, Medical & Pharmaceutical, Public Sector, Third Sector & Legal, for more information visit https://pressreleasewire.responsesource.com/about.