Marketing Automation software house shares best practice with business leaders and policymakers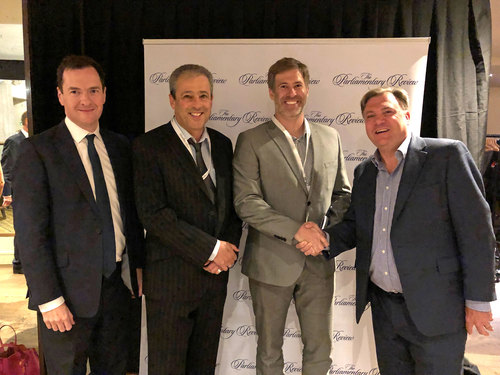 The Parliamentary Review for Digital, Culture, Media and Sport is widely respected by politicians and peers across both Houses of Parliament and key decision makers all over the country. The latest edition features software development house, Forfront, who are extensively involved in the government's digital transformation programme - working with various departments connected to the Ministry of Defence and Ministry of Housing, Communities and Local Government. Forfront also deliver a marketing automation solution called e-shot to over 400 private and public sector organisations and have been helping many of these to adapt their communications following the introduction The GDPR (General Data Protection Regulations) this year.

Ron Kellermann, founder and Managing Director of Forfront attended a gala reception on Monday 1st October to celebrate the launch of The Parliamentary Review and commented "We are passionate about helping public sector organisations embrace digital transformation and I was thrilled to learn that The Parliamentary Review wished to acknowledge our contribution to the UK's digital economy."

The Parliamentary Review's reach is unique and broad. The fact that the prime minister writes for The Review alongside some of the most influential individuals in the country is testament to the positive change that the publication encourages within industry.

The UK has been historically acclaimed for its vibrant creative industries, and this year's Digital, Culture, Media and Sport edition of The Parliamentary Review proves that this reputation is still well-deserved. It elaborates on concerns for the sector going forwards and the successes it has experienced over the last 12 months including a contribution from Forfront.

Ron Kellermann concluded, "As a software developer, we have spent more than 20 years helping clients by constantly innovating and delivering digital solutions. We are committed to working collaboratively to deliver the best possible outcomes to our clients."

Forfront's article in The Parliamentary Review can be viewed here:

http://www.theparliamentaryreview.co.uk/organisations/forfro...

ABOUT FORFRONT

Forfront is a development house with over 20 years' experience in delivering complex projects for public and private sector organisations. Forfront joined both the G-Cloud and DOS frameworks in 2015 and is committed to playing an effective role in the government's digital transformation programme. Recent clients include the Ministry of Defence and Ministry of Housing, Communities and Local Government.

In addition to their bespoke digital projects, Forfront also provide e-shotTM to over 400 private and public sector clients in the UK. e-shotTM is the marketing automation platform that successful marketers use to deliver highly-effective email campaigns - from lead nurturing to remarketing, from newsletters to autoresponders, e-shot provides a simple solution to a sophisticated area of modern marketing.

For further information please visit https://www.forfront.com/

Press Enquiries:

Daniel Hare
daniel.hare@forfront.com
07940 591853

Image: From left to right: George Osborne, Editor of the Evening Standard and former Chancellor of the Exchequer, Ron Kellermann, Managing Director of Forfront, Richard Beacroft, Technical Director of Forfront, Ed Balls, Former Shadow Chancellor of the Exchequer attending the gala reception to launch The Parliamentary Review.
This press release was distributed by ResponseSource Press Release Wire on behalf of Forfront in the following categories: Media & Marketing, Public Sector, Third Sector & Legal, for more information visit https://pressreleasewire.responsesource.com/about.