World's 1st Telerobotic Coronary Intervention Surgery performed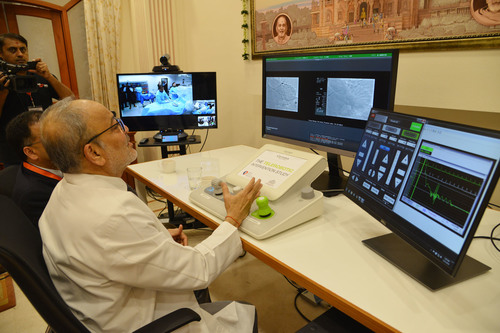 The World's First-in-Human Telerobotic Coronary Intervention Performed in India

India has achieved an important breakthrough in the history of medical science with the World's First-in-Human Telerobotic Coronary Intervention by Dr. Tejas Patel, Chairman and Chief Interventional Cardiologist of the Apex Heart Institute at Ahmedabad. This is the world's First Percutaneous Coronary Intervention (PCI) conducted from a remote location outside of the catherization lab.

The operation was performed from Swaminarayan Akshardham temple, located at a distance of roughly 32 km from catherization lab of the Apex Heart Institute in Ahmedabad, where the patient was admitted and attended to by Dr. Sanjay Shah.
The success of this study paves the way for large-scale, long-distance telerobotic platforms across the globe.

Dr. Tejas Patel, Chairman and Chief Interventional Cardiologist of the Apex Heart Institute, said, "The first-in-human case of remote robotic PCI represents a landmark event for interventional medicine. Cardiovascular diseases, including stroke, are the number one cause of death worldwide resulting in nearly 18 million deaths per year. The application of telerobotics in India (and across the world) has the potential to impact a significant number of lives by providing access to care that may not otherwise have been possible. I am honoured to contribute to this historic groundbreaking research which will earn a lot of glory and global respect for my country."

Telerobotic coronary interventional platform has the potential to dramatically improve patient access for both elective and emergent percutaneous coronary interventions and stroke in rural and underserved populations - as well as reducing time to treat emergent procedures such as STEMI and stroke and will also reduce variability in operator skills and thus, improve clinical outcomes. As a world first - the possibilities are endless.

Dr Tejas Patel used CorPath® technology of Corindus Vascular Robotics, Inc. to conduct the first-in-human (FIH) telerobotic coronary intervention. Mark Toland, President and Chief Executive Officer of Corindus, stated, "Cardiovascular diseases, including stroke, are the world's most significant and undertreated clinical problem due to limited access to specialized, timely medical care. As a result of existing barriers to care, including increased global poverty and a declining number of trained specialists, only a fraction of patients worldwide receives life-saving treatment, resulting in substantial death or disability. We anticipate that our technology will revolutionize cardiovascular disease treatment by providing specialized and timely medical care to anyone, anywhere."

Cardiovascular disease, including stroke, are the number one causes of death worldwide resulting in nearly 18 million deaths per year. Geographic barriers, socioeconomic status and a rapidly shrinking number of skilled specialists significantly hinders patient access to timely, specialized cardiovascular care. This is especially of concern during highly emergent medical events, such as heart attacks and stroke, where ideal treatment must be received in as little as 90 minutes or within 24 hours, respectively, to avoid death or permanent disability.

ENDS

To organise interviews please contact Rekha Patel (UK based) on rekha@mytreatmentabroad.co.uk and copy in Bracken Jelier: bracken@marvellouspr.co.uk

FURTHER IMAGES ARE AVAILABLE - please contact Bracken for these: bracken@marvellouspr.co.uk


NOTES TO EDITOR:

The operation in a religious context:

Chief Minister of Gujarat Shri Vijaybhai Rupani, Deputy Chief Minister Shri Nitinbhai Patel along with saints of Bochasanwasi Akshar Purushottam Swaminarayan Sanstha (BAPS) Pujya Shri Brahmavihari Swami and Pujya Shri Ishwarcharan Swami were all present for the procedure.
The event was preceded by a small spiritual ceremony of Neelkanth Varni Abhishek and universal prayers for peace and progress.
Dr. Patel said, "I dedicate this breakthrough to His Holiness Pramukh Swami Maharaj whose heart I had the privilege to take care of. His heart made a difference to my heart and through this technology I want to make a difference to millions of hearts."

"Furthermore, of the many options available I selected Swaminarayan Akshardham as I wanted to conduct this path breaking event of medical history from the lap of God and I feel that Akshardham being a confluence of science and spirituality, tradition and technology provides that peace and spirituality, comfort and creativity to further all fields of humanity and not just the medical field," he said.

Pujya Brahmavihari Swami, the spokesperson of BAPS said, "Dr Tejas Patel has served as His Holiness Pramukh Swami Maharaj's personal cardiologist during which he experienced moments of deep spirituality. His own story is one remarkable journey of faith and transformation of heart. His Holiness was one of the most enlightened spiritual leaders of our times who encouraged both science and spirituality for the development of human life and universal values. As the Centenary of HH Pramukh Swami Maharaj is being celebrated globally and the current 10 day festival to be attended by millions of people is beginning today in Rajkot, 5 December 2018, this day was selected in honour of his life and work. All our prayers are with Dr Tejas Patel and the entire medical world to serve humanity and scientifically, spiritually and ethically enhance the quality of human life"

About Dr. Tejas Patel and Apex Heart Institute:

Dr. Tejas Patel is chief Interventional Cardiologist and Chairman of Apex Heart Institute. He has been awarded Padma Shri by the Government of India for his contribution in coronary intervention. Apex Heart Institute is a center of excellence for cardiac ailments with two ultra-modern cathlabs and two state of the art cardiac surgical theatres. It has 85 beds comprising of 3 medical ICUs, 2 surgical ICUs, 1 HDU, a general ward and rooms in various categories. The institution has an outstanding team of doctors, who ensure delivery of quality care with highest level of expertise. At Apex Heart Institute well trained paramedical staff, world class infrastructure, efficient systems and processes ensure effective services aiding to speedy recoveries. The institution has instituted TRICO (Transradial Intervention Course) by leveraging the knowledge and practices of world renowned interventional cardiologists, which today is the largest and the most popular radial course in the world. https://www.apexheart.in

About Corindus Vascular Robotics, Inc:

Corindus Vascular Robotics, Inc. is a global technology leader in robotic-assisted vascular interventions. The company's CorPath® System is the first FDA-cleared medical device to bring robotic precision to percutaneous coronary and vascular procedures. During the procedure, the interventional cardiologist sits at a radiation-shielded workstation to advance guide catheters, stents, and guidewires with millimeter-by-millimeter precision. The workstation allows the physician greater control and the freedom from wearing heavy lead protective equipment that causes musculoskeletal injuries. CorPath GRX is the second generation robotic-assisted technology offering enhancements to the platform by adding important key upgrades that increase precision, improve workflow, and extend the capabilities and range of procedures that can be performed robotically. With the CorPath System, Corindus Vascular Robotics brings robotic precision to interventional procedures to help optimize clinical outcomes and minimize the costs associated with complications of improper stent placement during manual procedures. For additional information, visit www.corindus.com and follow @CorindusInc.

About Swaminarayan Akshardham:

Swaminarayan Akshardham is India's iconic temple that celebrates ancient art and architecture, culture and spirituality, wisdom and values. Inspired and created by HH Pramukh Swami Maharaj in 1992, the Cultural Complex is spread over 23 acres and was built by more than 8 million volunteer hours of selfless service. Visited by more than 57 million visitors from 127 countries across the world, the Swaminarayan Akshardham complex consists of an intricately carved inner-sanctum Mandir, exhibition halls, Abhishek Mandapam and one of its kind Sat-Chit-Anand water show. It is overseen by HH Mahant Swami Maharaj, the present spiritual leader of BAPS Swaminarayan Sanstha, which is an international socio-spiritual charitable NGO, affiliated to the United Nations, that serves society through over 160 humanitarian services at its 1,200 temples and 4,000 centres.
This press release was distributed by ResponseSource Press Release Wire on behalf of Marvellous PR in the following categories: Health, Medical & Pharmaceutical, Manufacturing, Engineering & Energy, for more information visit https://pressreleasewire.responsesource.com/about.