SIMPLE AND EFFECTIVE RECIPE BOOK PRIMAL GOURMET TAKES INSPIRATION FROM OUR ANCESTORS IN A MISSION TO HELP BRITAIN EAT ITS WAY HEALTHY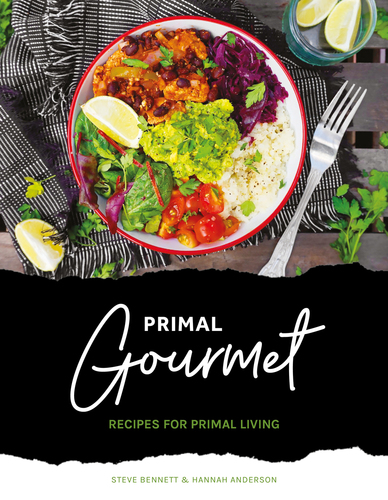 PRIMAL GOURMET is a not-for-profit recipe book, packed with simple, quick and nutritionally dense recipes designed to get Britain cooking and prioritising their health!

Today sees the launch of Primal Gourmet, a new recipe book written as a joint venture between Steve Bennett (health guru and author of The Primal Cure) and Hannah Anderson (social media sensation), who aim to make a primal lifestyle more accessible, affordable and appealing.

Packed full with delicious, healthy, nutritious recipes – without calorie counting or complicated rules – the book proves we don't have to implement dietary restrictions or miss out on eating enjoyable food. The authors demonstrate healthy ways to avoid killer sugars and carbs, without enduring a bland and tasteless diet. Recipes span from toffee apples to Easter eggs, hot-cross buns to ice cream and even a delicious version of ketchup and chips… Healthy alternatives to the indulgent treats that most of us love.

Visually stunning, with an easy layout containing over 80 recipes, the book clearly addresses the health issues we face today as a result of poor nutrition. Turn the pages and explore the Primal approach to food; how by living as our ancestors did, we can regain our health.

A helpful ailments index at the back of the book offers advice on specific recipes that help with conditions such as arthritis, depression, immune deficiency, insomnia, acne, hypothyroidism and even sex-drive!

With more and more doctors and medical professionals recommending a primal approach to diet, lifestyle and environment, Primal Gourmet contains recipes packed with healthy fats and proteins. Discover how these macronutrient essentials provide a long-term approach to sustainable living and good health, enabling us to look good and feel great.

In line with the brand's ethos, Primal Gourmet has been written as a companion to The Primal Cure, a book recently launched by Steve Bennett. Endorsed by leading doctors, nutritionists and health experts, The Primal Cure addresses the spiralling health issues we face in Britain and educates it's readers how to avoid being a sick statistic.

"We need to seriously put a halt to Britain's decline into ill health," says Steve Bennett. "The top five causes of death in the UK – cancer, heart disease, stroke, lung and liver disease – all have preventable elements to them. As a nation, we are overeating and undernourished."

"Convenience overrides common sense. As a result we are poisoning ourselves with mass-produced, artificially-modified, sugar-loaded nonsense. We want to make it easier to live Primally and have fun with what we eat." Hannah Anderson adds.

ENDS

Primal Gourmet is available at www.amazon.com and www.primalcure.com at RRP £19.99

The Primal Cure is available at www.amazon.com and www.primalcure.com at RRP £9.99.

The Primal Cure movement is a social enterprise, whereby it provides malnourished children around the world with a vitamin or mineral they're deficient in for EVERY supplement product we sell! The Primal Cure book and Primal Gourmet are both not-for-profit, with all proceeds going to the Colourful Life Foundation, providing nutritional support to under-nourished children in disadvantaged areas".

For media enquiries: jennifer@mackinder.net






About Primal Cure:
The Primal Cure Movement is definitely not a diet. Our mission is to advise people how to live life 'the Primal way' - providing a long-term approach to sustainable health.
The book The Primal Cure has been written by digesting copious amounts of rigorous scientific research. In getting his own health back on track, the Author has read and digested hundreds of books on diet, health, exercise, the history of humankind, nutrition and almost anything that could help him get a better understanding of how to live healthy for as long as possible.

The book discusses how a combination of sugar and carbohydrate overload, eating too frequently and a sedentary lifestyle, are pretty much responsible for all illnesses in the modern world. Primal Cure is about focusing on what we were designed to eat. It is the natural diet of our species! It also pays close attention to when we eat and looks at the various types of exercise that will aid your health rather than those that are known to do long term damage.

About Steve Bennett
Steve Bennett is a father of seven children and one of the UK's most prominent business leaders. He has created many businesses and his companies employ over one thousand people around the world. His holding company BHHG (Bennett Health and Happiness Group), works exclusively in areas where they can improve the lives of others.
One of Steve's most well known businesses is television company – Gems TV. With his involvement in sourcing gemstones from around the world, Steve has spent many years in remote countries and much of the insight in this book has been garnered during his travels.
His family founded the charity The Colourful Life Foundation and has built schools in countries including India, Tanzania and South Africa.


About Hannah Anderson
As a respected fitness blogger and health enthusiast, Hannah's online reputation for living a healthy lifestyle centered around delicious plates of colourful food has gathered pace in just a few short years. A firm believer in the relationship between good nutrition and positive mindset, her success is fuelled by creative cooking principles, which keep her fit, healthy and happy. Just 24 years old at the time of publishing, she's a wizard in the kitchen and her attention to detail is incredible. Most of all, Hannah believes in having fun with what we eat; cooking, the Primal way.
This press release was distributed by ResponseSource Press Release Wire on behalf of Mackinder Consulting in the following categories: Men's Interest, Health, Women's Interest & Beauty, for more information visit https://pressreleasewire.responsesource.com/about.