BELVAR LAUNCHES NORDIC FUSION RESTAURANT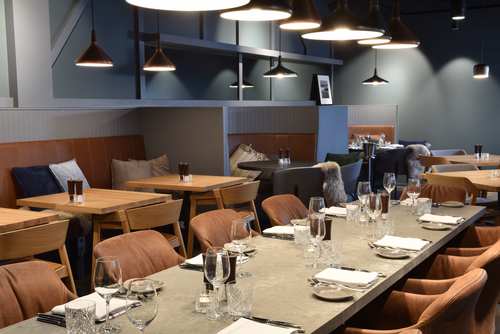 Belvar, the global hotel management company that currently manages 15 Moxy Hotels across Europe, is launching a new dining concept to the UK hotel market this week. Following the opening of Moxy London Heathrow Airport last April, contemporary Nordic fusion cuisine will be on the menu when GÅRD Taste Scandinavian Heathrow opens today in their largest UK hotel.

Nordic cuisine continues to enjoy a renaissance. Building its new found reputation, it offers honest food, where short-travelled, seasonal ingredients define not only its unique local flavours, but also its sustainable roots. Scandinavian cuisine has a social dimension, allowing friends and family to dine together, which was the original inspiration for Belvar when they launched GÅRD in 2015. Today, GÅRD is a modern Scandinavian restaurant concept that serves fusion cooking in a relaxed and welcoming atmosphere. The restaurant chain has ambitions for significant growth in the years to come.

Creating around 15 jobs at Moxy London Heathrow Airport, the signature restaurant has already proved to be hugely successful across the Channel. 4 GÅRD restaurants are currently operating in Brussels, Amsterdam, Gdynia and Oslo. The restaurant at Moxy London Heathrow Airport will have capacity for 70 diners with opening hours from 5pm until 11pm, 7 days a week.

CEO of Belvar, Mads Jacobsen commented; "Scandinavian cuisine is widely known for good ingredients and traditional dishes prepared with love. This will also characterise GÅRD Taste Scandinavian at Moxy London Heathrow Airport, but with some local variations in the dishes. We have great expectations of this restaurant and look forward to introducing our guests to an unforgettable dining experience, served in a relaxed atmosphere."

Moxy London Heathrow Airport has 437 bedrooms and is the jewel in the crown as Moxy's largest European hotel. The hotel has quickly made a name for itself in the hotel arena. Showing month-on-month market growth it has been seen as a welcome addition to Heathrow. Strategically positioned east of Terminals 2 and 3 and with easy access to Terminal 5, the hotel also boasts parking for 122 cars.

www.gardtastescandinavian.com
Follow GÅRD Taste Scandinavian on Instagram - https://www.instagram.com/gardtastescandinavianheathrow/

Follow GÅRD Taste Scandinavian at Facebook - https://www.facebook.com/G%C3%85RD-Taste-Scandinavian-Heathr...
Watch the GÅRD video here
Engage with #gardtastescandinavian
Follow Belvar at LinkedIn


ENDS



NOTES TO EDITOR

Media Contacts


UK Media
Susan Blair
24 Keys
susan@24keys.co.uk


FACTS ABOUT BELVAR – Moxy's Management Company

• Belvar is a global hotel management company with a Norwegian Head Office.
• Belvar currently operates 15 Moxy Hotels and 3 Courtyard by Marriott hotels, 32 First Hotels and the number of Belvar operated hotels is growing rapidly.
• Belvar also owns and operates its own brands: First Hotels, Gård Taste Scandinavian restaurants and X Meeting Point.
• Belvar has opened 5 new Moxy Hotels and another 20 new built hotels are opening in 2019-2020.
• Belvar has approximately 10.000 new hotel rooms under development in England, Scotland, France, Germany, Norway, Italy, Belgium and Poland
• Belvar has a preferred partnership with Vastint Hospitality and Marriott International.
This press release was distributed by ResponseSource Press Release Wire on behalf of 24 Keys in the following categories: Women's Interest & Beauty, Food & Drink, Travel, for more information visit https://pressreleasewire.responsesource.com/about.