Thousands of Iconic Italian Scooters Forced Off Our Roads For Ever By London's ULEZ. This Week An Electric Conversion Kit Is Launched To Save Them.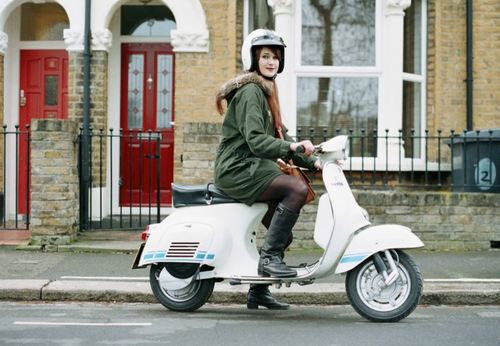 Vintage Vespas and Lambrettas can be saved from the scrap heap by being fitted with a custom-designed electric hub motor kit
The introduction of London's ULEZ next week threatens the future of many perfectly serviceable vehicles. Vintage Vespas and Lambrettas can be saved from the scrap heap by being fitted with a custom-designed electric hub motor kit developed by East London specialists Retrospective Scooters. The first public test ride bikes will be available to try at an open day event in Walthamstow on Saturday, 6th April 2019. Hundreds of vintage scooterists will attend the event to find out how to save their scooters from the scrap heap and celebrate the future of scooter culture.

Niall McCart of Retrospective Scooters has developed a range of retro-fit electric conversion kits that can be fitted to almost any vintage Vespa or Lambretta that would otherwise be forced to pay a £12.50 per day charge from 8th April 2019 to enter central London. Electric powered vehicles are exempt from the ULEZ charge and additionally pay no road tax.

Stylish Italian scooters have been a permanent fixture on London's roads since the 1950's. Many remember their iconic status established by the Mods in the 1960's. A scene that continues to thrive right up to the present day with many thousands of these scooters still on the roads today and being ever more essential as traffic levels increase. London's Ultra Low Emissions Zone (ULEZ) will mean many of these beautiful scooters will be forced off the roads to be lost for ever.

Niall McCart set up Retrospective Scooters from a garden shed in 2000 after scootering his way across Europe, Australia, India and the USA on a Vespa. His passion led to the formation of Europe's leading vintage scooter restoration garage. Realising the days of the vintage Vespa might be numbered, Niall and his team have spent three years developing a bespoke electric engine kit that can be retro fitted to almost any Vespa or Lambretta reducing its emissions to zero!

QUOTE:
Niall McCart (Chief Scooterist and Owner) says "Economically, paying £12.50 a day to ride a scooter in London makes no sense. Losing any of these iconic scooters because of the ULEZ legislation is a unforgivable. These scooters are made to last and can run for 50+ years. We had to come up with a solution to the problem ."

FOR MORE INFORMATION PLEASE CONTACT:
Charles Marks: 07968 703 882 mail@charlesmarks.com
Niall McCart: 020 8888 5424 mob: 07801 949 669 sales@retrospectivescooters.com

INVITATION TO EDITORS: More information at www.retrospectivescooters.com. Open day starts at 1pm, they always attract a few hundred scooter fans and many classic scooters. This year we expect many more people due to implementation of the ULEZ and the interest in our range of electric scooters and conversion kits. Journalists and TV crews are welcome to come and try out the scooters at the event or at any other time. Details of the event are here
This press release was distributed by ResponseSource Press Release Wire on behalf of Charles Marks in the following categories: Men's Interest, Leisure & Hobbies, Environment & Nature, Consumer Technology, Motoring, Transport & Logistics, for more information visit https://pressreleasewire.responsesource.com/about.