Topical Steroid Withdrawal: all you need to know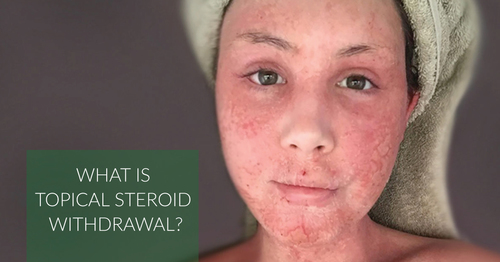 Topical Steroid Withdrawal (TSW): all you need to know.

Independent natural skincare brand Balmonds is hosting a Topical Steroid Withdrawal information week from 29th July.

As part of our commitment to support our customers and amplify the voices of those with chronic skin conditions, we're providing information and support for those affected by the condition known as topical steroid withdrawal, red skin syndrome or steroidal dermatitis.

Although this is a recognised condition, and the side effects of topical corticosteroids are well documented in the medical profession and eczema communities, many sufferers find it very hard to access appropriate care and treatment from their GPs and dermatologists. RSS is seen as a very rare condition, and topical steroids are still prescribed as a matter of course as primary long-term treatment for eczema, psoriasis and other chronic skin conditions, despite current advice around potencies and duration of treatment.

Balmonds is honoured and proud to host articles about the condition by key figures within the TSW community: Briana Banos, Louise King and Harriet Hammond.

We stand with them and their peers within the TSW community, working together for a better future for those with chronic skin conditions.

www.balmonds.co.uk

https://balmonds.co.uk/blogs/blog/tagged/topical-steroid-wit...

Articles on the Balmonds TSW/RSS Info Hub include:

• What Is Topical Steroid Withdrawal?
• How Do You Manage The Symptoms Of Topical Steroid Withdrawal?
• What Are The Stages Of Topical Steroid Withdrawal?
• The Brutal Truth: Topical Steroid Withdrawal - Emilie's Story
• Louise King: My (Un)natural Healing Story
• Briana Banos: The (Wo)man in the Arena
• Strategies For Managing TSW: NMT
• Strategies For Managing TSW: Cryotherapy
• Could Sea Swimming Help Your Eczema?


***


"This documentary has been a long time coming," says Banos. "I pray that it transforms into a powerful platform where our voices are heard in the hopes of changing the way topical steroids are prescribed. No one should have to suffer through such debilitation from a drug that should be helping, not hurting, us. As we, patients and doctors, work together, I know we can turn this reoccurring horror into history."

Briana Banos is an independent film maker who released her extraordinary, moving and important documentary 'Preventable: Protecting our largest organ' earlier this year. The film charts her own journey with red skin syndrome/TSW, and follows her as she travels across the globe meeting fellow sufferers, doctors and experts in the field.

She writes about how she came to make the film for Balmonds.

https://preventabledoc.com/

---

Louise King has been documenting her TSW journey on her Instagram account since being featured as a dramatic story in national newspapers earlier this year. (See https://www.thesun.co.uk/fabulous/8515501/eczema-lizard-addi...)

She is one of the #TSWFab5 influencers in the UK working together on the 'This Is Not Eczema' campaign to raise awareness of the condition, sharing symptoms, strategies and support to thousands of fellow sufferers.

This week Louise writes about her unconventional healing journey for the Balmonds TSW Info Hub.

---

Harriet Hammond is also one of the #TSWFab5 who are campaigning for change in the way steroids are prescribed and fighting for recognition of such a severe and under-recognised, under-diagnosed condition.

Harriet has written about strategies for managing the symptoms of TSW (NMT aka No Moisture Treatment, and cryotherapy) for the Balmonds TSW Info Hub.

---

"I chose for this blog to be posted on Balmonds website as their Skin Salvation balm was the only moisturiser I could successfully use on my burning TSW skin without stinging or irritation."
Louise King


For more information about Balmonds TSW Week, please get in touch with Lucy on lucy@balmonds.com.



***



Notes for editors:

• Balmonds was born out of radical necessity: nothing else worked, so founder Natalie Balmond did it herself!

After trying several different creams on her toddler's eczema, Natalie found that they either didn't work, carried risks of side-effects, aggravated the condition or stung badly on application. So she made a safe, effective, non-stinging, non-steroidal emollient herself.

• Now an award-winning independent brand, Balmonds specialises in natural skincare for sensitive, dry, allergy- or eczema-prone skin.

• Balmonds skincare is aimed at anyone who wants to feel better in their skin.

• Balmonds highly-rated and trusted emollients are available on prescription (at doctors' discretion) for people who may be prone to eczema, dermatitis, psoriasis and other dry skin conditions.

• Balmonds products don't use petrochemicals, parabens, SLS, PEGs, perfumes or colours

• All Balmonds products are free from nuts, soya, coconut, gluten, lanolin and palm oil

• Balmonds are so confident that their products will make things better that customers are offered a 60-day money-back guarantee for all first time UK purchases

• Balmonds Skin Salvation contains hemp seed oil, which is incredibly rich in the essential fatty acids that eczema sufferers can often be deficient in, so it works long-term as a topical supplement for the skin. Something that paraffin-based emollients cannot do.

• Balmonds Skin Salvation is made with local beeswax, which forms a semi-occlusive protective barrier against allergens; this barrier allows skin to breathe, in contrast to paraffin emollients which are totally occlusive.

• Balmonds have been honoured by Green Parent Natural Beauty Awards 2019, and The Beauty Shortlist Mama & Baby Awards 2019, while our original Skin Salvation balm has been shortlisted in the Problem Skin category by the Free From Skincare Awards 2019.



Stockists: Ocado, Holland & Barrett, independent healthstores and pharmacies across the UK and Ireland
Webstore: www.balmonds.co.uk

Samples of any of our award-winning products are available upon request from Lucy Gulland, PR Manager at Balmonds Skincare: lucy@balmonds.com, 01273 623123.
This press release was distributed by ResponseSource Press Release Wire on behalf of Balmonds Skincare Ltd in the following categories: Health, Women's Interest & Beauty, Medical & Pharmaceutical, for more information visit https://pressreleasewire.responsesource.com/about.