A Breath of Filthy Air? Study Shows Quarter of Britons Breathe Polluted Air in Own Homes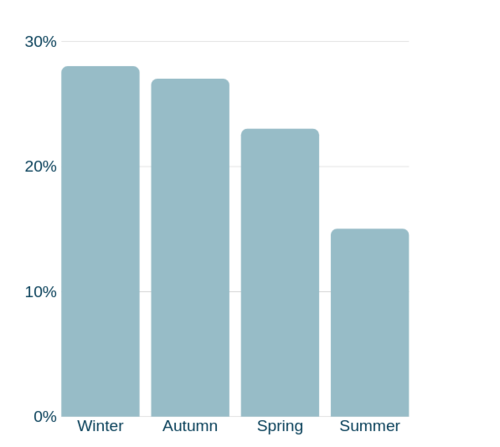 London, 5 November 2019 - A quarter of Britons[1] are breathing polluted air in their homes each day. On average, Britons spend 90% of their time indoors[2], so it is vital that they check the quality of the indoor air they breathe and take the correct measures to make their environment healthier.
According to data taken from Netatmo Weather Stations, 23% of homes in the UK on average exceed the threshold of 1,000 particles per million (ppm) of CO2 at least once a day, meaning these homes aren't ventilated well enough to evacuate pollutants. This is partly explained by bad habits: around 60% of Europeans don't replenish the air in their homes at least twice a day , as many health organisations recommend.

Indoor air quality that varies according to the season
The study shows that the quality of indoor air in homes in the UK changes according to the season. In winter, indoor air quality is poor in 28% of British homes, compared to only 15% in the summer. This means comfort is chosen over air quality in winter, with one in two Europeans not opening their windows because of the cold[3]. Yet airing a home two to four times a day for five minutes each time replenishes the air without heat being lost.

Key Findings
• CO2 levels are in excess of 1,000 ppm impair your ability to concentrate
• 23% of homes in the UK contain polluted air at least once a day
• Almost 80% of Britons don't air their home at least twice a day
• Airing your home in winter does not lead to a significant loss of heat
• Indoor air is most polluted on Sundays

British homes close to the European average
An average of 22% of homes become polluted daily across Europe. In the UK, the average percentage of homes getting polluted each day stands at 23%. The UK is therefore close to the European average. Sweden, which leads the ranking, has half as many polluted homes as the UK does.
These disparities can be explained by different habits in airing, as well as norms and ventilation mechanisms that vary from country to country. In the UK, 80% of detached houses built before 1990 have so-called natural ventilation and only 25% feature mechanical ventilation[4]. In Sweden, only 40% of houses have natural ventilation while 60% of them include mechanical ventilation[5]. This might explain why levels of indoor air pollution vary between British and Swedish homes.

How can you improve your home's air quality?
With the indoor air of 28% of British homes becoming polluted at least once a day in winter, it is vital to check your home's air quality.
A first key step is to air your home at least twice a day. It's also important to choose the right time of day to air your home, as well as the duration needed to reduce the CO2 rate as effectively as possible and to expel indoor pollution. Importantly, airing you home in winter does not lead to a significant loss of heat in the home. This is because only the indoor air cools, and not the walls, flooring, ceiling and furniture.
The Netatmo Weather Station helps improve your environment each day. The user can monitor indoor air quality in real time on their smartphone, track its changes over time and see the positive effects of their actions. As soon as the threshold of 1,000 ppm is reached, they receive an alert on their smartphone, prompting them to immediately take the necessary actions to improve their home's indoor air quality and purify their environment.

-ENDS-

About Netatmo
Netatmo is a leading smart home company creating simple, beautiful smart solutions for a safer and more comfortable home. The company's ambition is to bring useful technology, to the most intimate place you own. In order to pursue this goal, Netatmo follows four commitments that embody the company's DNA:

• Durable design: no planned obsolescence.
• Privacy at its core: from the conception phase, we ensure that we can guarantee data protection.
• Useful & reliable: our products make your life easier.
• Thoughtful notifications: we notify you only when it is important.

Since 2012, Netatmo has launched thirteen devices and accessories to meet the main demands of the smart home industry. The company offers different solutions to automate the home and make life easier, from its first product in 2012 to today.

In addition to its main product range, Netatmo collaborates with key industrial leaders with its "with Netatmo" program to expand its reach and continue to grow strategically with smart integrated solutions that fit in your home's infrastructure. Thanks to this strategy, Netatmo can bring simpler, easier and better home experiences.
In November 2018, Netatmo joined the Legrand Group, the global specialist in electrical and digital building infrastructures.

Netatmo, same home, just smarter.

Press Contact
Deborah D'Costa
Zaboura
+44 (0) 203 588 0804
netatmo@zaboura.com



[1] Netatmo study carried out from January to December 2018 using a minimum of 1,000 Netatmo Weather Stations in France, Norway, Sweden, Germany, the Netherlands, Spain, Italy, Denmark, the UK, the Czech Republic, Poland and Belgium.
[2] Opinium survey, available here
[3] Healthy Home Barometer 2016, European Survey by the Velux Group
[4] Natural ventilation provides airing without any mechanism, with air passing through an open window or ventilation grate. Mechanical ventilation is a mechanical system designed to constantly replenish the indoor air of rooms.
[5] Bâtimétiers periodical, No. 41 - 2015|SPECIAL FEATURE. Study carried out in 2014 by COSTIC (a French scientific and technical committee for climate industries) and by the French firm Strategic Scout as part of a business-line research and development programme organised by the French construction-industry federation Fédération Française du Bâtiment.
This press release was distributed by ResponseSource Press Release Wire on behalf of Netatmo. in the following categories: Health, Home & Garden, Consumer Technology, for more information visit https://pressreleasewire.responsesource.com/about.