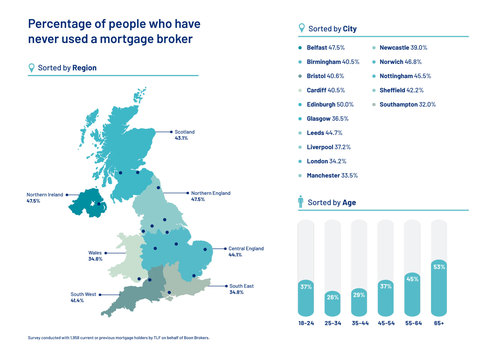 - Many consumers unclear on the benefits of mortgage brokers or what fees are involved
- Boon Brokers launches online Guide to Mortgage Broker Fees

Despite the fact a good mortgage broker is likely to be able to find homeowners a much better product than they could secure themselves, well over a third of mortgage holders (39 per cent) have never used one.

A survey of almost 2,000 mortgage holders conducted by mortgage broker Boon Brokers discovered that the number who had never used a broker rose to half (49 per cent) of over 55s. This means many homeowners could have reached full ownership of their property without ever having had professional advice to help them secure the best mortgage – potentially paying thousands of pounds on unnecessary interest and fees. Younger homeowners are more likely to consult an expert, with three out of four (74 per cent) of 25 to 34s...
Read full release