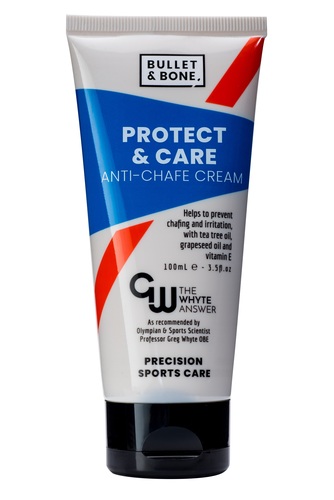 Bullet & Bone, the breakthrough product range for sports professionals is delighted to have teamed up with Professor Greg Whyte OBE to launch their new Protect & Care Anti-Chafe cream.

Personally tested and recommended by Olympian and sports scientist, Professor Greg Whyte OBE, the Anti-Chafe cream helps to prevent chafing and irritation during sports activity. With powerful natural extracts of tea tree oil, grapeseed oil and vitamin E, the cream is anti-bacterial, anti-fungal and anti-inflammatory and is packed with functional ingredients for maximum, long lasting superior performance whilst the intense moisturiser helps to repair and soothe painful, damaged areas.

Greg Whyte OBE, said:
"Along with the team at Bullet & Bone, I have designed an Anti-Chafe Cream which will reduce
inflammation, moisturise and protect skin, to ensure athletes – whatever their level - are comfortable whilst exercising, training, or competing.

...
Read full release