Forget what Instagram says! These are the real proposal spots you need to be thinking about this Valentine's day.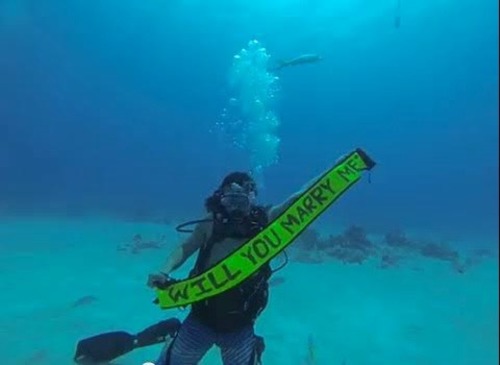 Bored of seeing the same tired tropes year in, year out, mobile phone insurer, loveit coverit, wanted to prove that you don't have to follow the latest Love Island trend to get a perfect proposal. They asked the UK public to send them their coolest, most interesting and unique proposal snaps – and here's what they came back with. Just in time for Valentine's Day…



loveit coverit noticed how easy it was get sucked in to thinking the same-old, same-old should be the most 'romantic' proposal Central Park during the summertime, in front of the Eiffel Tower, and a list of other busy tourist attractions. Or, even worse, mimicking how famous celebrities have gotten engaged over the years.

So to celebrate this year's Valentines, loveit coverit wanted to champion those that were going above and beyond to propose somewhere incredible. Forget run-of-the-mill and start thinking unique. These couples found some truly breathtaking places to share their beautiful moment, and have trusted loveit coverit to share their snap and their stories.

loveit coverit wanted to see if they could find the world's most alternative and interesting holiday wedding proposals through their latest competition. The winner would receive a £100 Amazon gift card that could go towards the wedding of their dreams. And they received some wonderful responses!



Imagine having the time of your life on holiday in Mexico, learning how to scuba dive, completing your PADI course and seeing incredible views underwater. This alone would make for an amazing holiday with a partner, but when Aimee looked over after completing an open water diving certification, she was met with her now fiance holding a bright yellow 'Will you marry me?' sign.

When asked about the event, Aimee said that she "couldn't believe it!" And with a wedding proposal as unique as this one, it's hardly a surprised. If you need any romantic inspiration this Valentine's day, let this be it!



When you think of the perfect destination for a proposal, you probably think of some great views. And what could offer better views than on top of a mountain? After two months of training, Fiona and Matt set off on a 2-day climb. Fiona knew that the plan was to make their way up Mount Blanc, but what she didn't know what that Matt was planning to pop the big question at the top.

With the whole of the snowy alps, and most of Europe laid out below them, Matt got down on one knee and proposed with a stunning sapphire ring. While we can only imagine the beautiful gesture, Fiona recalls the other climbers cheering for the heartwarming scene.



When she went on holiday to Finland, a proposal was the last thing Tiffany expected. But when Glenn proposed at an ice bar under a massive sculpture of Cupid, how could she refuse? It was definitely a trip to remember with Tiffany telling loveit coverit, "I was thrilled and immediately said yes, what an amazing night. We had a holiday of a lifetime which turned into a memory to treasure forever."

Each couple got to experience something incredibly romantic as well as unique. If you've been inspired by these images, and with Valentine's day coming up, you too could be proposing somewhere amazing. Just make sure you're protected with travel insurance in case you drop the ring!

Jonathan Owen, Marketing Manager at loveit coverit, notes:

"The team at loveit coverit put a lot of emphasis on taking care of the things you love, whether it's the gadget you use daily or your significant other on your honeymoon. But we often forget to cherish our loved ones and let them know how much we care about them."

He continued, "loveit coverit were very excited to help spotlight some interesting, alternative proposals submitted to us and help contribute to making their big day all the more special. Hopefully, we'll also inspire people to get creative for upcoming proposals."

Ensure you're protected for holiday proposals with world-class travel insurance

Some things to take into account for your alternative proposal can be making sure anything expensive, such as the ring, is covered. In addition, winter sports coverage or coverage for any other activity that you'll be taking part in where an accident could happen. It's important you also think about where you are going and what you are doing.

For example, if you go to the US then hospital stays are ten times more expensive than in Germany, so you'll need to make sure your policy covers, etc.

You also need to consider if the activity you're participating in is covered by your policy. loveit coverit provides coverage for over 50 activities within their travel policies. You'll be covered whether you're snowboarding, surfing or snorkelling.

Find out more about loveit coverit's travel insurance here: https://www.loveitcoverit.com/travel-insurance/

ENDS

About loveit coverit

Authorised and regulated by the Financial Conduct Authority, loveit coverit is a trading name of Pier Insurance Managed Services. Providing mobile phone and gadget insurance for 30 years, the company has insured in excess of one million devices to date and all claims are handled by their UK-based, in-house team.

Media contacts
Better Agency
Ben George
Ben.george@pierinsurance.com
www.betteragency.co.uk

loveit coverit
Jonathan Owen
Jonathan.owen@pierinsurance.com
www.loveitcoverit.com
This press release was distributed by ResponseSource Press Release Wire on behalf of Love it Cover it in the following categories: Leisure & Hobbies, Personal Finance, Travel, for more information visit https://pressreleasewire.responsesource.com/about.