CHAR-BROIL INTRODUCES THE ELECTRIC SMART-E FOR BBQs AT THE TOUCH OF A BUTTON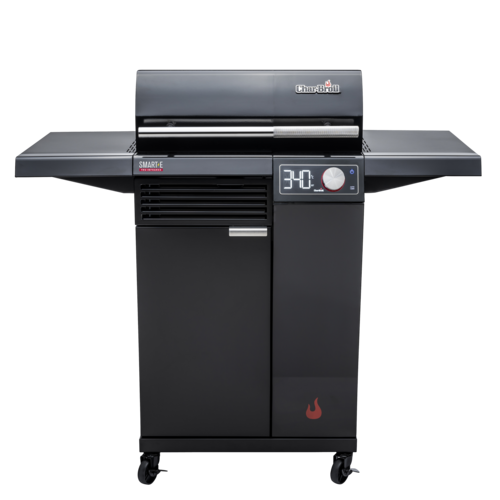 CHAR-BROIL ELECTRIC SMART-E WITH PRECISION TEMPERATURES, TRU-INFRARED AND IT CLEANS ITSELF TOO!

• E-Power: fully electric heat, just plug in for convenience and efficiency

• Smart Precision: precise temperature control and super-fast heat-up times

• TRU-Infrared technology for even heat, no flare-ups, juicier results

• Auto Clean and Auto Switch-Off for ultimate ease of use

March 2023: Char-Broil once again brings tech innovation to the consumer BBQ experience, aimed at ensuring everyone can get the best results possible from their outdoor grilling. The new SMART-E BBQ delivers E-Power: fully electric heat, no gas or charcoal; Smart Precision: full control and always the perfect temperature (between 90-370oC); TRU-Infrared technology for perfectly-cooked, juicy, aromatic and tender results; and brilliant Auto Clean which removes the hassle of cleaning and means no boring prep-work for your next cook-up!

Char-Broil's new high performance, innovative SMART-E grill is available in the UK from March 2023 at garden centres nationwide, RRP £799.99 www.charbroil.co.uk
The Char-Broil SMART-E's key benefits are:

SMART PRECISION DIGITAL TEMPERATURE CONTROL: At the heart of the SMART-E is an intuitive Digital Temperature Control system that makes it possible to dial in the temperature and let the grill maintain it from start to finish. The large digital display clearly shows actual and set temperatures, for additional precision

PUSH HEAT TO THE EDGE: From a low-and-slow 90oC to a searing-hot 370oC, the Smart-E is capable of delivering a wide range of temperatures, allowing you to grill any way you like

HEAT WITH SPEED: speedy preheat means you can start your grilling experience fast – with the grill heating up to 260oC in under 15 minutes

CLEAN WITH EASE: with the push of a button 'Auto Clean' mode takes care of any leftover residue, while the smart 'Auto Shut Off' powers your grill down on its own once it's finished the clean

ELECTRIC EFFICIENCY and patented TRU-INFRARED: no gas, no charcoal, no compromises. Simply plug in your SMART-E and enjoy the convenience and efficiency of electric BBQ without sacrificing your grilling experience. The controllability and precision of electric cooking, combined with Char-Broil's innovative TRU-Infrared technology will ensure perfectly cooked food every time.

The SMART-E comes in black porcelain coated steel, with a curved lid above a large 2-piece grilling surface featuring the TRU-Infrared system, plus a stainless-steel warming rack.

A large digital display panel shows actual and set temperatures for precise regulation. The large 11 segment display means the temperature is always clearly displayed so you're always in control. The panel also features the one-touch power button and a colour indicating light ring around the temperature control.

The SMART-E offers convenient storage in a front cabinet with interior shelf, while expandable surface space is provided by foldable side shelves. The smart BBQ can also be individually customised through the MADE2MATCH system which offers additional storage and griddles.

Lockable steering rollers ensure easy mobility.

www.charbroil.co.uk @charbroil_uk

- ENDS -

REVIEW SAMPLES AVAILABLE FROM FEBRUARY 2023, PLEASE CONTACT:

Char-Broil UK PR team: Charlotte Priest, Honcho PR charlotte@honchopr.com / 07876 222327; Michelle Redmond, Honcho PR michelle@minxpr.com / 07734 681796

Notes to Editors:

What's so great about Char-Broil's TRU-Infrared technology?

Char-Broil's patented heat technology distributes evenly and protects food from drying out – so barbecued food has never been this juicy!

Barbecue juicier than ever with TRU-Infrared™ Technology

The core element of Char-Broil's patented TRU-Infrared™ Technology is the unique emitter plate, which is used to convert the convective heat from the firebox into radiant heat. It collects the meat juices, which then evaporate and the moisture is returned directly to the food on the grill – preventing the food from drying out.

The emitter plate also prevents uncontrolled flames and flare ups that burn the food on the grill. This way, you always retain full control of the temperature and cooking level. As a result, your meat is up to 50% juicier.

Furthermore, TRU-Infrared™ Technology grills are more economical in terms of their energy consumption than comparable models without this technology since hot air does not escape and the heat is optimally distributed on the grate.

The removable emitter plate keeps dripping fat from getting the firebox dirty, which makes cleaning significantly easier too.

If you choose a barbecue with TRU-Infrared™ Technology, it'll take your barbecuing to a whole new level. It's a unique technology that not only guarantees first-class results but lots of fun too.

About Char-Broil®: The family owned manufacturer of charcoal, gas and electric outdoor grills, smokers and grill accessories is a subsidiary of W.C.Bradley Co and is based in Columbus, Georgia, USA. Char-Broil has been making barbecues for 75 years, since 1948. Char-Broil® is a market leader in the US gas grill segment and also sells outdoor cooking equipment in Canada, Latin America, Australia and across Europe. Char-Broil® is the leader in infrared grilling technology, known as TRU-InfraredTM. Char-Broil's European head office is based in Hamburg, Germany. The UK HQ is in Witney, Oxfordshire.
This press release was distributed by ResponseSource Press Release Wire on behalf of Minx PR (Previously Michelle Redmond PR) in the following categories: Home & Garden, Consumer Technology, Food & Drink, for more information visit https://pressreleasewire.responsesource.com/about.