BSS Partners With JDR Branding Ltd to Streamline Branded Merchandise Purchasing and Stock Levels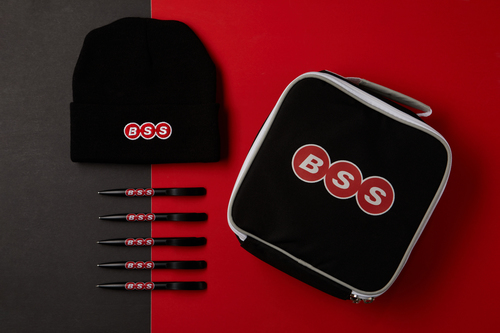 this new partnership between BSS and JDR Branding Ltd provides BSS with a cost-effective solution that creates uniformity across branches
BSS, the largest UK distributor of pipelines and heating solutions, has recently partnered with JDR Branding Ltd in order to streamline their branded merchandise and clothing purchasing process. By leveraging the power of bulk buying, they are able to reduce costs while enjoying uniformity in both price and quality. Through this new partnership BSS can now purchase and stock items much more efficiently through the use of an online portal for easy navigation, accurate reporting, and real-time inventory checks.

In the past, teams throughout the UK were purchasing various items from multiple suppliers resulting in product variations in cost and quality. The Marketing team at BSS wanted to find a way to centralise this process and make it easier for everyone involved. After being posed with this challenge during a scheduled catch-up meeting, JDR Brandling Ltd quickly worked to create a bespoke system that could meet all of BSS's requirements.

An online system was created and built specifically to meet the needs of BSS. Everything had to be created, including the framework of the site itself, the domain, photography of all products, the logging of inventories and stock, the writing of descriptions for each item, and code creation and allocation for products. It also needed to be easy to navigate and offer an accurate reporting system to help manage the inventory. In addition to this, JDR Branding Ltd set up and agreed on the pricing and carriage structure.

Thanks to this new partnership BSS are now able to experience a wide range of benefits including reduced costs, a more streamlined process, reduction in stock inventory with no need to hold vast amounts of stock, and elimination of waste as everything purchased is useful and relevant. Additionally, branches are now enjoying an improved user experience when navigating the site making ordering quick and easy.

Andy Vaughan, Marketing Manager at BSS commented: "The bespoke system that JDR Branding Ltd created exceeded all our expectations. Not only did it streamline our purchasing and inventory but the team at JDR Branding Ltd were able to recommend new ways of enjoying the benefit of bulk buying such as reducing commitment on purchasing many months' worth of stock meaning we can adapt our stocking levels according to seasonal requirements without needing huge levels of stocking product held for 6 months out."

Overall, this new partnership between BSS and JDR Branding Ltd provides BSS with a cost-effective solution that creates uniformity across branches while reducing costs associated with vast amounts of inventory. The online portal makes it easier for everyone by providing an efficient way for checking inventory levels as well as accurate financial reporting data.

ENDS
Notes to Editors
For further information, please contact:
Dawn Rogers – Director
JDR Branding
Phone: +44 (0)330 094 0188
Email: dawn@jdrbrandingltd.com
Unit 28F Zone 3, Ring Road, Burntwood Business Park, Burntwood WS7 3JG
https://www.jdrbrandingltd.com/

About JDR Branding
JDR Branding is a leading supplier of promotional merchandise. We founded JDR Branding because we felt there was a gap in the market for a real personal approach to promotional merchandise. Your merchandise should be individual and customised to your business, as we should be in our way of working with you.
JDR's customers come from a wide range of industries and sectors, from SMEs to corporates, the solutions are tailored to individual business needs.
This press release was distributed by ResponseSource Press Release Wire on behalf of Great Ape Digital Ltd in the following categories: Business & Finance, Media & Marketing, Construction & Property, for more information visit https://pressreleasewire.responsesource.com/about.