INSEAD appoints Professor Francisco Veloso as its new Dean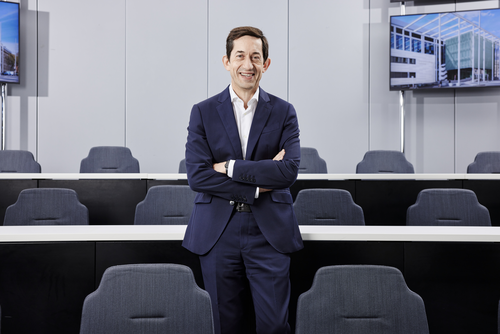 I am excited to build upon the institution's remarkable success and look forward to taking INSEAD to new heights.
Current Dean Professor Ilian Mihov concludes deanship after a decade of transformation

Fontainebleau (France), Singapore, Abu Dhabi, San Francisco, 4 April 2023 — INSEAD, the business school for the world, today announced the appointment of Professor Francisco Veloso as its new Dean. Professor Veloso joins INSEAD from Imperial College Business School, where he has served as Dean since 2017. Previously, he was the Dean at Católica Lisbon School of Business & Economics in Portugal.

Following an extensive and rigorous dean search process led by INSEAD faculty and the Board, Professor Francisco Veloso has been elected to succeed Professor Ilian Mihov. The INSEAD Board appointed Professor Francisco Veloso on 3 April. He will officially take up the position from 1 September 2023.

Andreas Jacobs (MBA'90D), Chairman of the INSEAD Board, said, " True to our founding global culture, a reflection of our inclusiveness and entrepreneurial spirit, the INSEAD faculty and Board have come together to appoint an inspiring future leader with a strong academic background." He added, "I extend a warm welcome to Francisco Veloso. His inclusive leadership approach, encompassing INSEAD's values, combined with his remarkable academic achievements, make him an ideal choice to guide our school into the next era. I look forward to working closely with him as we steer the school towards a bright future."

Professor Veloso is a leading authority in entrepreneurship and innovation and his expertise is recognised by government and policy makers – he was an advisor to both the Portuguese Government and to European Commissioner Carlos Moedas on innovation, entrepreneurship and industrial development. He is also a trusted advisor and Board Member to several startups and established firms.

During his tenure as Dean at Imperial College Business School, Professor Veloso has led the development of a 10-year strategy to bolster the school's position as a prominent leading research business school, recognised for digital innovation as well as teaching and research that address critical challenges facing today's tech-driven businesses and society.

Professor Veloso's leadership helped steer the Católica Lisbon School to become an institution with international reach, multiplying international students numbers several fold, and doubling the school's research presence in top international journals.

"I am honoured to have been chosen to take on the important role of Dean at INSEAD and express my gratitude to the faculty and INSEAD Board for placing their trust in me to lead the school into the future," said Professor Veloso. "I am excited to build upon the institution's remarkable success and look forward to taking INSEAD to new heights."

Professor Mihov is the longest serving Dean at INSEAD and will be stepping down after completing two successful terms, overseeing ten transformative years at INSEAD. The governance of the school imposes a strict limit with a maximum two five-year terms.

Professor Mihov stated, "It is my great pleasure to hand over INSEAD's deanship to Francisco, a distinguished professor and an outstanding leader. With his academic strengths and strong connections with business and governments, I am confident that INSEAD will achieve further success under Professor Veloso and his leadership team."

Originally from Portugal, Professor Veloso holds a PhD in Technology, Management and Policy from MIT - Massachusetts Institute of Technology, as well as an MSc in Technology Management and an Undergraduate Degree in Physics Engineering, both from the University of Lisbon. He developed most of his academic career at Carnegie Mellon University, where he retains an Adjunct Professor appointment.

Read Professor Veloso's full bio here.

About INSEAD, The Business School for the World
As one of the world's leading and largest graduate business schools, INSEAD. Our research, teaching and partnerships reflect this global perspective and cultural diversity.

With locations in Europe (France), Asia (Singapore), the Middle East (Abu Dhabi), and now North America (San Francisco), INSEAD's business education and research spans four regions. Our 166 renowned Faculty members from 41 countries inspire more than 1,500 degree participants annually in our Master in Management, MBA, Global Executive MBA, Specialised Master's degrees (Executive Master in Finance and Executive Master in Change) and PhD programmes. In addition, more than 11,000 executives participate in INSEAD Executive Education programmes each year.

INSEAD continues to conduct cutting-edge research and innovate across all our programmes. We provide business leaders with the knowledge and awareness to operate anywhere. Our core values drive academic excellence and serve the global community as The Business School for the World. More information about INSEAD can be found at www.insead.edu.

For more information on INSEAD and their new Dean, please contact Alexandre Lopez at BlueSky Education on alex@blusky-pr.com or call on +44 (0)1582 797959
This press release was distributed by ResponseSource Press Release Wire on behalf of BlueSky Education in the following categories: Business & Finance, Education & Human Resources, Public Sector, Third Sector & Legal, for more information visit https://pressreleasewire.responsesource.com/about.