The science behind why coming to the coast makes you feel better!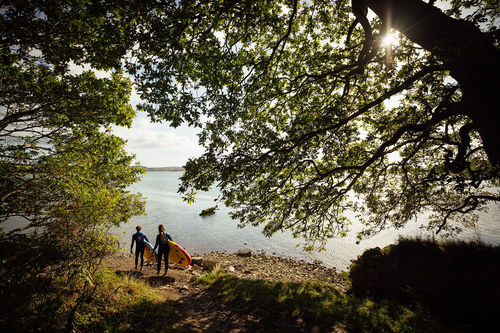 It's good to know our own instincts have our best interests at heart - heading for a break in beautiful countryside by the coast not only feels like a good thing to do, it is!
There's now an abundance of scientific evidence that kicking through leaves in woodland or standing on a beach with the salt breeze on your face is good for your health. The immense power of so-called green and blue spaces to improve both mental and physical wellbeing has been the subject of several studies in the last two decades and given us some fascinating data to back up what we already felt to be true: going to the coast is the ultimate feelgood experience.
The science could also give us a clue to solve the secret of why Pembrokeshire is so popular. As the UK's only coastal national park it combines the unbeatable package of stunning and inspiring landscapes fringed with awesome coastline, rivers and beaches. Accessing the very best of blue and green spaces is so easy here – it is the ultimate package holiday!

One of the most comprehensive insights into the power of blue spaces (on or by the sea, rivers, lakes and even ponds!) was produced by researchers at the University of Glasgow. They gathered evidence from studies across the world and found ample proof that water features can be valuable public health assets.

In a BBC article , co-author of the study, Niamh Smith, said that the team found an impact on both mental and general health from spending time in blue spaces. The research also linked time spent in blue space to a reduction in body mass index (BMI) and a lower risk of mortality.

Getting out into nature (green spaces) has also been found to help our health. New Scientist published an article highlighting research that showed "the evidence of positive effects from nature includes studies on specific psychological conditions such as depression, anxiety and mood disorder. Access to nature has also been found to improve sleep and reduce stress, increase happiness and reduce negative emotions, promote positive social interactions and even help generate a sense of meaning to life.
For owner for of the Little Retreat, Amber Lort-Phillips, none of these conclusions come as a surprise.

"Whether it's couples looking for walks, cycling, kayaking or paddleboarding here in Lawrenny, or families looking for a blast on our beaches and coastline, so many of our guests have said their time here has left them feeling amazing. It's the same for everyone who comes to our adventure and wellbeing festival, the Big Retreat. They say the power of the place is something that stays with them long after they've left!"

The special appeal of Pembrokeshire has been recognised for decades. After World War II, the people responsible for drawing up the UK's National Parks, seen as green spaces vital to help heal a traumatised nation, stood on the castle terrace right here in Lawrenny to plan out these accessible and healing natural retreats in Wales.
"As a nation, we've been through some pretty tough times in the last 3 years," said Amber. "It's a good time to reconnect with those spaces and places we know help us feel better about ourselves and about life in general!"

EDITOR'S NOTES

The Little Retreat in Lawrenny is a high-end glamping site, with cosy domes available throughout the year and beautiful stargazing bell tents available in the summer. We offer nights from 140GBP (minimum 2-night stay). More information at www.littleretreats.co.uk

Lawrenny is surrounded on three sides by the mighty Daugleddau, an extensive pair of estuary and river systems that cut right into the heart of Pembrokeshire (thus the river's Welsh name: dau – two and cleddyf - sword). This means there are miles of sheltered waterways to explore on kayaks or SUPs and extensive footpaths that wind along the river edges through some of the most important bird and floral habitats in Europe. There are also lots of quiet bike trails and routes nearby. The famous beaches of the south coast are 20 minutes away, and the celebrated natural wonders of the north Pembrokeshire coastline are accessible within 40 minutes.

The Hobhouse Committee was set up by the government two months after VE Day to go out and identify the best places in the UK to create National Parks that would give everyone in an exhausted and broken nation somewhere to escape and recover from the horrors of the war. They came to Lawrenny in 1946 to draw up the Welsh national park boundaries.

The Big Retreat is an annual wellbeing festival delivering music, discovery, fitness, food and drink on one of the most spectacular riverside locations in the UK. It's held June 1-4th this year. There are day and weekend ticket options from 79GBP. More information at www.thebigretreatfestival.com


For more information, call Amber on 07878 837912 or email escape@littleretreats.co.uk


https://www.bbc.com/future/article/20221108-the-doctors-pres...
https://www.newscientist.com/article/mg24933270-800-green-sp...
This press release was distributed by ResponseSource Press Release Wire on behalf of The Big Retreat Wales in the following categories: Health, Environment & Nature, Travel, for more information visit https://pressreleasewire.responsesource.com/about.