Wilton London debuts new plant-powder eco laundry capsule packed with essential oils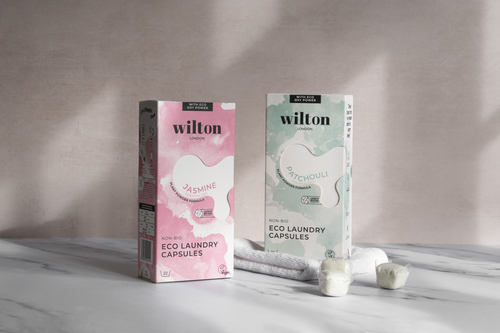 Botanical laundry brand, Wilton London, debuts their new eco-friendly laundry capsule range in Sainsbury's stores. Designed to leave your laundry with a lasting botanical scent and without a lasting impact on the environment.

- Why We Love Wilton Eco Laundry Capsules

· Packed with Essential Oils
· Great for Cool Washes
· No Nasty Chemicals
· Plastic Free Packaging
· Plant and Mineral Based Formula
· Powerful Cleaning

Laundry capsules are the fastest growing laundry detergent [1] making them the most popular way of doing the laundry in the UK. But only 0.1% of laundry capsules sold come from eco-friendly brands.[1] That's why Wilton have reinvented the laundry pod to make it more eco-friendly than ever.

The new plastic-free Eco Laundry Capsules were the first 'powder laundry capsule' to hit UK supermarket shelves. The innovative plant-powder based formula means Wilton are able to use more sustainable plant and mineral derived ingredients avoiding environmentally troublesome ingredients required in traditional liquid laundry capsules.

They're packed with essential oils to leave laundry with a lasting and luxurious scent. The clever formulas have the added benefit of offering powerful cleaning abilities at lower temperatures supporting the brands carbon neutrality. The unique powder formula has the added benefit of being safer around children as powder is much harder to swallow accidently.

The new carbon neutral capsule range comes with the added benefit of 100% plastic free packaging, which includes the removal of any plastic linings from the container.

Wilton is launching two botanical scent variations of their Eco Laundry Capsules (£8.50 RSP/22Capsules) which includes their popular Jasmine fragrance and a new Patchouli scent.

Founder, Sam Whigham, comments "Liquid laundry capsules are so convenient, but they're just not that great for the environment, so we had to start fresh. Powder capsules use much kinder ingredients and let us use more naturally derived ingredients including loads of lovely essential oils"

The scent: Patchouli
The Patchouli scent is the perfect balance of sweet and fresh, yet warm and earthy, with aromatic notes of pine and anise.

The scent: Jasmine
The Jasmine scent is dominated by notes of jasmine, ylang-ylang and sweet orange blossom. Floral and sharp yet warm and woody.



ENDS.

[1] Nielsen GB Total Coverage - Latest 52 Weeks to WE 11 February 2023 vs PY


For more information, photos, interviews and samples please contact:

Contact: press@wiltonlondon.co.uk

Contact: Sam@wiltonlondon.co.uk

I: @wilton_london
FB: @wilton.of.london
www.wiltonlondon.co.uk

-- About Wilton London

Wilton London is a on a mission to make housework less of a chore with its plant-based eco-friendly products in stylish packaging that smell amazing and elevate home cleaning and fragrance to a new level. As a certified B Corp, Wilton London meet the highest verified standards for social and environmental performance, transparency, and accountability.

Founded in 2018, by ethical entrepreneurs Sam Whigham and Mike Perry, "the business has recently become carbon neutral – a first for the UK cleaning market."

The idea for Wilton London was conceived in their kitchen on Wilton Way, after Sam got fed up of the cheap and nasty scents found in most laundry and cleaning products. Sam started adding his own essential oil scents to shop scent-free laundry liquids. People noticed the fragrance, and when friends asked, 'what are you wearing?', Wilton was born.

Comments Sam, "I'm pretty obsessed with scent, so I began to think about how I could match my passion for botanicals, and creating a company for good.

"I started blending my own kitchen counter laundry liquids and when friends started asking me to make up bottles for them, we knew we were on to something."

But Wilton is a brand dedicated to more than just cleaning. Wilton add premium fragrances more akin to fancy candles, with kind and sustainable cleaning formulas that truly elevate your home.

The new Sainsbury's listing follows a successful launch of their fragrance-led liquid laundry and fabric conditioner range in May 2022.
This press release was distributed by ResponseSource Press Release Wire on behalf of Wilton London in the following categories: Home & Garden, Environment & Nature, Retail & Fashion, for more information visit https://pressreleasewire.responsesource.com/about.