Refik Anadol headlines 'In Resonance' at Scorpios curated by HOFA Gallery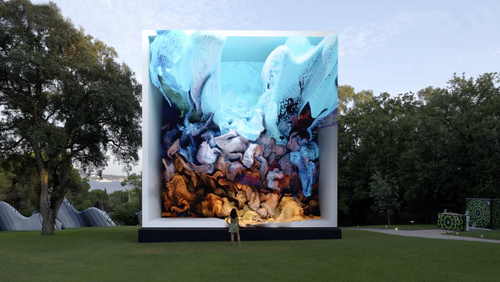 Art and tech pioneers HOFA and Scorpios, renowned Mykonos-based creative gathering place, partner for 'In Resonance', an exploratory art, music and culture program showcasing the interplay between contemporary art and music.

'In Resonance' is the inaugural edition of Scorpios Encounters, a newly launched platform for cultural experimentation, which will run during peak summer from 13 July until 3 September 2023. For 7 weeks, the eminently well-curated program will feature captivating installations by prominent generative artists, high-profile music collaborations, live musical performances, and exclusive digital art drops.

HOFA Co-founder Elio D'Anna explains, "In Resonance is a multidisciplinary program which brings leading AI artists and renowned musicians together to explore the profound connections between art and music as reflections, complements and natural evolutions of each other."

Headlining 'In Resonance' is the phenomenal Turkish-American media artist and director Refik Anadol. Renowned for his mesmerising immersive and interactive works, Anadol's creative endeavours have achieved global acclaim with digital collectible sales exceeding $30 million, amid notable collaborations with esteemed institutions like Sotheby's Hong Kong and MOMA New York.

At Scorpios, Anadol will unveil his latest collection of artworks, co-created with the Yawanawa Indigenous communities of Aldeia Sagrada and Nova Esperança from Brazil (13 – 14 July) to reflect the dynamic interrelationship between Yawanawa culture and the Brazilian Amazon. Facilitated by Impact One as part of their "Possible Futures" program, this collaboration will explore the deep connections between human consciousness and nature with Anadol and Impact One donating their share of proceeds towards funding long-term initiatives for the protection of Yawanawa heritage.

Also headlining 'In Resonance' is trailblazing female AI artist Dr. Ivona Tau, renowned for her experimental photography and motion paintings created using GAN models trained on rich photographic data. Tau's new works, developed in collaboration with Jean Claude Ades, maestro of eclectic dancefloor rhythms, is based on light data collected in the island of Delos and is billed to go live during the second set (23 – 24 July) of the summer-long program.

French biological generative artist and musician Agoria will also present a new artwork created through the algorithmic fusion of sunset data captured at Scorpios, Mykonos (24 – 25 Aug), while New Zealander Jesse Woolston will release new AI artworks created around the theme of knowledge, spiritual beliefs and the power of AI in the fight against climate change (31 Aug – 1 Sept).

Other feature artists and musicians include Hugo Johnson, the hypnotic visual storyteller, who alongside Bedouin, known for their Middle Eastern and Western sound fusions, will present their collaborative masterpiece, Zorba, which reimagines extreme weather phenomena using geographic data.

Australian light sculptor Jason Sims, in collaboration with musical protégé of meditative soundscapesSatori, will immerse viewers in a light-mediated exploration of natural systems (10 – 11 August), while the pioneering Azeri new media artist Orkhan, along with the music director of Scorpios Mykonos Lannka, will present a new work in the Relic series exploring eastern cultural heritage and tapestries through physical data sculptures and paintings (4 – 5 August).

Scorpios Co-Founder and President, Thomas Heyne, believes the new program will resonate with Scorpios' growing community. He says, "Charting new creative territory is what we do at Scorpios and our vision for 'In Resonance' is to create a more multidimensional and fulfilling experience for artists and our community."

ENDS

*Please contact us for full photo credits before use.

WWW.THEHOUSEOFFINEART.COM

WWW.SCORPIOSMYKONOS.COM

Contact:

Emma-Louise O'Neill
emmalouise@thehouseoffineart.com
+44 7515 136909


NOTES TO EDITORS


ABOUT HOFA

HOFA (The House of Fine Art) Gallery is a contemporary art gallery established in 2012 to discover, spotlight and support new and emerging contemporary artists from around the world. Since inception, they have blazed a trail by integrating Web3 features and functionalities into their art programming.

At its branches in London, Los Angeles and Mykonos, HOFA Gallery has hosted several ground-breaking solo and group exhibitions of traditional and digital artworks while also supporting fractionalized art investments targeted at young, web-savvy art collectors. These include Qvantum, its first Web3 art exhibition; XXI, which supported secure art investments via blockchain technology; Portrait of an Era, which featured many renowned digital artists; and more recently, Beyond the Screen.

Since 2021, HOFA has launched its own web3 platforms, HOFA.io and HOFA DAO, and continues to embrace contemporary art created and enabled by Web3 technologies.
This press release was distributed by ResponseSource Press Release Wire on behalf of HOFA Gallery in the following categories: Entertainment & Arts, Consumer Technology, Travel, for more information visit https://pressreleasewire.responsesource.com/about.