SPROUT PLANTABLE PENCILS – NEW KNOCKOUT CHILLI EDITION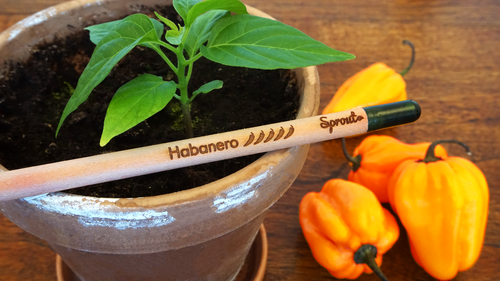 The perfect pencil for chilli lovers, these plantable pencils from Sprout are certainly hot stuff!

The chilli plantable pencil is the latest launch from Danish green startup Sprout, who introduced the world to the very first sustainable pencil which can be planted after use. Where an eraser would usually sit on top of the pencil, the Sprout Pencil has a special seed capsule.

Sprout pencils grow into not only chillies, but herbs, vegetables, flowers and even trees! When the pencils are too short to write with, they can be planted and will grow into beautiful plants. The Sprout pencil is the first sustainable pencil in the world that can be planted after use.

The sustainable Sprout Knockout Chilli edition pack contains 3 pencils; in hot, hotter and hottest chilli varieties with organic seeds from some of the world's hottest chilli plants :

• Hot – Red Cayenne (20,000 sco)
• Hotter – Purira Pepper (50,000 sco)
• Hottest – Orange Habanero (210,000 sco)

The strength of the chilli peppers is measured according to the Scoville scale that measures the content of capsaicin in the fruit, the more capsaicin, the hotter the fruit.

The Sprout pencils are used to write and draw as with a normal pencil but once they are too short they have new lease of life and will grow into a beautiful chilli plant.
To plant a Sprout Chilli Pencil, follow these tips for the best results:

• Place the flower pots in a warm area (The optimal temperature is 28-30C)
• Ensure the soil is kept moist
• Make a plastic bag 'hood' with holes and cover the pot. These creates a small cloche
• Most seeds will germinate within 10-14 days
• When the seeds have germinated and the first set of leaves have appeared, carefully transplant to a bigger pot. Fruits should appear 2-3 months after germination
• Continue to keep the soil moist (but not too wet as this may rot the seeds)

The Sprout Knockout Chilli edition will retail at £4.90 for a pack of 3 pencils at www.sproutworld.com and other retailers including Not On The High Street.

The Sprout Pencil is available in flower, vegetable and herb varieties and also comes in different colours, with each colour having its own plant variety:

• Flowers – Marigold, Forget-me-Not, Sweet Pea, Calendula, Lavender and Sunflower
• Vegetable/Fruit – Tomatoes, Green Pepper and Strawberries
• Herbs & Spices – Basil, Coriander, Mint, Sage and Thyme

Ends

For further information, images or product samples please contact karen@risepr.co.uk / 07887 681821 at Rise PR

High res pictures can be downloaded at http://sproutworld.com/press-and-downloads/high-res-images/

About Sprout

The first Sprout Pencil was invented by 3 students at Massachusetts Institute of Technology (MIT), Boston and was launched in 2012. In 2014, the students sold their assets, including trademarks, patents and IP rights to Sprout. Today Michael Stausholm is the main shareholder and CEO of Sprout World and the company sells more than 450,000 pencils a month in more than 60 different countries. Sprout Pencils are used by The Vatican, the French Government and IKEA Italy recently replaced their short pencils with Sprout Pencils.
Sprout is constantly expanding its portfolio with new sprouting products, which are all rooted in sustainability, and which are a reaction to today's "use-and-throw-away" culture. Using Sprout's pencils, paper and stickers, you can create new life at the very moment, when otherwise they would have ended up in the dustbin.
This press release was distributed by ResponseSource Press Release Wire on behalf of Rise PR in the following categories: Men's Interest, Leisure & Hobbies, Home & Garden, Women's Interest & Beauty, Consumer Technology, Food & Drink, for more information visit https://pressreleasewire.responsesource.com/about.