Local Traders Tip – Get a Landline on your Mobile and get more trade!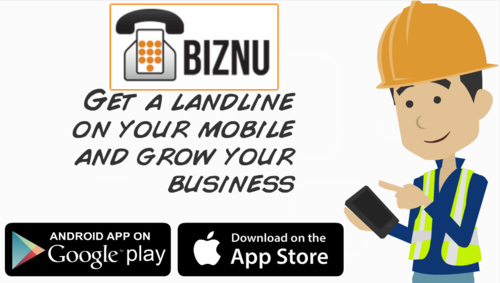 Calling all self-employed electricians, builders, plumbers, gardeners and any other independent trades people. If you have a smart phone and you are looking for more enterprise, then read on for the trade secret that will drop new business in to the palm of your hand.

Despite rapid growth of mobile communications, there is still a general perception that businesses that have a fixed line are more professional, more trustworthy and more established than those operating from a mobile phone. Concern over 'cowboy' traders who can disappear with your hard-earned cash overnight remains a factor.

Moreover, with the growing uptake of call bundles from BT or other providers, which do not include calls to mobiles, homeowners are more likely to call a landline number in preference to a mobile when they need a tradesman or a handyman in the house. If you don't pick up the phone they will just keep on searching. Answer phones have their place but 67% of people looking for a local service will hang up without leaving a message, calling the next listing in the local directory.

So what's the solution?
A Bristol based company called IG Consulting have the answer and it's sitting in the palm of your hand. IGC have developed a Phone App for tradesmen that allows you to have multiple phone numbers on one mobile device. The App, called BIZNU, can assign a landline number or multiple numbers to your mobile, so customers can call you at national rates. Imagine, a local landline on your mobile!

What's more, when you dial out to your customers, your caller ID will display as your business landline right from your mobile. Now you are a bona fide local businessman!

Ofcom research shows there are 89.9 million phones owned in the UK. With a population of 65.1 million, that an average of 1.38 phones per person! Now there is no longer a need to carry two mobile phones around with you. Simply assign another mobile number to your existing mobile with BIZNU and receive in-coming or make out-bound calls on which ever number you prefer.

For those who wish to wave goodbye to the traditional office phone completely, the BIZNU Phone App gives you all the functionality of a desk phone, with speed dialling, caller identity and in-call handling, including call transfers, voicemail, call recording, Do Not Disturb and conference facilities.
Existing numbers can also be transferred to BIZNU giving you continuity of your business identity and existing contact lists can be accessed directly.

Ends

For further information, please contact:

John Higgins,
Director, I-G Consulting
Landline +44 (0)207 788 4769, Mobile +44 (0)79215 78779
Email: john.higgins@ig-consulting.co.uk

or

Bev May
Director, Mayday Marketing
Landline +44 (0) 1380 888033, Mobile +44 07710 008090
e.mail: bevmay@maydaymarketing.co.uk

This press release was distributed by ResponseSource Press Release Wire on behalf of Mayday Marketing in the following categories: Men's Interest, Consumer Technology, Computing & Telecoms, for more information visit https://pressreleasewire.responsesource.com/about.