Atlantic Ocean Road in Norway identified as the best road for the ultimate summer drive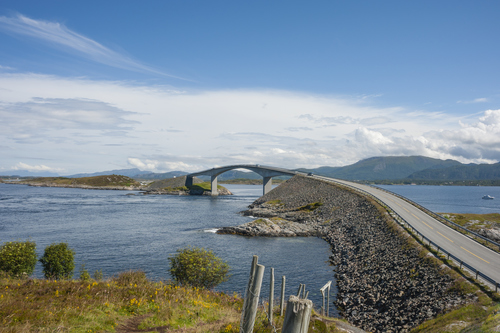 we're sure that the 25 best summer driving routes that we've identified will be debated by car enthusiasts across the country!
London, 15 June 2016 With 31 million Brits set to drive their way into summer, psychologist Dr. David Holmes has developed a formula to identify the 25 Ultimate Summer Drives (USD) in Europe.

Dr. Holmes looked at elements of the driving experience that are important to the planning of a summer route, including the number of bends and hills, volume of traffic, type of scenery and even the weather; and combined these with the findings from TomTom's study of 14,000 drivers from across Europe.

Taking insights from this study, and his expertise in human behaviour, Dr. Holmes developed the Ultimate Summer Drive (USD) formula to help drivers experience the best drive possible this summer.

The Ultimate Summer Drive (USD) =

((P+T) x (R+SC)) x100/21.3333
-------------------
SS+AT+W

T = Type of Road
SS = Slope and Skew
AT = Amount of Traffic
P = Stopping Points
R = Remoteness of Road
SC = Surrounding Scenery
W = Weather

The USD formula outputs a 'Perfect Drive' percentage score that can be used to identify the best routes to drive on.

On cracking the code, Tom Brown, Vice-President, TomTom UK said: "There are so many incredible journeys with jaw-dropping views all over the world to explore, which a summer road trip can help you discover.

"TomTom's Ultimate Summer Drive formula, and key features within our devices, including Lifetime Maps and up-to-the-minute accurate traffic information, make driving on Europe's most incredible routes easier, and more enjoyable than ever. Summer driving should be relaxed and exciting – driving to be enjoyed and relished. We know that driving is a passion for many people in the UK – and we're sure that the 25 best summer driving routes that we've identified will be debated by car enthusiasts across the country!"

Developed using variables identified in the research, the USD formula will make planning a summer road trip easier than ever:

· Incredible (Instagram ready) views: 70% of drivers identified great scenery as key to a holiday drive but this scenery has to be social media friendly with 15% of drivers admitting that photo ready views are a deciding factor in the success of a road trip.
· A great road: For one in four drivers, the road itself is key to a drive's success with two-lane roads combined with gentle bends, positive camber change and good forward vision identified as the ultimate road combination.
· (Near) empty roads: One in five people cited a remote road that lets you veer slightly off the main path to discover somewhere new (yet with the occasional, reassuring passing car) as being what makes a drive epic, and key to the USD formula.
· Regular stop off points: Well-spaced, regular pull-off points every 30 miles or so with basic facilities and unexpected views helps drivers stay relaxed and energised.
· Great weather: Warmth and a light breeze provide the perfect summer driving conditions.


Unveiling the Ultimate Summer Drive

The Atlantic Ocean Road in Norway came out top across Europe when mapped against the formula, with its blend of spectacular views, quality roads and perfect light conditions throughout the summer making it the Ultimate Driving Experience in Europe.

The rest of the top five Ultimate Summer Drive roads in Europe is made up of:
2. Estoril Ocean Drive, Portugal
3. Lake Como, Italy
4. The Peloponnesus, Greece
5. The North Coast 500, Scottish Highlands

Commenting on the formula and the top five roads, Dr. Holmes said: "Holiday driving can combine the thrill of the new and novel with a sense of adventure, unlocking a sense of excitement and freedom. Planning a route using my formula before you embark on your summer adventure will help you make the most of your drive and enhance your overall holiday experience."

-ENDS-

Notes to Editors

Research data
The European research was conducted by Censuswide with fieldwork conducted in May 2016. Data was secured via an online survey and the sample consisted of 14,000 adults over the age of 18 with driving licenses, in: the UK, Germany, France, Spain, Italy, Belgium and The Netherlands (2,000 from each country).

*68% of UK citizens surveyed said they plan to drive on holiday this summer. With the UK driving population currently at 45.5 million we can safely assume 30,940,000 (just under 31 million) Brits will be driving this summer.


TomTom's 25 Ultimate Summer Drives in Europe:

The routes have been split into five categories and the featured roads are as follows:

Best Coastal Roads
· Amalfi Coast – Italy
· Ireland's Causeway Coastal Route – Ireland
· Costa Brava – Spain
· Estoril Coast Drive, Portugal
· Dalmatian Coast – Croatia

Best Woodland Roads
· Route 500 Schwarzwald Hochstrasse, Black Forest – Germany
· A5 Chirk to Bethesda via Snowdonia Park – Wales
· Los Alcornocales national park – Spain
· New Forest – England
· Lake Como – Italy

Best Mountain Roads
· Furka Pass – Switzerland
· The Stelvio Pass – Italy
· Grossglockner Hochalpenstrasse – Austria
· Col Volteux – France
· Trollstigen – Norway

Most Epic Road Trip Drives
· The North Coast 500, Scottish Highlands
· Atlantic Ocean Road – Norway
· Route One – Iceland
· Wild Atlantic Way – Ireland
· Basque Circuit – Spain, France

Best Historical Drives
· Route Napoleon, Alpes-Maritimes – France
· Romance Road – Germany
· The Marguerite Route – Denmark
· The Peloponnesus - Greece
· Transfagarasan – Romania


Dr David Holmes' top tips for a perfect summer drive:

1. Pack a good satnav and pre-plan your routes in advance
2. Try to savour the drive as it happens, never be in a rush to 'get somewhere better'
3. Look for the unusual. This will result in better memories than well-known 'best roads'
4. Pack a camera or better still a car-cam
5. Choose your travelling companions wisely
6. Be flexible, do not stick rigidly to a planned route but have a rough plan before you start
7. Evaluate your choice using the formula – change choices if necessary
8. Roll with the circumstances. Whatever happens, enjoy it, as the difference between an exciting adventure and a disaster can simply be your attitude.
9. Pack an overnight kit – just in case
10. Live the moment. Ban all non-essential technology – stare into the new experience not at your phone


For further Information or alternative images, please contact:
Julien Speed on Julien@starfishpr.london
This press release was distributed by ResponseSource Press Release Wire on behalf of Starfish Communications in the following categories: Men's Interest, Motoring, Travel, for more information visit https://pressreleasewire.responsesource.com/about.