Landlust magazine's perfect autumn edit now on the newsstand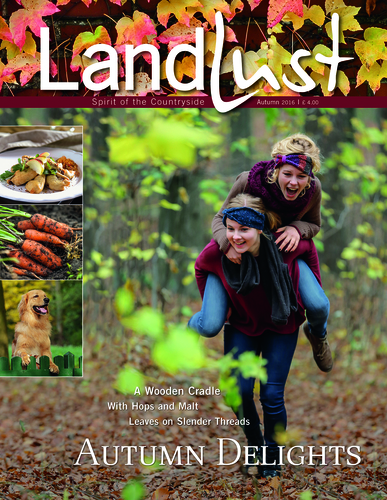 Learn how to make delicate spoons using walnut shells and surprise friends and family with sugar spoons that couldn't be more unique!
B Connects. Barbara Geier Content Services

Landlust, a lifestyle magazine embodying the spirit of the countryside, packs the best of the season on 132 pages full of autumn gardening, cooking, DIY, homemaking and country life delights

From delightful autumn trees to creating hearty seasonal flavours with a dash of beer, the pages of Landlust's current edition provide readers with the perfect autumn edit. The German-born magazine, which was launched in the UK in November 2015, celebrates the spirit of the countryside with off-the-beaten track and inspiring content on food and seasonal recipes, gardening, nature and wildlife as well as crafts and do-it-yourself ideas. A snapshot of the content pages gives a taste of what readers can expect:

- Autumn's best kept garden secret:
All about a small tree that makes a big impact with a spectacular range of autumn colours and its ability to fill the air with a delightful cake-like aroma

- How beer can flavour your autumn kitchen:

You could continue to deep-fry your fish fillets the conventional way, or you could use a beer batter – discover how beer adds a welcome taste of bitter to a hearty autumn menu (including dessert!)

- A different take on tea bags: A cup of tea is sometimes the best medicine and Landlust shows you how to replace teabags with wine leaves that are filled with a mix of medicinal plants

- In a nutshell:
Learn how to make delicate spoons using walnut shells and surprise friends and family with sugar spoons that couldn't be more unique!

- No more bad weather days:
Rainy autumn days are no excuse to restrict family activities to the house – fun ideas for kids to make the most of the weather

- Nature's autumn remedies:

Find out how the common fennel, harvested in September and October, can help with a variety of medical complaints

- Metal detectorists:

Plod along with amateur detectorists on the search for precious artefacts from the past

- Strong and sensitive:

Why the Hovawart breed is the perfect farm guard

More useful ideas and seasonal content can be found in Landlust's "Garden", "Kitchen", "At Home", "Country Life" and "Nature" sections and the magazine is available at:

• WH Smith (High Street and Travel)
• Sainsbury's
• Tesco
• Morrisons
• Waitrose
• Asda
plus independent shops

Website & Social Media:
www.landlust.co.uk
www.facebook.com/LandlustUK
www.twitter.com/LandlustUK
www.pinterest.com/LandlustUK
www.instagram.com/LandlustUK

Ends

Note to editors

About Landlust:

Landlust is published by LV Publikumsmedien GmbH & Co. KG in Germany where the company is based in Münster, North Rhine-Westphalia. Landlust was launched in Germany in 2005 and its initial circulation of 50,000 very quickly grew to over one million, putting it in the top ten of Germany's best-selling publications. The magazine's success took the German publishing industry by surprise and spawned many copycats. Initially launched with a rural readership in mind, Landlust turned out to be a very attractive proposition for an urban audience too and has now also a sizeable readership in the country's big cities.

Landlust UK was launched in November 2015 and is aimed at people who like to live in tune with and close to nature. The 132-page magazine is published four times per year and the Christmas issue will be out on 15 November 2016.

Subscriptions on www.landlust.co.uk

For further enquiries please contact:
Barbara Geier
Landlust UK
barbara.geier@landlust.co.uk
phone 07983 242 195
This press release was distributed by ResponseSource Press Release Wire on behalf of B Connects in the following categories: Leisure & Hobbies, Home & Garden, Food & Drink, for more information visit https://pressreleasewire.responsesource.com/about.