Space Medicine Set to Land in Edinburgh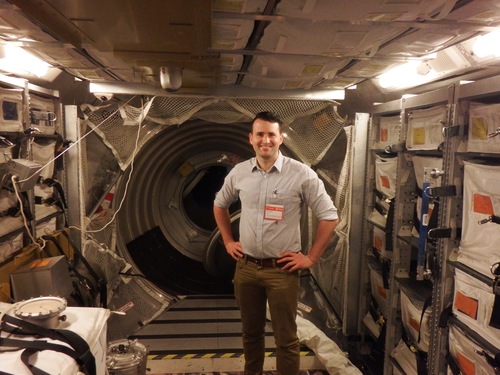 In the present day, medical professionals don't need to spend their entire career working in a traditional hospital environment
From astrophysics graduate at the University of Manchester to science teacher to helicopter pilot to working for the European Space Agency, Dr John Cherry has had a remarkably varied career.

Now based in Orange, a town 250km west of Sydney in rural Australia, John Cherry is a doctor working at the local hospital. Caring for a rural population whose health is often worse than their urban counterparts and who are spread over a vast area of the country's rugged interior poses a unique set of challenges, but John is no stranger to working in isolated conditions.

In 2015, John started working with the European Space Agency (ESA), and within a few months had created the blueprint for the practical medical training for all European astronauts going to space. He will be presenting his research for the first time at the World Extreme Medicine Conference, which takes place at Dynamic Earth in Edinburgh from 18-21 November 2016.

He explains, "I originally went to the European Space Agency to be part of a medical team, supporting an astronaut who was doing a re-supply mission to the International Space Station. It quickly became obvious that the astronaut was very medically stable and didn't need very much medical input, so I began to look at all the medical procedures and practices of the Space Medicine Office, which co-ordinates medical care for all European astronauts.

"Space is an incredibly remote location – yes, there is telemedicine support, but astronauts are up to 24 hours away from definitive medical care, and none of the current ESA astronauts are doctors. You're putting people in an environment in which they may require acute medical skills, and I was really interested in how that training was conducted.

"Over my time at the European Space Agency I developed a research basis for the Field Medical Training curriculum, which is compulsory training that all astronauts receive before they go to space. It teaches astronauts, in a very practical, hands-on way, special skills and techniques that they may need in space. We looked at best practice drawing on space analogue environments around the world, places with similar requirements to space. These are areas in the world where there is a dependency on technology, there is isolation and small groups of people, and where there may be limited medical care, the most obvious example being Antarctica.

"We looked at what incidents may happen in space, and what training astronauts need to deal with those incidents. We try to take into account the mission impact of medical incidents and other variables, and combined all that to create a scalable of curriculum so that we can now map out key areas of training and define key amounts of time to those areas.

"Astronauts have a very limited period for medical training. They are some of the smartest, busiest people in the world and everything is mapped out 12-18 months in advance. We are trying to teach them all the medicine that they may need in only three or four days, so we have to be very succinct, and teach very high-yield information. We created a framework around how it would work with an evidence base, and we made sure that it could be scaled up and down so that it was applicable to a range of mission types. Obviously, at the moment the astronauts travel to the International Space Station, but in the future there are plans to send them to the Moon or to Mars, so this training can then be scaled up to those mission types and increased in duration.

"In other words we have improved the medical training European astronauts receive so that we now train them in areas that they have not, perhaps, been trained in before. We prepare them for common situations that they are more likely to see and we provide them with skills training that they are more likely to use."

The theme of practising medicine in an isolated environment is one that continues in John Cherry's work in Orange, New South Wales. Although the degree of isolation is a fraction of that of the International Space Station, it still affects the way John and his colleagues operate.

As John explains, "There are very good resources here but we obviously do not have a lot of the resources of a major metropolitan hospital, so we have to learn to do what we can with what we have. Whether it in a rural hospital, a space analogue environment or space itself, you are never going to have all of the equipment that you want, to do all of the things that you want.

"Obviously, the challenges will be different depending on where you are, but bridging those gaps and meeting those challenges head on, with the aim of ultimately serving your patients in the best way that you can, is what it's all about.

"In Australia, the majority of people live on the coast by the beaches that the country is famous for, but we have rural populations who generally have worse health outcomes and generally have a higher medical need than their metropolitan counterparts. I really wanted to try and serve those most in need in our country and those people really are our rural populations, a significant proportion of whom are Indigenous Australians.

"I still get excited to get up and go into work. To help those the most in need within our society at the time when they most need us, offer them reassurance and try and set them on a path, to get them better, and to improve their outcomes. Doing that for me is tremendously rewarding and I really treasure the opportunity to do that. I think I am in a very lucky position."

Mark Hannaford, founder of conference organisers World Extreme Medicine, said, "John Cherry has had an amazingly varied career, and that 'portfolio career' is something we want to promote in the medical world. In the present day, medical professionals don't need to spend their entire career working in a traditional hospital environment.

"World Extreme Medicine was founded around a campfire in Namibia, and we coined the phrase 'World Extreme Medicine' as an umbrella term for all practices of medicine outside of a clinical environment, whether it is prehospital, disaster and humanitarian, endurance, sport, expedition or wilderness medicine.

"Our message is that there is a great diversity of careers in medicine, and that traditional hospital environments are not the only option for a fulfilling career. To put it into a layperson's terms, there's never been a more exciting time to work in medicine."

For further information about the World Extreme Medicine Conference and Expo, which takes place 18 – 21 November 2016, please visit: http://www.extrememedicineexpo.com/events/event/extreme-medi... . Alternatively, see a message transmitted from the International Space Station by astronaut Kate Rubins to the event organisers here, or a message from astronaut Tim Peake here.

About the World Extreme Medicine Conference & Expo
Location: Dynamic Earth, Edinburgh, EH8 8AS
Dates: Friday November 18 to Monday November 21
Ticket information: http://www.extrememedicineexpo.com/events/event/extreme-medi... Prices from £124.17 (for one day) to £825.00 (for all four days) excluding VAT
Website: http://www.extrememedicineexpo.com/
Videos: Being a Doctor Just Became the Most Exciting Career https://vimeo.com/170846844
Extreme and Wilderness Medicine – Our Story https://www.youtube.com/watch?v=BhPrFGFIFXI

Ends

High resolution imagery and interviews are available on request. Journalists are invited to attend the conference too and are asked to register their interest as early as possible.

Media information provided by Famous Publicity. For more information, please contact George Murdoch at 0333 344 2341 or george@famouspublicity.com , Tina Fotherby at 07703 409 622 or tina@famouspublicity.com or Adam Betteridge at 0333 344 2341 or adam@famouspublicity.com.

About the World Extreme Medicine Expo:

The World Extreme Medicine Conference and Expo will take place at Dynamic Earth, Edinburgh, EH8 8AS from 18 – 21 November 2016. Bringing together many of the world's brightest medical minds, it will focus four core disciplines:

• Disaster and humanitarian medicine
• Extreme, expedition and space medicine
• Human endurance and sports medicine
• Prehospital medicine

The exposition's mission is to break down barriers, build bridges and make connections within the extreme medicine community.

The term 'Extreme Medicine' was first coined by Mark Hannaford and Dr Sean Hudson as an umbrella term for these extra-clinical medical practices.
This press release was distributed by ResponseSource Press Release Wire on behalf of World Extreme Medicine in the following categories: Men's Interest, Health, Women's Interest & Beauty, Environment & Nature, Education & Human Resources, Medical & Pharmaceutical, for more information visit https://pressreleasewire.responsesource.com/about.