Revealed: The Science Behind Hugs on National Hugging Day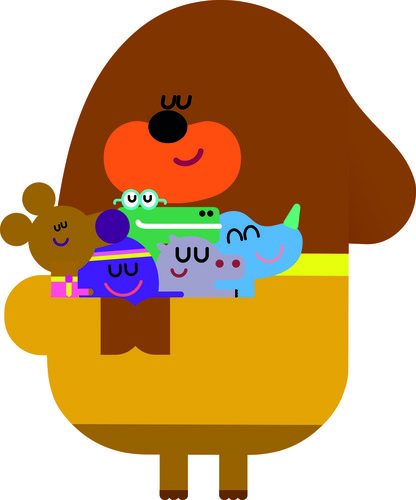 Hugging stimulates the production of oxytocin, a neurotransmitter that acts on the brain's emotional centre. It promotes feelings of contentment
On a day when the world might need a good hug, research reveals that we simply aren't getting enough...

• Hugs release oxytocin – a chemical which can make us happy – yet a third of us receive no hugs at all

• 3.2m Brits believe hugging relieves stress and helps them relax and want 6 a day… but have to settle for 2

• Family hugs are the tops – with partners, sons/daughters and mum making the top 5 favourite huggers

• Dogs awarded title of 'most huggable' followed by cat, rabbits, horses and… elephants!

• The 'Duggee Hug' is an intrinsic element of every episode of BAFTA Award-winning preschool show, Hey Duggee

• Andy Cope, Doctor of Happiness and Hugging Expert, reveals the science behind hugging and why we need to do more

• Famous Embraces: poll also reveals… the top ten celebs we'd most like to hug, the famous five we think are most in need of a hug right now, plus the top ten movie hugs of all time

In pursuit of happiness, people traverse the globe, explore the world's wonders, splash out millions on material goods, yet often still carry that empty feeling. If only the happiness chemical, oxytocin, could be homegrown – well it can!

According to research, a hug lasting seven seconds or longer can work the magic of releasing the happiness hormone, perking us up from gloomy blues. That's great news for Brits – to mark National Hugging Day (21 January), and inspired by the huge positive response to the 'Duggee Hug' featured in the BAFTA award-winning CBeebies' show Hey Duggee, BBC Worldwide commissioned research* which reveals that the average hug lasts 7.7 seconds. However, Brits are in desperate need of more hugs.

The poll shows that we would like an average of nearly six hugs a day, with those in the Midlands being the most huggable – demanding a whopping 12 hugs a day! Unfortunately we fall short, with Brits only getting an average of two hugs a day, and 33% (17.2m) not receiving any hugs at all.

So where are all the hugs going? Research shows that Brits may hug their partners the most (50%), however daughters (23%) and sons (19%) come a close second and third, showing that we are still hugging our children more than our female friends (17%) and our mums (13%). It would seem that family is oxytocin central – 37% believe their partners give the best hugs, followed by daughters (13%) and sons (10%). 35% of folk say they enjoy hugging as it shows affection and increases bonding, and many also say it relaxes them, relieves stress and gives them a sense of belonging.

As a nation of pet lovers, 9% of Brits even believe that their cats and dogs give better hugs than their male friends and colleagues! Dogs were deemed the most huggable pet (44%) with cats in second place (19%) and rabbits hopping into third (7%).

If you're single, fret not since female friends (9%) and mums (7%) are not too far behind in giving good hugs. Men, unfortunately lag behind in this category as well and lose the battle to pets again with dogs and cats found to give better hugs than male friends and colleagues.

You would think with a shortfall in hugs, we would take as many as we can get! Women think otherwise with stats revealing that 48% of women are more likely to avoid hugs than their male friends, and in total, 21.5m Brits have dodged a hug at some point in their life.

WHAT THE EXPERT THINKS…

Doctor of Happiness and Hugging Expert, Andy Cope, has plenty to say about the humble hug, "Hugging stimulates the production of oxytocin, a neurotransmitter that acts on the brain's emotional centre. It promotes feelings of contentment and reduces anxiety and stress as well as promoting feelings of devotion, trust and bonding. But there's more. A mum's touch even seems to mitigate pain – remember when you were a child and you fell down and grazed your knee? A loving hug made it all go away.

"There's research that indicates hugging releases hormones that are immunoregulatory and have a deep impact on the health of our immune systems. Hugging also releases dopamine, another wonderful chemical that can help stave off depression and, it's believed, even Parkinson's Disease. Dopamine changes how our bodies handle stress, both physical and social."

FAMOUS EMBRACES

The top ten celebrities Brits would most like to hug:
1. Holly Willoughby
2. Adele
3. Michelle Obama
4. Amanda Holden
5. Ant & Dec
6. Cheryl
7. Kate Middleton
8. Taylor Swift
9. Will Smith
10. David Beckham

The top five famous folk adults feel are currently most in need of a hug:
1. Hilary Clinton
2. Cheryl
3. Adele
4. Victoria Beckham
5. Katie Hopkins

The top ten most memorable movie hugs of all time:
1. Titanic
2. Ghost
3. E.T
4. Harry Potter
5. Mrs Doubtfire
6. It's a Wonderful Life
7. Lion King
8. Frozen
9. 101 Dalmatians
10. Finding Nemo

CBeebies' Hey Duggee certainly knows the benefits of hugs. A pre-school series that quite literally encourages young children to embrace the embrace, each episode ends with the animal characters gathering together for a #DuggeeHug – the perfect end to a day of activities at The Squirrel Club, all compassionately overseen by our loveable canine hero, Duggee.

Andy Cope, concludes "It's remarkable that such a complex surge of events in the brain and body are all initiated by a simple, supportive touch. Regardless of your touchy-feely preference level, hugging can convey a message that words often can't, so be sure to give and get your quota of hugs."

Hey Duggee products including toys, apparel, publishing, DVD and apps are available for fans to purchase through all good retailers. New product lines are being added in 2017.

Ends

For further media information, please contact Playtime PR:

bbc@playtimepr.com
Peter Jenkinson – 07504 033 373 / Peter@playtimepr.com
Lesley Singleton – 01908 299 088 / Lesley@playtimepr.com
Alison Short - 07530 732071 / Alison@playtimepr.com

Facebook: https://www.facebook.com/HEYDUGGEE
Twitter: @HEYDUGGEE

*The research for Hey Duggee was carried out online by Opinion Matters between 06/01/2017 and 09/01/2017 amongst a panel resulting in 2,001 general respondents in the UK. All research conducted adheres to the MRS Codes of Conduct (2010) in the UK and ICC/ESOMAR World Research Guidelines. Opinion Matters is registered with the Information Commissioner's Office and is fully compliant with the Data Protection Act (1998).

Andy Cope, Doctor of Happiness
Andy Cope describes himself as a qualified teacher, author, happiness expert and learning junkie. He has spent the last 10 years studying positive psychology, happiness & flourishing, culminating in a Loughborough University PhD thesis. Andy appreciates that his 'Doctor of Happiness' label is terribly cheesy but it affords him an important media platform. In times of rising depression and an epidemic of 'busyness', Andy believes there has never been a more appropriate time to raise the happiness agenda.

Hey Duggee
Hey Duggee is a pre-school series for children to have fun, be energetic and to do things! Each episode is focused on child participation in a particular activity, for which they earn a badge… and at the end of the episode they have a group hug with Duggee - a key element of the show is the Duggee Hug. To watch the show tune into CBeebies at 8:15am.
This press release was distributed by ResponseSource Press Release Wire on behalf of Playtime PR in the following categories: Children & Teenagers, Men's Interest, Entertainment & Arts, Health, Leisure & Hobbies, Women's Interest & Beauty, for more information visit https://pressreleasewire.responsesource.com/about.