Leading Eating Disorder Clinic Launches Ground-breaking New App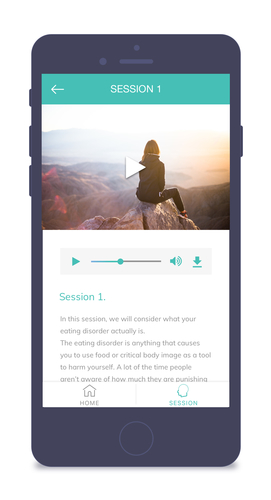 The app also serves as gateway treatment for those who are not yet ready, or who are reluctant, to seek professional help.
- The Recover & Me app aims to not only combat difficulties of all eating disorders such as anorexia, bulimia, orthorexia and body dysmorphia but also address the effects that social pressures have on women in today's digital world

- The app goes much further than other apps on the market by employing therapeutic techniques that promote female empowerment and encourage self-love and compassion

- Launched to combat the increased lack of public funding for eating disorders, which is leaving many sufferers without access to help or treatment

Today the UK's leading eating disorder and body dysmorphia disorder outpatient service, The Recover Clinic, has launched the Recover & Me app on iOS and Android - bringing more than 15 years of clinical expertise to a wider audience. Emmy Gilmour, founder of The Recover Clinic and psychotherapist, built the resource to provide expert support for those suffering with eating disorders in an accessible medium, available 24/7 and in the palm of their hand.

The Recover Clinic chose to create Recover & Me to address the growing number of eating disorder cases in the UK and to recognise the lack of treatment available to an increasing number of sufferers. The app also serves as gateway treatment for those who are not yet ready, or who are reluctant, to seek professional help. This may be because they are only just realising they may have an eating disorder or do not feel emotionally prepared to engage with face-to-face treatment.

Emmy Gilmour says, "We've seen first-hand from incoming clients that focusing on weight and food only serves to perpetuate the issue. We want to demonstrate that recovery thrives when services have the resources available to empower an individual, helping them to develop a nurturing and loving relationship with themselves at their own pace. Unfortunately, and at no fault of their own, the NHS doesn't receive the funding it needs and deserves to cope with the demand for eating disorder treatment, and private treatment costs are out of reach for some. We've created this app as a means of extending our specialist approach and whilst we know that an app can never wholly replace professional treatment, we feel Recover & Me has an important place for those who are looking for initial treatment or help in managing their eating disorder."

In contrast to some of the 'tough love' treatments that are often employed, this app aims to be more holistic by promoting self-love, compassion and confidence which are key to recovery from disordered eating. Each feature of the app has been developed to reflect the unique therapeutic techniques of The Recover Clinic, including 17 therapeutic video sessions with corresponding meditations and actions from Emmy herself. The app content recognises that recovery from eating disorders and female empowerment are intrinsically linked. The app provides a more holistic approach than other apps currently on the market by including a treatment plan made up of therapy videos, a meditation course, nurture log and journal.

Grace Victory, an award-winning blogger, YouTuber and body image campaigner, is a current client of The Recover Clinic and is thrilled that the launch of Recover & Me will mean that more people get access to their expertise.

"The Recover Clinic has completely changed my life. Although I have a way to go with full recovery, I never anticipated how different I would feel about my eating disorder and trauma in just a matter of months. I've had therapy before, but it hasn't been like this. The clinic's approach is something I wish so many people could experience. There are literally no words to describe the care, dedication and expert advice I have received since becoming a part of this spiritual family. The new Recover & Me App will give many people all over the world the chance to really understand their illness and to receive advice that actually helps. I'm super excited for the launch and to have great support at the touch of a button."

App features:

17 Therapy Videos and Introductory Video
Similar to the direct therapy sessions Emmy uses at the clinic, these videos focus on educating and empowering the user, so they can make decisions that nurture self-love and self-care on a daily basis throughout their journey. Each of the 17 sessions includes a video, audio player for corresponding meditation, a written explanation of the session, and an action for the user to complete (such a vision board, affirmations, or letter to their inner child).

Nurture Log
This is a space to note down any thoughts or feelings that arise related to the user's body or nutrition. Reconnecting with their body can be difficult in recovery, but this provides users with a space to focus on what emotions or sensations they may be feeling physically. The nurture log provides question prompts such as:
- Today my food was…
- My challenges were…
- My successes were…

17 Meditations
As many times a week as possible, users are encouraged to find a space to be peaceful for 15-30 mins. This is essential if they wish to become master of their thoughts, and take time to focus the mind on what they really want to achieve in their recovery.

My Journal
My Journal is a diary space that users can use every day to log their thoughts and feelings in their recovery. It's a great way to stay mindful and provides an outlet for thoughts and feelings, and means sufferers are not so dependent upon their eating disorder as a coping mechanism.

The app will be launched during Eating Disorders Awareness Week and will be free to download on iOS and Android with access to introductory content, full content can be accessed for as little as £8 per month or £60 for an annual subscription.

www.therecoverclinic.co.uk/get-help/healing/our-app-recover-...

- ENDS -

NOTES TO EDITORS:

About The Recover Clinic
The Recover Clinic is the UK's leading eating disorders and body dysmorphia disorder outpatient clinic. Founded in 2007 by psychotherapist, Emmy Gilmour, the clinic was the realisation of a dream to create a holistic treatment model tailored to the 'whole person' – body, mind and spirit.

Emmy Gilmour is a qualified psychotherapist with more than 15 years' experience in trauma and mental illness. Throughout her career, Emmy has discovered remarkable patterns in the ways women are conditioned to respond to trauma and life-challenges. She's devoted her life to sharing her learnings with sufferers and has created an approach to the treatment of mental illness that aims to empower individuals and help them strive for holistic balance.

Emmy has availability for email interviews.

Downlaod the press pack

PRESS CONTACTS
Propellernet
Naomi Chow, PR Consultant: naomic@propellernet.co.uk
01273 760968

Louise Parker, PR Consultant: louisep@propellernet.co.uk
01273 760972

The Recover Clinic
Ellie Parkins ellie@therecoverclinic.co.uk
This press release was distributed by ResponseSource Press Release Wire on behalf of Propellernet Ltd in the following categories: Health, Women's Interest & Beauty, Medical & Pharmaceutical, for more information visit https://pressreleasewire.responsesource.com/about.