New Wilderness Medicine Course Takes UK Doctors to Iceland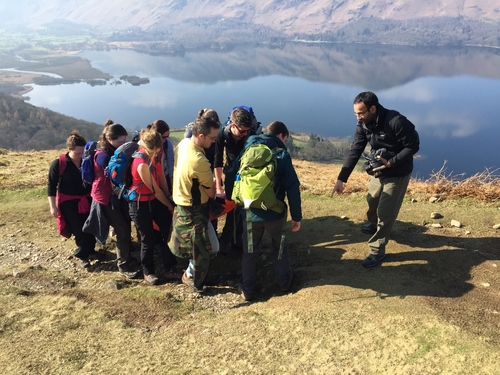 More than ever before, the human race is exploring parts of the world that are hostile to life, whether that be scaling mountains like Everest, conducting scientific experiments at the South Pole, searching for natural resources in inaccessible places or journeying into space.

Away from hospitals and ambulance services, and exposed to dangers such as extremes of hot and cold, challenging and dangerous terrain and tropical diseases, expeditioners would be vulnerable without doctors and medics equipped with a specific and rare set of skills. But how do medics adapt their conventional medical training which is geared towards medicine in a controlled clinical environment to work without complex equipment or an established team?

On 20 June 2017, 25 UK practitioners from various areas of medicine will fly to Iceland for a new intensive four-day course run by World Extreme Medicine, which will put them into situations a traditional medical career would never demand.

World Extreme Medicine, a world-leading provider delivering courses in expedition medicine, tailored for a number of environments and specialities, is running the course in partnership with Icelandic expedition firm Midgard Adventure.

Led by experienced UK expedition medics Alex Rowe, Claire Grogan and Jamie Pattison, with local guides Sigurður Bjarni Sveinsson and Arnar Páll Gíslason, the course attendees will trek to Eyjafjallajökull, the volcano whose 2010 eruption famously disrupted air traffic over much of Europe. The trek will take two days, and will involve camping on a glacier.
On the way, the medics will undertake realistic simulated emergencies, and will be taught to react in a way that maximises positive outcomes for the patient in an austere environment.
This hands-on course will take place in the 24-hour daylight of the Icelandic midsummer.

Course leader Alex Rowe, said, "This course is designed to challenge doctors who are competent and confident in a conventional clinical environment, and encourage them to think in a totally new way.

"It's going to be practical, physical and will give attendees a grounding in the skills, mindset and confidence they'll need to take part in larger-scale expeditions and adventures.
"As more and more people head into Earth's wild places, the demand for medics with this sort of experience is growing. Extreme medicine is incredibly exciting and rewarding."
Mark Hannaford, Founder of course organisers World Extreme Medicine, said, "With the NHS under mounting pressure, motivated doctors are looking at opportunities within medicine but outside of a traditional hospital environment.

"Because of the rapid improvement in technology in recent years, people are spending more and more time exploring areas outside the human race's comfort zone: in deserts, at the poles, at the top of huge mountains, in space.

"When humans travel far from hospitals and clinics, and the advanced medical technology associated with those facilities, they need healthcare professionals with a very different set of skills.

"Extreme medicine is a great alternative to a traditional clinical career, and can work in parallel to a job in a hospital environment. Anecdotally, it's been found that medics gaining this experience return to their core clinical roles with mental resilience and additional team-working, leadership and management skills."

The Expedition and Wilderness Medicine course in Iceland will take place 21 – 25 June 2017 (flights out on 20 June) and will cost £1,295.

Links
World Extreme Medicine website: http://www.expeditionmedicine.co.uk
Midgard Adventure: http://midgardadventure.is

ENDS


High resolution imagery and interviews are available on request. All of the course leaders will be available for interviews, and Sigurður Bjarni Sveinsson and Arnar Páll Gíslason will be attending World Extreme Medicine's Expedition and Wilderness Medicine course in Keswick, Cumbria from 13 to 16 March 2017, which journalists are invited to attend.

Media information provided by Famous Publicity. For more information, please contact George Murdoch at 0333 344 2341 or george@famouspublicity.com or Tina Fotherby at 0333 344 2341 or tina@famouspublicity.com.

About World Extreme Medicine:

World Extreme Medicine (formerly Expedition & Wilderness Medicine) is the world's leading provider of expedition, wilderness and remote medicine training courses for medical professionals.
Designed to provide medics with the expert knowledge and practical skills they need to become valuable members of an expedition or a remote medical team, World Extreme Medicine's courses achieve 100% approval ratings from participants, with 82% deeming them 'Excellent'.

Courses take place both in the UK and abroad, with locations carefully chosen to enhance learning opportunities in the field and enrich the experience for all those taking part.
The term 'Extreme Medicine' was first coined by Mark Hannaford and Dr Sean Hudson as an umbrella term for these extra-clinical medical practices.

This press release was distributed by ResponseSource Press Release Wire on behalf of World Extreme Medicine in the following categories: Children & Teenagers, Men's Interest, Health, Leisure & Hobbies, Women's Interest & Beauty, Sport, Travel, Education & Human Resources, Medical & Pharmaceutical, Media & Marketing, for more information visit https://pressreleasewire.responsesource.com/about.