Manage your healthcare from your iPhone - Fortius Clinic launches an easy to use Patient App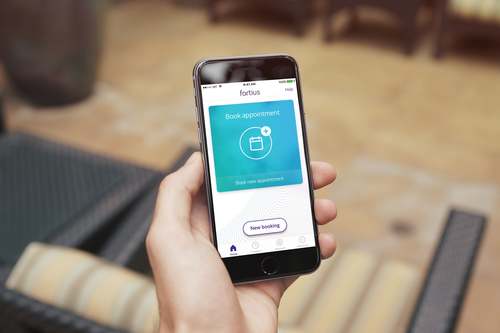 Fortius Clinic, the UK's leading private orthopaedic and sports injury group, has announced the launch of a new patient App. This app aims to streamline the patient pathway, allowing patients to take control of their own appointments, reminders, payments and more.

The iOS App is designed to make every step of a patient's journey as quick, efficient and simple as possible. Each Fortius patient will now be able to book new consultations, follow-ups, imaging appointments, upload and view documents, as well as pay outstanding balances and check payment history. It has created a patient experience that is cutting edge, breaking the mould of the industry.
Although the majority of patient interactions with healthcare organisations are predicted to be mobile by 2018, the limited availability of mobile apps that can easily and securely integrate with legacy clinical information systems remains a major barrier.

Chief Executive Jim McAvoy recognises this. "Designing a patient centric experience might feel natural to a customer service organisation, but it requires a cultural shift in many parts of the healthcare industry. Too often our processes exist as a function of our internal systems and the patient experience is about keeping back end systems and processes ticking over."

The App development was led by Fortius Group company Fortius Digital, which deployed an open source software based proprietary technology platform to harness the data that is provided by the group's transactional systems.

"From the outset Fortius has identified the capture, harnessing and analysis of data as major differentiator. Re-imagining the patient experience in a world awash with data is a must. We have a responsibility to use the data we collect for the benefit of our patients - to make their lives better, not ours. This new App has been initiated by Fortius Digital and is a major step forward in our progress towards the provision of digital healthcare – it will improve the Fortius experience and deliver consistency in every touchpoint our patients have with our business. "

In developing the new Patient App, the Fortius Digital team worked with Nimbletank, an award-winning mobile and digital agency. Johnny McAvoy, Founder of Fortius Digital and leader of the Fortius internal project team, explained why.

"Delivering change requires talent – people who can stay focused on the goal but most importantly can work together around a shared objective. We chose Nimbletank as our development partner because they were in tune with what we were trying to do. Throughout the project they worked collaboratively with our internal team, playing to the respective strengths in the partnership to create a solution that is simple, innovative, and effective."

The Fortius Patient App is available to download from the App store now[https://itunes.apple.com/gb/app/fortius/id1160354435?mt=8]. To find out more, or to register for the App, go to the Fortius website, on https://www.fortiusclinic.com/book-or-refer-now

# Ends #


Press Contacts at Fortius Clinic:
E: felicity.kelly@fortiusclinic.com
M: 07836 553 507
E: harriet.hill@fortiusclinic.com
T: +44 (0) 203 195 2434
W: www.fortiusclinic.com

About Fortius Clinic

Fortius Clinic is a wholly owned subsidiary of the Fortius Group Limited, the UK's largest single orthopaedic and sports injury medicine group in the UK. Home to over 60 leading specialists, we are dedicated to providing innovative and long-term solutions to patients with a range of musculoskeletal conditions, both surgical and non-surgical. Since opening in 2011, the company has established an international reputation for medical expertise and quality of care. Fortius Clinic has become the centre of choice for many international sports clubs and elite teams and is an accredited FIFA Medical Centre of Excellence.

For further information on our expert team of specialists and the full range of diagnostic and treatment services available, please visit: www.fortiusclinic.com.

Fortius Digital

Fortius Digital is a subsidiary company of Fortius Group, responsible for driving digital transformation within the company, and external partners. The company will provide consultancy together with products and services that use digital and analytic-driven insights to drive improved patient and economic outcomes.
This press release was distributed by ResponseSource Press Release Wire on behalf of Fortius Clinic in the following categories: Health, Sport, Consumer Technology, for more information visit https://pressreleasewire.responsesource.com/about.