Sleep Guru's Top Tips for World Sleep Day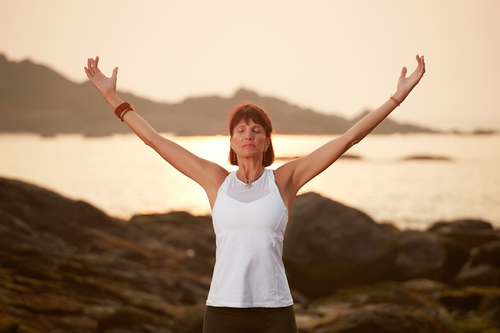 The key to getting long term results and total relief from insomnia is the custom-tailored Ayurvedic approach
Ahead of World Sleep Day on Friday 17 March 2017, Anandi the Sleep Guru is sharing her top tips to help achieve a good night's sleep. Anandi has been helping people conquer their insomnia for the past five years with her very own Ayurvedic approach and 'Personal Sleep Review'.

Ayurveda is a natural health therapy which originated from ancient India and uses a variety of different exercises to help maintain balance.

After 15 years of fighting her own insomnia, Anandi has written her first book called 'Breathe Better, Sleep Better'. The book has many useful tips and exercises to help overcome insomnia and irregular sleeping patterns. Anandi explains, "The key to getting long term results and total relief from insomnia is the custom-tailored Ayurvedic approach."

Anandi's top tips to improve a night's sleep are to:

• Avoid caffeine and alcohol
• Lengthen and deepen the breath, which calms the mind
• Go to bed early and avoid technology for at least one hour before going to bed
• A busy mind is never going to sleep well – a daily ritual that nurtures the soul is vital for relaxed slumber
• Enjoy a diet with plenty of fruit and vegetables
• Turn the lighting down in the evening
• Avoid heavy conversations before bed time
• Keep your bedroom tidy and free of clutter
• Aim for a minimum of seven hours of solid sleep per night.

More helpful tips and exercises can be found in Anandi's book and on her website. The book offers many practical tools which can help detox the digestive system, calm the nervous system and stimulate the circulatory system.

Anandi's new book focuses on how to use the breath as a tool to get a great night's sleep. Breathe Better, Sleep Better explains the benefits that can come from good breathing technique, such as an improvement of mental and emotional well-being, a calmer mind and lower blood pressure.

Breathe Better, Sleep Better is now available on Amazon and on Anandi's website.

Links

Anandi's Website: http://www.thesleepguru.co.uk/
Breathe Better, Sleep Better on Amazon: https://www.amazon.co.uk/Breathe-Better-Sleep-Guru-Anandi/dp...

Ends

We would be delighted to offer review copies of the book to journalists. For further information contact Tabitha Monkhouse at tabitha@famouspublicity.com or 0333 344 2341 or Tina Fotherby at tina@famouspublicity.com or 0333 344 2341.

About the Author

Anandi's journey started in the fitness industry in 1986. A born leader and teacher, she found herself teaching others throughout her career in fitness, beauty and wellness. She now lives between Salisbury, England, and Macerata, Italy, and runs workshop and retreats in Italy and London. "Anandi" is Alison Francis' spiritual name given to her by her guru in India in 2007. Her professional credentials are:

• Ayurveda Practitioner, approved by the International Practitioners of Holistic Medicine
• Ayurvedic consultant (American Institute of Vedic Studies, David Frawley)
• Qualified NLP instructor and hypnotherapist (David Shephard, Performance Partnership)
• Chopra-certified Primordial Sound Meditation Instructor (Deepak Chopra)
• Registered Senior Yoga Teacher (Approved by The Yoga Alliance)
• Continued study of Pranayama with Yogi Vishvketu
• Mentee of the late Georg Feuerstein, and graduate of 800hrs of yoga history and philosophy (Georg Feuerstein, Traditional Yoga Studies)
• 'Teaching the teacher' internship in India at Anand Prakresh Ashram (Yogi Vishvketu)

Anandi has a blog where she explains different methods and techniques to cure insomnia. The blog includes a number of video demonstrations, written guides and advice to help with your development. Some blog posts include features on meditation, healthy eating and stress.
This press release was distributed by ResponseSource Press Release Wire on behalf of Anandi The Sleep Guru in the following categories: Children & Teenagers, Men's Interest, Health, Women's Interest & Beauty, Education & Human Resources, Medical & Pharmaceutical, Media & Marketing, for more information visit https://pressreleasewire.responsesource.com/about.