YEAR 2 OF THE BRITISH CURRY CLUB'S #GROWYOUROWNCURRY CAMPAIGN HAS LAUNCHED TO PRIMARY SCHOOLS ACROSS THE UK TO GROW! 2017's campaign supported by Celebrity ChefS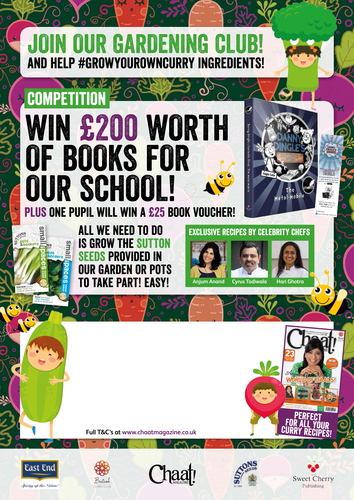 Cyrus Todiwala's tells us, "there is no greater sensation of elation than when one plants a seed and sees it turn from a shoot to a food provider"
Primary schools across the UK are invited to join the British Curry Club's, campaign, which encourage children to grow curry ingredients from seed with their gardening club in schools! This activity can be extended into a range of activities in the classroom to encourage discussion and tasks about the world around us to include global foods. Children understanding the various cuisines from around the globe can only broaden their knowledge of the world and the diverse society that we live in. Plus what could be more healthier than encouraging children and families to enjoy eating fresh ingredients.

There is already schools that have pre-registered to join the campaign

The #GROWYOUROWNCURRY campaign is in partnership with: Sutton Seeds, East End Spices, Chaat! Magazine and Sweet Cherry Publishing.

Campaign partners Sutton Seeds have provided packets of seeds which have been posted out to a range of primary schools around the UK.

To take part in the campaign, schools will be expected to organise a gardening club as well as post #GROWYOUROWNCURRY on their schools website, Facebook or Twitter.

As a further incentive for schools to join the campaign the British Curry Club is running a competition for schools. Each school needs to register their involvement by entering the competition by the 30 June 2017 after registering the schools gardening club organiser will need to organise a written activity where pupils will need to write a letter or draw their schools garden and then send this to the British Curry Club to describing how they have enjoyed taking part in the schools gardening club. Three schools will be chosen to win £200 worth of primary school books provided by Sweet Cherry Publishing and one child from each winning school will also win £25 worth of books.

The competition is not limited to the schools that have already received packs, any schools can get involved by registering for the competition.

The second year of the campaign also includes the support of well-known celebrity Chefs, Cyrus Todiwala, Anjum Anand and Hari Ghotra. Each Chef has joined the campaign to provide vegetarian recipes for parents and school teachers to use.

Cyrus Todiwala's tells us, "there is no greater sensation of elation than when one plants a seed and sees it turn from a shoot to a food provider". "That is nature enticing us to do similar things in our day to day life amongst humans and other things. Planting something and looking after it until it bears fruit is a feeling of absolute achievement and pride and goes a long way in developing oneself for the future. Grow Your Own Curry can only be the greatest feeling of joy and achievement and describes ones actions from Seed to Plate and a deep understanding of nature".

Anjum Anand, commented: "The campaign is a fantastic initiative to encourage children and their parents to create delicious curries together at home. Growing the seeds and spices will really help to get children involved in the scratch cooking process and highlight the flavours and benefits of cooking with fresh ingredients, as well as the fun you can have making your own meal."

Hari Ghotra, "I am a mum of two and am delighted to part of the grow your own curry. It is great to get schools and children involved in food and into the kitchen, I am very proud to be part of this initiative"
For further information about the campaign go to the

For schools to register for the competition or get an entry form they simply send the their details to competition@britishcurryclub.co.uk

Interviews and further information contact: Rosena Alim 02920 496725 Rosena@britishcurryclub.co.uk

Editors Notes

Campaign Partners

#GROWYOUROWNCURRY
TWITTER: @curryclubuk
FACEBOOK: www.facebook.com/chaatmagazine

East End Spices, the leading suppliers of Asian food in the UK and European market for nearly four decades. In the last year the companies enthusiasm for grow your own projects as led them to create their own vertical garden with the buildings of their Aston Cross premises. The evolution of their business is based on satisfying needs of the consumer with a superior quality product. Their success is attributed to the philosophy of the founders - Wouhra Brothers, who believe in innovation, honesty and team work. Their focus on the changing needs of customers has led to achieving phenomenal growth by delivering beyond expectations. ORDERING SPICES FROM EAST END IS EASY www.store.eastendfoods.co.uk/ @EastEndFoods

Sweet Cherry Publishing, an independent children's book publisher in Leicester! Specialising in children's sets and series and are committed to producing beautifully designed and engaging books for children of all ages and levels. www.sweetcherrypublishing.com

Chaat! Magazine is a consumer publication, published quarterly all about spicy cuisine, with a minimum of 20 recipes each issue, interviews, competitions and much more available for purchase from www.chaatmagzine.co.uk or WHSmith stores.

British Curry Club promotes consumer incentives via partner restaurants across the UK, the company has successfully partnered with major commercial companies and newspapers including Wrigley's, Kohinoor Rice, McCoy's, Nokia, Total Daily Telegraph, Daily Mail, Sunday Mirror, Daily Express plus many more. www.britishcurryclub.co.uk

Suttons, has been supplying packets of seeds across the UK since it was founded in 1806; sourced mainly from Europe, but occasionally from further afield. Vegetable and flower plants are also very popular and can be ordered direct from www.suttons.co.uk

Cyrus Todiwala OBE DL is a restaurateur, author, educator and media personality. He works tirelessly to promote cooking in schools, and is an avid campaigner for buying British produce and the environment. Together with Pervin Todiwala, he runs three successful London restaurants, Café Spice Namaste, Mr Todiwala's Kitchen and The Park Café, as well as The River Restaurant in Goa. He is the founder of the student competition, Zest Quest Asia, and recently published his fifth book, Mr Todiwala's Spice Box.

Anjum Anand, an internationally renowned TV chef, best-selling cookery writer, award-winning brand owner, entrepreneur and mother of two children, Anjum Anand is the face of modern Indian cuisine, who embodies the entrepreneurial spirit. Over the past two decades, Anjum has established herself as a world authority on Indian food. Her breakthrough book Indian Food Made Easy topped the Amazon best sellers list (even knocking Harry Potter off the number 1 spot!) and her highly acclaimed TV series Indian Food Made Easy was enjoyed by millions of viewers on BBC2 primetime. In March 2017, Anjum's eighth cookbook – I Love India – is launching. The cookbook includes recipes which represent a vibrant fusion of old world Indian dishes and an exciting new play on flavours and ingredients – from street food and sharing plates, to elegant dinner party dishes and healthy mid-week meals.

Leading the way in a highly competitive market place, Anjum has changed the face of Indian home cooking with her very own retail range, The Spice Tailor. Launched in 2011, the brand has enjoyed enormous success and is stocked in major supermarkets nationwide including Waitrose, Sainsbury's, Tesco, Asda and Ocado. For more information, please visit: http://www.thespicetailor.com/

Hari Ghotra, started working at the Tamarind Collection of Restaurants which includes Tamarind of Mayfair - one of the first Indian restaurants to be awarded a Michelin star! Her talents are beyond the restaurant to include, delivering cookery lessons, her own branded range of spices and kits, plus videos of her cooking on various platforms including YouTube. For further information go to www.harighotra.co.uk/
This press release was distributed by ResponseSource Press Release Wire on behalf of British Curry Club (BCC Promotions) in the following categories: Children & Teenagers, Entertainment & Arts, Health, Leisure & Hobbies, Home & Garden, Environment & Nature, Food & Drink, Travel, Education & Human Resources, Medical & Pharmaceutical, Farming & Animals, for more information visit https://pressreleasewire.responsesource.com/about.