Amos Beech launches revolutionary new office working app into the UK market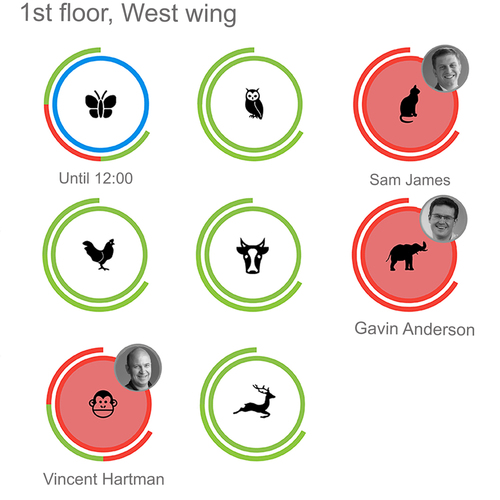 Amos Beech launches revolutionary new office working app into the UK market

Workplace consultants Amos Beech, based in Falkirk, central Scotland, have launched a revolutionary new app for people to plan their working day.

The iOt Space app is a workspace reservation solution to manage flexible workspace environments.

Benefits to companies range from reducing employers' heating and cleaning costs to increasing staff productivity, efficiency and wellbeing in the workplace.

Using a colour-coded system, at the touch of a button you can find your workspace and colleagues, make unoccupied and hidden workspaces visible, have one solution for meeting rooms and workplaces and be up and running within just one week.

The occupancy data gives real information on how the office space is used and enables companies to save money with future leases.

The device shows real-time availability for each workspace and the beauty is you can occupy a workspace on the spot, or book in advance from home, so gone are the days of over-booking or embarrassment when you can't find a free desk in a busy room full of workers you may not know.

iOt Space uses colours to show if workspaces are free (green), reserved (blue) or occupied (red). In the app on the phone it is also visible to see who is using what workspace so workers can see availability and at what times.

The app features:
• Finding and booking workspaces
• Search colleagues
• Privacy only share what you want to share, data deleted after 23:59h
• LED badges easily identified by different colours
• Support team assistance

Sam James, sales manager with Amos Beech, said: "We are very excited to introduce this new working space app into the UK market and it is aimed at helping people plan their working day more effectively and efficiently.

"This is a great cost effective system, which is not only simple for employees to use but it also encourages collaboration at hot desks and can reduce employers' heating, power and cleaning bills.

"It also reduces floor space for companies in cities where space is at a premium so firms will save money as less space is used."

The iOt Space app which can be downloaded from the App store for iOS (> 7.0) or for Android (> 4.0) in Google Play. It is not yet available for Windows phone.

Agile Working is innovative, different and cost-effective flexible working so workers can choose to work where, when and how they want in a more sociable inter-active office.

Amos Beech is a leading Interior Design, Fit Out and Furniture company based in Falkirk, central Scotland. Amos Beech offers the iOt Space solution as an integral part of its Samuel Bruce furniture range or as a retrofit option.

Contact Vincent Hartman, Marketing Manager, Amos Beech, 8 Middlefield Road, Falkirk info@amosbeech.com 01324 610510 www.amosbeech.com

NOTE TO NEWS EDITORS:- For more information/interviews contact Wendy Scott, PR consultant, Scott Media Solutions scottmediasol@aol.com 07977 451680
A graphic of the new app is also attached with release.

ABOUT AMOS BEECH:-
After a successful career in marketing and selling a variety of products, Simon James decided to set up on his own at the age of 36. Amos Beech was founded on November 1, 1990 in Bristol.
In 1993, Simon moved to Scotland because of family ties and the opportunities he saw in the Scottish market for commercial interiors. Where the company in Bristol started out as a fit out company, in Scotland the company started as a trading company in office furniture.
The personal drive to provide solutions instead of simply selling product meant that Amos Beech's product portfolio quickly expanded from the then current mainstream office furniture to high-end furniture and seating solutions.
The introduction of the revolutionary BMA Axia task chair is just one example of that. In the meantime eldest son Sam joined the company, later followed by his brother Roy. Solution driven sales also led to bespoke in-house designed reception desks and this brought Amos Beech back into office interior design, fit out and office refurbishment.
In 2004 the company had outgrown their old premises and needed a matching showcase in line with the design market Amos Beech was serving.
New premises were built on Middlefield Road in Falkirk. The a-symmetrical full-height glass front created a working environment and showroom with ample day light.
This press release was distributed by ResponseSource Press Release Wire on behalf of Scott Media Solutions in the following categories: Business & Finance, Manufacturing, Engineering & Energy, Construction & Property, for more information visit https://pressreleasewire.responsesource.com/about.