Teledyne e2v sensors to enable the world's largest telescope in search for exoplanets and to study far distant galaxies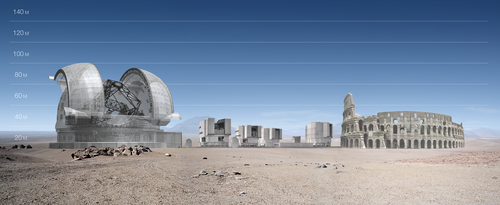 The ELT (Extremely Large Telescope) will be fitted with 28 LVSM (Large Visible Sensor Module) adaptive optics wavefront sensors as part of a closed loop feedback system that will enable the telescope to adapt to millisecond changes in atmospheric conditions. Teledyne e2v, the world leader in developing ground-based astronomy sensors, has been awarded a multimillion euro contract by the European Southern Observatory (ESO) to design and produce 28 LVSM sensors for the world's largest optical telescope – the ELT, which is currently under construction on a mountain in Chile.

The extreme sensitivity and fast response of the LVSM sensors will enable the telescope's adaptive optics systems to make tiny adjustments around 700 times a second to maintain a sharp, high-resolution image as atmospheric conditions vary. The ELT optical/near-infrared telescope is being constructed at a cost of around one billion euros. At roughly the size of the Colosseum in Rome, it will have a 39-metre diameter main mirror capable of gathering 250 times as much light as the Hubble space telescope.

When the ELT comes online in 2024, for the first time ever, astronomers will have access to a telescope with the resolution capable of producing direct optical images of Earth-like exoplanets orbiting far-distant stars.

The reason for building the ELT in Chile is that it offers the best conditions for astronomy in the southern hemisphere. Even though the location on the Cerro Armazones in the Atacama desert is halfway to space at a height of 3,046 metres, the telescope is still subject to interference from the Earth's atmosphere, as Dr Paul Jorden, Astronomy Technical Specialist at Teledyne e2v explains:

"The ELT is designed to gather the tiniest scraps of light. This means that atmospheric turbulence can have a major influence on its optical performance – it's rather like the heat haze you see on a road in summer but at a vastly smaller scale. That's where our LVSM sensors come in, because they have the high sensitivity, large area and high frame rate to monitor atmospheric fluctuations that take place around one thousand times a second. That data will feed into the telescope's adaptive optics systems to enable the continuous fine adjustments to ensure the image stays in sharp focus."

Dr Giuseppe Borghi, VP of Business Development at Teledyne e2v, added: "We are delighted that ESO awarded this contract to Teledyne e2v against strong competition, and it confirms our strategic interest to deliver the highest performance products to ESO and all Astronomy customers".

The design of the LVSM sensors for the ELT will be based on Teledyne e2v's CMOS (Complementary Metal Oxide Semiconductor) technology that has been proven over 20 years in similar demanding ground-based telescope applications. The custom design will feature 800 x 800 pixels with excellent signal sensitivity and quantum efficiency.

The four-year project consists of two phases. In the initial phase, sample sensors will be designed and manufactured to demonstrate proof of concept. Following this, 28 sensors will be manufactured at Teledyne e2v's Chelmsford site for delivery to ESO who will install some of them on different instruments within the ELT.
This press release was distributed by ResponseSource Press Release Wire on behalf of Six Degrees Limited in the following categories: Environment & Nature, Manufacturing, Engineering & Energy, Computing & Telecoms, for more information visit https://pressreleasewire.responsesource.com/about.