"Sayonara Europe Sushi Search" Launches For International Sushi Day From Croque en Bushi to Bratwurst Nigiri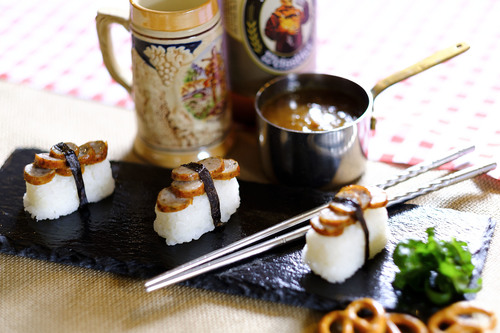 June 2017

International Sushi Day takes place on Sunday June 18th 2017. Last year we launched a search to find Great British Sushi, which resulted in delights such as Deep Fried Haggis Onigiri and Cream Tea Sushi Scones.

This year, as the Brexit process begins, Yutaka is challenging people throughout the UK and Europe to create sushi that reflects the EU. We have kick-started things with five European favourites that have been given a Japanese twist:

• German Bratwurst Nigiri with Katsu Curry Sauce
• Spanish Paella Temaki
• Polish Cabbage Sushi Roll
• French Croque En Bushi
• Austrian Strudel Roll

Each of the five recipes is a fusion of European and Japanese cuisine.

We will select our favourite and award the creator of the winning sushi idea a hamper with Yutaka products valued at over £100 and the winning recipe will be featured on the company website. The winner will be announced the first week of July via Yutaka's social media. If you're looking for inspiration, why not visit our Stand No. F800 at the BBC Good Food Summer Show at Birmingham's NEC from 15th – 18th June 2017. We'll be offering sushi-making lessons as well as selling their ingredients to kick-start your sushi adventure.

If you're interested in taking part, visit our Facebook page Yutaka – Good Food Made Japan-easy - or Twitter page @YutakaNews


EU Sushi Recipes

German Bratwurst Nigiri with Katsu Curry Sauce
Makes approx. 20

Ingredients

• 250g Yutaka Sushi Rice
• 3 tbs Yutaka Japanese Rice Vinegar
• 1 tsp salt
• small Bratwurst sausages
• Yutaka Nori Sheets
• 50g Yutaka Japanese-Style Curry sauce
• 1 small onion, chopped
• 2 tsp vegetable oil
• Yutaka Nigari Sushi Maker

Method

Make the sushi rice as per the instructions on the pack. After cooling for 30 mins, add rice vinegar and salt and stir through.
Place rice in nigiri sushi maker and press down with lid. Open lid, turn over and push out rice block. Repeat 20 times. Place formed rice nigiri in fridge for 30 mins to set.

Cook bratwurst sausages until golden brown and slice very thinly. Place up to five slices across the top of each nigiri and secure it around the middle with a thin strip of nori.
Chop onion and add oil to pan and then fry onion gently until lightly browned. Add 400ml of cold water and bring to boil. Simmer for 7 minutes, cool for a few minutes and add 50g (3 cubes) of Yutaka curry into the sauce and cook for a couple of minutes until well mixed in and slightly thickened.

Serve alongside Bratwurst Nigiri.

Spanish Paella Temaki
Makes approx. 20

Ingredients

• 500g mussels
• 250g prawns
• 500g diced chicken
• Olive oil
• 2 cloves garlic, crushed
• 1 small onion, thinly sliced
• 1 large tomato, chopped
• Half red pepper, cored, seeded chopped
• 1 tsp paprika
• Salt & Pepper
• 6oz Yutaka Sushi Rice
• 400ml chicken stock
• ½ tsp saffron infused in a little boiling water
• 2oz frozen peas
• Nori sheets halved

To decorate

• 4 Dublin bay prawns to decorate

Method

Heat olive oil in a large shallow pan or flameproof casserole. Add onion, garlic, chicken, tomatoes and red pepper and fry gently for about 10 minutes turning the chicken over to brown gently. Sprinkle with paprika and salt then stir in the rice, coating it all over and cook for a further minute before adding hot stock and saffron, stirring thoroughly then reduce the heat to simmer. Cook very gently for about 20 minutes, add peas, mussels and prawns. Cover pan and cook gently for 5 minutes. The mussels should be open by this time; remove any that have not. Remove from heat and allow to stand for 5 minutes.

Cut the nori sheets into half. Place a good spoonful of the paella on each of the sheets and roll up like a cone. Decorate with lemon slices and Dublin Bay prawns.

Polish Cabbage Sushi Roll
Makes approx. 20

Ingredients

• Sweetheart cabbage
• 250g mince pork
• 250g mince beef
• 2 cloves garlic, crushed
• 100g cooked Yutaka Sushi Rice
• 2 tbs Yutaka Rice Vinegar
• 1 tsp caraway seeds
• 1 tbs chopped parsley
• 1 large onion, finely chopped
• Salt and coarsely ground black pepper


For sauce

• 1 large onion, chopped
• Olive oil
• 2 cloves garlic, crushed
• 250g passata
• 1 tsp paprika

Method

Core the cabbage and place whole in boiling water and steam for 3 minutes. Plunge into cold water, drain and carefully peel off the leaves.

Fry the chopped onion gently in a little olive oil for about 5 minutes, add garlic and fry for another minute. Take from the heat and mix well with the other ingredients.

Place a portion of mixture on each cabbage leaf. Fold the bottom edge of the cabbage up and away from you. Fold in the sides and roll up. Place in a buttered dish, in layers if necessary and add I cup boiling salted water, cover with buttered foil and cook in oven 350◦F for 45 mins.

To make the sauce

Fry chopped onion for 5 – 10 mins turning the heat down to medium after a minute. Add garlic and fry for a further 2 minutes, add passata, paprika, season with salt and pepper and cook for a further 5 minutes. If too thick add a little water.

Slice cabbage parcels so it looks like sushi and serve with the sauce.
French Croque En Bushi
Makes approx. 20

Ingredients

• 250g Yutaka sushi rice
• 3 tbs Yutaka Mirin
• 1 tsp sugar
• 1 tsp salt
• Yutaka Panko Breadcrumbs for coating
• Oil for deep frying

Caramel

• ¾ cup granulated sugar
• ¼ cup water

Method

Wash rice in cold water for at least 4 times. Put in a pan, add 330ml water and bring to boil. Simmer on low/med heat with lid on for 10 minutes. Turn the heat off and leave for 25 mins before you remove the lid. Stir through the Mirin, salt and sugar and leave to cool.

With wet hands, mould a small handful of rice, squeezing it into a small ball no bigger than a walnut and roll in Panko breadcrumbs and put to one side on a plate. Continue until you've used all the rice up.

Using a deep fat fryer, heat the oil until hot and gently place the individual balls into the hot fat and fry until golden brown. Remove and place on kitchen roll to absorb some of the fat.

To make the caramel put sugar and water into a pan and stir gently until sugar has dissolved. Raise the heat and boil fiercely until it turns a golden brown. Remove from the heat and dip the base of the pan into cold water to stop the caramel cooking. Quickly dip the top of each ball into the caramel and arrange into a pyramid on a dish, sticking them together with the caramel. If the caramel starts to harden, melt over a low heat. Decorate with edible flowers (optional).

Austrian Strudel Roll
Makes approx. 20

Ingredients

• 1 pkt filo pastry
• 1lb cooking apples
• 2oz sultanas
• 3oz butter
• 2oz Yutaka Sesame seeds
• 50g cooked Yutaka sushi rice
• 2 tbs Yutaka Panko breadcrumbs
• 3 oz demerara sugar
• 1 level tbs ground cinnamon
• Icing sugar to dust

Method

Peel, core and chop apples finely. Fry breadcrumbs in 1oz of the butter then add to apples, sultanas, sesame seeds, cooked rice, cinnamon and demerara sugar and mix well.

Take phyllo sheets and cut into half width wise making them into a smaller rectangle. Melt the remaining butter and brush sheets building them and brushing each layer with butter until there are four sheets on top of each other.

Divide the apple mixture into four and spoon it down the centre of each rectangle and spread it all over the dough leaving a margin of ½" on all sides. Carefully fold over the two long edges and one of the short ones. Roll the dough up like a swiss roll, enclosing the filling as you do so. Seal the edge with a little water. Roll each sausage onto a sheet of non-stick baking parchment and transfer all on to a baking sheet.

Brush the strudels with the remaining melted butter and bake in centre of pre-heated open for 30 – 35 minutes until golden brown. Cool for 5 minutes, then dust generously with sieved icing sugar and cut each strudel into thin slices and serve with double cream.


ENDS
For further information, samples or images, please call Sara Stewart on 01684 893347 or email sara@madasamarchhare.com


About Yutaka – Good Food Made Japan-easy

Yutaka means 'good harvest' in Japanese and that's exactly the aim of the company: to create authentic Japanese food products made in the traditional way. Their ethos ensures their products are of the highest quality and feature a lot less additives compared with other brands on the market.

Tazaki Foods, the name behind the Yutaka brand, was the pioneer of Japanese food in the UK and was responsible for opening the very first Japanese restaurant in the country some 35 years ago.

Since then, the company has become the leading supplier to the Japanese restaurants, hospitality industries and food manufacturers in the UK.

It also offers a fast-growing range of ingredients allowing people to make traditional Japanese food at home such as sushi, sauces, soups, rice, noodles and "easy to use" meal kits. Having been the first in the market, the brand continues to be the leading authentic Japanese range in 16 countries across Europe and the Middle East.
This press release was distributed by ResponseSource Press Release Wire on behalf of Yutaka in the following categories: Women's Interest & Beauty, Food & Drink, Travel, for more information visit https://pressreleasewire.responsesource.com/about.