Moppy, the Evolution of Steam Cleaning by Polti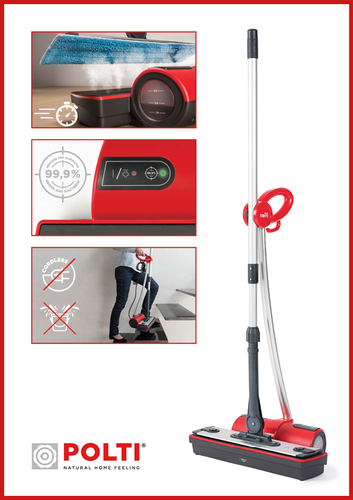 MOPPY cleans and sanitises all kinds of hard floors and vertical surfaces, harnessing the power of hot steam without the need for detergents.
Milan, 20th June 2017 – Polti the leading Italian small household appliances brand, focussed on the evolution of technology and cleaning innovation, is proud to present a completely new concept for floor & surface cleaning: MOPPY, combining the effectiveness of steam and the ease of cordless.

Designed and assembled in Italy, MOPPY is created to change the way we take care of our homes. Immediate, practical and quick MOPPY cleans and sanitises all kinds of hard floors and vertical surfaces, harnessing the power of hot steam without the need for detergents.

MOPPY is specifically designed to be immediate and practical, consisting of; an ultralight cordless aluminium anodised mop (only 0.5kg) and a steam charging base equipped with 0.7 litre continuous-refill tank. The tank is simply filled with tap water and is ready to generate steam to clean and sanitise surfaces, without streaks, in just 10 seconds.

MOPPY is eco-friendly, lightweight and fast, but also offers dual functionality, in addition to steam cleaning, MOPPY can be fitted with an electrostatic cloth for dusting. The adjustable handle and pivoting head make steaming or dusting easy even in hard to reach areas, leaving your home fresh and free of dirt and bacteria, an effective and practical part of a daily cleaning routine.

The patent1 awarded to MOPPY is proof of the true innovation in this Italian made technology - a floor cleaning system, able to remove 99.9% of dirt and bacteria* from surfaces even at the first pass. Laboratory tests certify the dual efficiency of MOPPY in removing 99.9% of germs and bacteria* from the surfaces and eliminating them when the cordless mop is returned to the charging base, ensuring cross-contamination is not an issue.

MOPPY includes two microfiber cloths which boast a high absorption rate, for maximum steam cleaning efficiency, and two dust-catching electrostatic cloths. MOPPY will leave any home sparkling as users wash and sanitise floors in one pass with streak free finishes and remove dust and dirt in seconds.

MOPPY is an effective, efficient and effortless cleaning system which will replace a myriad of cleaning products and chemicals in the home, delivering more hygienic results while also saving time.
-End-

Price & Availability
MOPPY is priced at £129.00.
MOPPY is available from www.polti.co.uk and selected retailers.

MOPPY Key Product Specification
• Cleans and sanitizes with the hot steam-charged cloth
• Removes and eliminates 99.9% of germs and bacteria
• Cleans without detergents, just tap water
• For all types of floors and vertical surfaces (doors, cupboard doors, tiles)
• Dust-catching function with electrostatic cloths
• Surfaces dry immediately with no streaks
• Ready to start cleaning in 10 seconds
• 0.7 litre tank, cleans up to 250sqm between refills
• Keeps hands dry and clean, no need for gloves and wet cloths.
• No need for heavy bucket, no splashing water
• Cordless mop in anodized aluminium with telescopic handle
• Large cleaning surface: 39x9 cm plate
• Four Accessories included:
• Two machine washable microfiber cloths
• Two electrostatic dust-catching cloths
• Made in Italy


Press Contact:

James Royston
Marketing Director
jroyston@newdawninnovations.co.uk
Tel:- 01420 592 499

*Full Photography & Review Samples Available on Request*

About Polti
Polti, an Italian Company, has operated for over 35 years manufacturing small household appliances.
It was created in the late 1970s, when Franco Polti invented the first iron with a boiler for domestic use, Vaporella.

Polti is a true Italian success story and still produces most of its products locally, at Bulgarograsso, in the province of Como, where both the headquarters and production are located. Staying close to home is not just an emotional decision for Polti, it's part of a commitment to social and environmental responsibility.

Attention to the environment is a deeply rooted value and influences the whole Polti product life cycle, including the sourcing of eco-sustainable materials. This value translates into continuous investments in R & D and represents a real competitive advantage.

The Company operates with its subsidiaries in France, Germany, Spain, Portugal, the UK and the United States. Its products are available in over 50 countries.

Polti has become the benchmark in the steam and iron cleaning markets: historical brands like Vaporetto and Vaporella, which are relied on by users all around the world to give their houses a "Natural Home Feeling".

In recent years, Polti has strengthened its presence in the vacuum cleaner market with its Forzaspira and Unico brands. Unico is the innovative multifunctional vacuum cleaner that vacuums, steam cleans and dries, giving birth to a new home cleaning concept.
This press release was distributed by ResponseSource Press Release Wire on behalf of New Dawn Innovations Ltd in the following categories: Home & Garden, Women's Interest & Beauty, Consumer Technology, for more information visit https://pressreleasewire.responsesource.com/about.