British festivals are utter rubbish!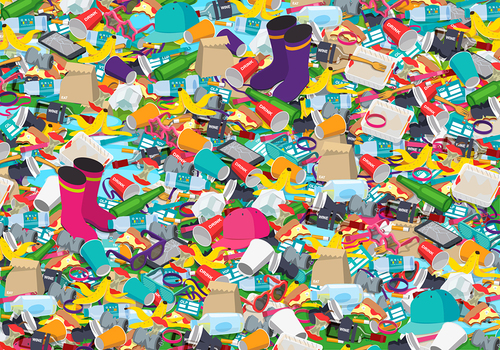 This infuriating-fun visual brain-teaser took the average person over a minute to solve! How quickly can you find the VIP lanyard, in the TRASH?

*Answer image available upon request!

The UK's biggest FESTIVALS churn out over 1,600 TONNES of RUBBISH!

Let's put that into perspective... That's as HEAVY as:

2500 COWS
OR
250 T-REX
OR
200 ELEPHANTS
OR
20 SPACE SHUTTLES
OR
15 BLUE WHALES
OR
2 + 1/2 STATUES OF CHRIST THE REDEEMER (located in Rio de Janerio)

------------------------------------------------------------------------------

June 2017 - An 800-strong clean-up crew descended on the Glastonbury site following the exit of 200,000 revellers, to tackle around 1,650 tonnes of waste - the most extensive cleanup effort in history!

This 1,650 tonnes of waste include:
- 5,000 abandoned tents
- 6,500 sleeping bags
- 400 gazebos
- 54 tonnes of cans and plastic bottles
- 41 tonnes of cardboard
- 66 tonnes of scrap metal
- 3,500 airbeds
- 2,200 chairs
- 950 rolled mats

------------------------------------------------------------------------------

BUT IT DOESN'T NEED TO BE THIS WAY:

For CAMPERS & ATTENDEES, why not consider the following:

- Only pack what is absolutely essential - Remember to only take the bare minimum
- Take home the tent - clean it up and save it for another festival, recycle it or donate to a homeless or refugee charity.
- Put your rubbish in bins and recycle points
- Bring reusable cutlery, crockery and cups
- Share transport or use public transport

FOOD & DRINK PROVIDERS can support the environment through:

- Use biodegradable cups and food containers
- Implement recycling rewards for customers e.g. half price drink in exchange for 20 recycled cups
- Bring compost bins and recycling facilities

------------------------------------------------------------------------------

READING & LEEDS FESTIVAL

With the upcoming Reading and Leeds festivals finishing off this summer of music, we're encouraging both attendees and merchants to actively consider their impact on the environment, by making small changes. Together we can all make a big change.

-ENDS-

Only Lanyards provide lanyards to some of the best, biggest and attended festivals in the world.

Offering eco-friendly options when it comes to promotional lanyard options. We strive to offer a recycled material, eco-friendly option when it comes to choosing promotional products and lanyards for events, festivals and functions.

"Our latest asset aims to raise awareness of the sheer scale of rubbish left after festivals. With just a little effort, we can make help keep the environment clean and through donating tents and bedding items, we can potentially help people less fortunate!"

Only Lanyards are a Yorkshire based lanyard provider who produces and provide lanyards for some of the world's biggest and best sports events, concerts, festivals and conferences. Only Lanyards print custom lanyards to suit your design and specification, to provide a product that is perfectly suited to your needs.

Visit: www.onlylanyards.co.uk

For more information, please contact: press@wearelittle.agency or alternatively call us on: 0113 828 0000
This press release was distributed by ResponseSource Press Release Wire on behalf of LITTLE in the following categories: Children & Teenagers, Men's Interest, Entertainment & Arts, Leisure & Hobbies, Women's Interest & Beauty, Environment & Nature, Consumer Technology, Food & Drink, Travel, Retail & Fashion, for more information visit https://pressreleasewire.responsesource.com/about.