Meet evaSMART: the intelligent new personal air conditioner from Evapolar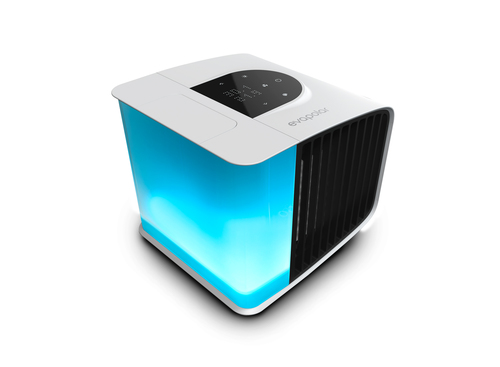 Personal tech is taking the world by storm. Here at Evapolar we're proud to be pioneering the rise of the personal microclimate.
*New personal air conditioner uses smart technology to create your own microclimate*

Whether it is working in an office or sleeping at night, we all have different preferences when it comes to our desired levels of warmth. Now, you can create your own microclimate thanks to the new intelligent personal air conditioner from Evapolar – the evaSMART™ EV-3000.

Maintaining the innovative air cooling features that saw evaLIGHT™ EV-1000 surge in popularity across the globe, evaSMART introduces connected home functionality and the ability to integrate Amazon Alexa. In future software updates it will also be able to link to Google Home, Apple Home Kit and Samsung Smarter Things.

Available to purchase in the UK for 306 Euros (272 pounds sterling) direct from the Evapolar website, evaSMART has been designed with users of Evapolar's personal cooling products in mind. By listening to their feedback, evaSMART's feature set gives the user more control of their device and its cooling capabilities, allowing them to create their own comfort zone (up to four square metres in size).

Eugene Dubovoy, co-founder and CEO, Evapolar, commented: "Personal tech is taking the world by storm. Here at Evapolar we're proud to be pioneering the rise of the personal microclimate. Whether you're working in a hot stuffy office, trying to get to sleep at night or simply going about your day at home, it's a fact that we as humans are unique when it comes to how warm or cool we like to be. It can even sometimes cause friction between colleagues or family members! We hope that the new evaSMART device from Evapolar will help solve these problems once and for all."

evaSMART's powerful cooling effect wouldn't be possible without its unique patented mineral nanomaterial EvaBreeze™ which is used in its cartridges. By using this material instead of traditional cellulose pads, evaSMART's evaporative pads absorb one hundred times more water than the materials used within conventional evaporative air coolers available today. This in turn enables a much higher level of cooling power compared with bulky evaporative air conditioning systems - and all contained within a small, portable unit.

Founded in 2015, Evapolar was created to disrupt the AC industry. By focusing on cooling the individual rather than a whole room or area, Evapolar recognised the huge savings that could be made on energy and money by creating microclimates. Evapolar's products are now cooling people in 125 countries around the world.

evaSMART is available to purchase in the UK for 306 Euros (272 pounds sterling) from the Evapolar website - www.evapolar.com. Shipping worldwide is available. Evapolar continues to grow its footprint across the globe, building on its channel ecosystem and strategic network of partners.

ENDS

MEDIA CONTACTS: Emma Gardner and Verity Clarke 07557659827 / 07708963533 emma@weareaubergine.com /
verity@weareaubergnine.com

Notes to editors
We are a team of researchers, engineers and designers who created Evapolar and challenged AC industry by raising the question: Is it really necessary to cool the whole room, wasting large amounts of energy and money and inhaling unhealthy air just to cool yourself, or is it better to have your own personal cool zone exactly where you need it?

Today, individuals from 125 countries have their own Evapolar Air Conditioners. We are moving forward to spread the idea of a Personal Microclimate around the world and to make everyone's life a little easier and cooler with the help of personal air conditioners by Evapolar.

Evapolar's features include:

• AIR - 3-in-1: evaSMART cools, humidifies and purifies the air around the individual
• SMART - supports integrations with connected home systems. At launch Amazon Alexa will be integrated, and in future software updates Google Home, Samsung Smart Things and Apple Home Kit will be added
• CONTROL - through its dedicated mobile app, users can control cooling and airflow settings from their smartphones or tablets
• EFFICIENT & ECO FRIENDLY - no toxic Freon-like liquid and uses only 12W of electricity to provide up to 400W of cooling power and 100EER
• CARTRIDGE – three to six months' life. In-built smart chip indicates how much of the cartridge has been used and sends reminders for when it needs changing
• TANK - larger water tank means evaSMART can last 6-8 hours before needing to be refilled. It means you can stay cool during your work day or whilst asleep during the night with no need to refill
DESIGN - Slick and stylish design making it perfect for the home or office. Available in multiple colours too - Opaque White, Coal Black and Stormy Grey. The device's LED lighting means users can change the look to match their home or office interior design
This press release was distributed by ResponseSource Press Release Wire on behalf of Evapolar in the following categories: Men's Interest, Health, Leisure & Hobbies, Home & Garden, Women's Interest & Beauty, Consumer Technology, Food & Drink, for more information visit https://pressreleasewire.responsesource.com/about.