Safer, Greener Peugeots Available With Scrappage Discounts Of Up To £7,000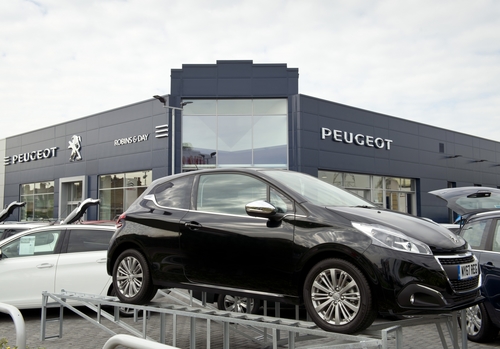 All vehicles traded in under the scheme will be scrapped to help remove less safe, higher polluting vehicles from the roads.
Peugeot is offering motorists the opportunity to swap their car or van for a safer, greener new Peugeot at a generous discount ranging between £1,750 and £7,000 across the range.

All petrol and diesel-powered passenger cars and vans registered before 31st December 2010 are eligible for the scrappage discount, which can be redeemed against any Peugeot from the 108 supermini to the award-winning all-new 3008 SUV and the Boxer Van.

The initiative means motorists will be able to upgrade to vehicles with the latest safety features and preventative technology – such as Peugeot's autonomous Active City Brake system, lane departure warnings, adaptive cruise control and intelligent speed limit recognition.

All vehicles traded in under the scheme will be scrapped to help remove less safe, higher polluting vehicles from the roads.

Summary of Peugeot Scrappage Scheme allowances (Euro 6 petrol and diesel models);

Passenger Cars

Peugeot Model Purchased Scrappage Allowance (Incl. VAT)

108 - £1,750
208 - £2,750
2008 SUV - £2,750
New 308 petrol - £2,750
New 308 diesel - £3,750
All-New 3008 SUV petrol - £2,000
All-New 3008 SUV diesel - £2,500
508 - £6,000
Partner Tepee - £2,500

Commercial Vehicles

Peugeot Model Purchased Scrappage Allowance (Excl. VAT)
Bipper Panel Van - £3,000 +VAT
Partner Panel Van - £5,000 +VAT
Expert Panel Van - £5,500 +VAT
Boxer 330 - £6,000 +VAT
Boxer 333/335/435/440 - £7,000 +VAT

David Peel, Managing Director at Peugeot UK commented: "The announcement of a Peugeot scrappage scheme will put a new car within reach of many motorists driving older cars and we are confident that this enticing offer will help put safer, greener cars on the road.

"Taking into account the exponential growth in safety and connectivity technology that's taken place over the last couple of years, motorists are now in a better position than ever to buy a car that is not only a pleasure to drive and be in, but also protects occupants while on the move.

"Environmentally, Peugeot cars are at the top of the class with award-winning PureTech petrol and BlueHDi diesel engines that use technology to reduce the impact of driving on the planet while offering strong levels of performance and competitive running costs. On this basis, it's a great time to upgrade."

The Peugeot scrappage scheme commences on Friday 8th September at Peugeot Dealers.

ENDS

Terms & Conditions apply visit www.peugeot.co.uk for more details

Peugeot

Since 1810 Peugeot has been producing durable products of excellence, since 1858 all are branded with the Lion logo – chosen to demonstrate strength, suppleness and swiftness to personify the durability of its products. As one of the earliest automotive producers, the Peugeot brand can trace its roots back to 1889 when it began producing automobiles and since then over 65 million vehicles have been produced, advancing technology with style and efficiency to enhance the customer experience. Demonstrated through its Brand signature 'Motion & Emotion', Peugeot is present in 160 countries, has 10,000 franchised Dealerships and is recognised the world over for the quality and design excellence of its products.

Peugeot UK

The UK is the third largest market for Peugeot with its UK Headquarters located in Coventry. The UK car line-up includes the 108, 208, 308, 508, 2008 SUV, 3008 SUV and 5008 SUV supplemented by people-carriers and a four-model van range that includes the Bipper, Partner, Expert and Boxer. The standard car and van line-up is supported by Electric Vehicles. The range includes the iOn and the Electric version of their most popular small van, the Partner Electric.

If you would like to keep up to date with the Peugeot UK Press Department activity and be the first to see what exciting new projects we are launching, please follow us on Twitter and Instagram:

www.twitter.com/PeugeotUKPR / www.instagram.com/PeugeotUKPR
This press release was distributed by ResponseSource Press Release Wire on behalf of Clickthrough Marketing Ltd in the following categories: Motoring, Personal Finance, Manufacturing, Engineering & Energy, for more information visit https://pressreleasewire.responsesource.com/about.