TellTails wins Deborah Meadon over on Dragons Den last night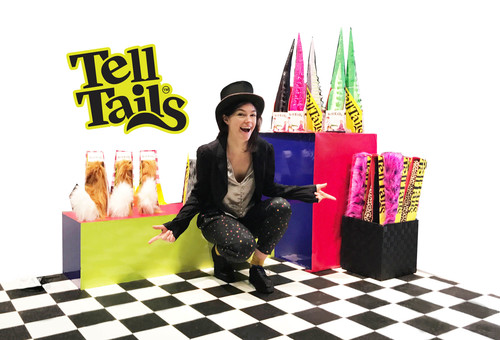 Dragons Den:
TellTails mischief takes over the den.

Last Sunday October 8th viewers sat gasping as entrepreneur Hannah Gourlay delivered an extraordinary pitch with her business of costume tails in attempt to win investment from the panel of Dragons.

TellTails were intent on making a scene and promoting every viewer at home to 'Claim back their tails - Tails which have been so mercilessly robbed from us through evolution.'

Budding entrepreneur, Hannah Gourlay from Hackney had just three minutes to win them over.

As TellTails entered the Den, the judges jaws dropped as three creatures prowled onstage; one sporting a fox tail, a swooshing dinosaur and a rather pregnant naughty squirrel, flaunting their tails and wiggling their bottoms at the judges.

Following was young entrepreneur from Hannah dressed in a top hat, monkey tail and a rather mischievous smile from ear to ear.

After what can only be described as an unusual pitch, she invited the dragons to 'try one on for themselves'.

Peter Jones was the first to leap to his feet and try on a dinosaur tail whilst Deborah Meadon quickly laid claim to the fox tail.

The dragons remained in their tails for the rest of the pitch, leaving viewers blinking at the television…Had the whole show gone berserk?!

As the lights went down the atmosphere turned to money.

Although clearly enamoured with the idea the judges scrutinised the young entrepreneur before delivering their verdict.

An intense silence.

Three dragons revealed offers.

New dragons Tej Lalvani and Touker Suleymn joined forces in their bid whilst Deborah came with a bid of her own.

Overwhelmed and clearly bouncing inside, Hannah held a cool exterior quizzing the judges on their offers.

With such attractive, whilst very different offers, tension built as Hannah consulted the wall not once, not twice but three times.

'It was totally surreal; this is everything I'd been dreaming of. But I knew who I wanted to join with'

After returning, Hannah accepted Deborah Meadon's offer.

'Deborah had that knowing glint in her eye. She instantly bonded with her tail. I could see she shared our vision to grow the company into a successful, long standing, global business,'

Fox Deborah and Monkey Hannah sealed the deal with a knowing embrace as Hannah bounced off stage.

A huge turning point for Hannah Gourlay, for TellTails and for the tail revolution!

Well done Hannah. What's next?

ABOUT TELLTAILS

Founded in 2012 by acclaimed British artist Hannah Gourlay, TellTails design and supply an extensive range of creature tails.

In just two years the toy start-up reached cult status in England among kids and adults alike at music festivals – selling out in record time last year.

TellTails now boasts a worldwide customer base including celebrity "wagglers" such as Kate Winslet, Prince Harry, Helena Bonham-Carter and Russell Brand.

For media enquiries please contact:

rhyannon@telltails.co.uk
+447501 845 412

Twitter: @telltails2012
Facebook: facebook.com/Telltails
Instagram : @telltails_hq

VISIT WWW.TELLTAILS.CO.UK AND JOIN THE WAGGLING REVOLUTION!
This press release was distributed by ResponseSource Press Release Wire on behalf of TellTails in the following categories: Children & Teenagers, Entertainment & Arts, Leisure & Hobbies, Home & Garden, Women's Interest & Beauty, Environment & Nature, Food & Drink, Business & Finance, Media & Marketing, Retail & Fashion, for more information visit https://pressreleasewire.responsesource.com/about.