Arkivum PERPETUA Brings Enterprise-Class GDPR Support to Higher Education, Memory Institutions and Local Authorities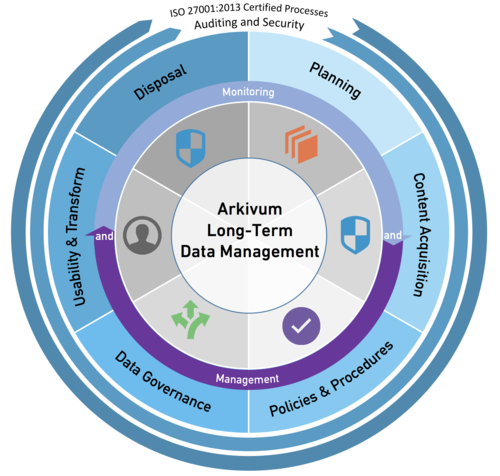 the ACM delivers assurance that personal data under an organizations' control is safe, secure and GDPR compliant.
Arkivum launches a compliance module, part of its Arkivum PERPETUA solution, enabling the higher education, memory institutions and local authority markets to meet the GDPR regulation for personal data governance in a cost-effective way.

LONDON – November 8, 2017 – Arkivum Ltd, a leading provider of compliance-driven, long-term data safeguarding, preservation and usability solutions, today announced the availability of its compliance module as part of Arkivum PERPETUA, designed to help organizations worldwide meet the stringent data privacy rules of GDPR (General Data Protection Regulation) that will take full effect from May 25, 2018.

The Arkivum Compliance Module (ACM) provides
flexible record management capabilities such as retention management, secure removal of data, evidence-ready data exports, comprehensive audit trails, chain of custody, data encryption and data sovereignty.

Arkivum PERPETUA ensures that both Data Controllers and Data Processors adhere to GDPR regulatory requirements pertaining to long-term data management with tools that help organizations track and manage consent as well as comply with Data Subject's rights, such as "right to be forgotten", "right to portability" and "right to access", etc. Providing total control of the location of the data at all times, coupled with end-to-end encryption and the Arkivum 100% data integrity guarantee, the ACM delivers assurance that personal data under an organizations' control is safe, secure and GDPR compliant.

Sinéad McKeown, VP Product Management at Arkivum: "We are excited to announce the availability of the Arkivum Compliance Module as part of Arkivum PERPETUA. GDPR brings significant changes in processes, technology and required attention to the way personal data is processed, preserved and archived. With Arkivum PERPETUA, these tasks are built-in."

Ms McKeown continues "The need to adhere to GDPR does not stop in the European Union. We see increasing demand coming from organizations around the world concerned with GDPR when it comes to student records, European funded research data and European data subject's documents, digital assets and records."

Arkivum PERPETUAis a leading end-to-end digital preservation and archival secure safeguarding solution designed from the ground up to address the unique requirements and challenges of the heritage, libraries and higher education markets. Arkivum PERPETUA is a modular solution which enables organizations to select the functionality suitable with its current needs, and add others as requirements evolve. Arkivum PERPETUA uses open standards and sector-adapted open source components to optimize sector workflows and usability.

The compliance module is currently in use in selected organizations worldwide, and will be generally available on December 20, 2017.

About Arkivum

Arkivum is a leading provider of compliance-driven, long-term data safeguarding and usability solutions serving regulated, data intensive markets worldwide. Arkivum's solution helps organizations safeguard and preserve their most valuable digital content to the highest level, adhere to intensified regulation of digital records management, economically cope with increasing data volumes and make archived data usable and accessible.

Arkivum provides a safe, secure, compliant and accessible digital archiving solution for any type of data, structured and unstructured, with a unique 100% data integrity guarantee and a built-in escrow service. The Arkivum solution brings archived data to life by enabling users to explore the vast, usually untapped value of their archived repository. Since 2012 Arkivum has been serving more than 120 clients worldwide across industries and is certified for ISO 27001.

For more information please visit www.arkivum.com

Contact:
Paula Keogh
Arkivum Sector Manager
paula.keogh@arkivum.com
+44 1249 405060
This press release was distributed by ResponseSource Press Release Wire on behalf of Arkivum in the following categories: Education & Human Resources, Public Sector, Third Sector & Legal, Computing & Telecoms, for more information visit https://pressreleasewire.responsesource.com/about.