Yorkshire brick building firm wins national apprentice award as labour shortage grows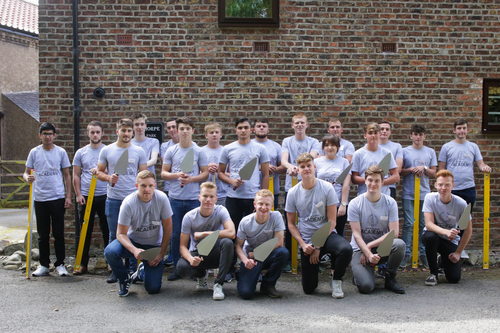 'The government wants more homes to be built, but there simply aren't enough bricklayers to get the work done.
21 November 2017, York – Mitchell & Urwin Stone & Brickwork, a family-run Yorkshire-based building company working for the UK's largest house builders, has beaten over 4,000 other construction businesses across the UK to win the CITB Apprentice SME Employer Award 2017.

The award, presented by BBC's Steph McGovern in London on November 9th, recognises the exceptional efforts the company has made in recruiting and training fresh talent into the building profession to help plug the skills gap.

Mitchell & Urwin has invested significantly in its Apprentice Academy by taking on 49 apprentices in the last three years. This means 25% of its bricklaying workforce are apprentices, while 10% of the site workforce act as mentors to the young recruits after receiving CITB training on how on to coach and inspire young people. The company has appointed an Academy HR Manager to oversee the programme and it recently recruited its first female bricklaying apprentice, unusual in an industry where 99% of the workforce is male.

Founder Richard Urwin, who started out as a bricklayer aged 17, felt that something had to be done to ensure there are enough well trained bricklayers to meet the growing industry demand.

'The government wants more homes to be built, but there simply aren't enough bricklayers to get the work done. The construction industry has an aging workforce and many young people are put off by the stigma of pursuing a trade, instead of going to university,' Richard explains.

'We set up our Apprentice Academy because we're passionate about the industry and want to give something back. Very few companies are doing enough to fill this skills gap. Bricklaying is a career that requires vocational training and on site experience. Our structured four-year programme provides both, plus daily mentoring and a good wage. And they don't have to stop at bricklaying. Our Academy will support them grow into site management or construction management. If they have the ambition, the world is their oyster.'

Richard believes that the industry should be doing more to encourage apprentices into the trade and that more government-funded grants should be available to companies who are trying to reduce the skills shortage.

'We are getting some financial help from CITB grants and from our clients and we'll be looking to expand on this. We'd like to see similar commitment from others in the industry. We're really proud of what the team has achieved to date and intend to grow the programme, employing local labour, to build local homes, for local communities,' he says.

The success of Mitchell & Urwin's Apprentice Academy came to the CITB's attention after one of its representatives visited a construction site in Hull. Two of the apprentices raved about the support they were receiving from the company. As a result, Mitchell & Urwin was one of just 25 shortlisted companies from across Great Britain put forward for consideration for the award.

Sarah Beale, Chief Executive of CITB said: "Huge congratulations to Mitchell and Urwin, who I had the pleasure of meeting, on their win! They are a great example of an employer that's really developing their skills fit for a modern construction industry, and we are proud to support them. The industry needs more talented people joining so that they can help meet industry's skills needs and build a better Britain. There are fantastic opportunities in the sector and employers like Mitchell and Urwin will be first in line, ready to take full advantage."

To find out more about the Mitchell & Urwin Apprentice Academy go to www.mitchellandurwin.com/training

- ENDS -

Additional information for editors
The M&U Apprentice programme includes:

• up to a four-year apprentice framework
• on-site bricklaying experience while attending college on a day or block release programme
• apprentices can join straight from school, midway through college or once their course is completed
• they are paired with an apprentice partner – their first two-and-one gang
• they have a dedicated mentor who will work side by side with them for unparalleled levels of continuity and support
• Branded work clothing and tools of the trade
• Ongoing group training sessions covering issues like safety
• Weekly wages based on minimum wage for their age
• The offer of a permanent role with Mitchell & Urwin or at a client
• The opportunity to fulfil their ambition to become a site manager, quantity surveyor or architect for those who show the aptitude

What is needed to become an M&U bricklayer apprentice:
• you love to work outdoors
• you like to see the results of your hard work at the end of each day
• you want each day to be different
• you like to feel pride in the work you do
• you're driven, committed and passionate
• you're a team player with good communication skills
• you have achieved A to C grades in English and Maths
• you want to have great earning potential
• you potentially want a stepping stone into a bigger role in the building industry
• working 39 hours a week
• you live in Yorkshire (all of our build sites are in Yorkshire)

About Mitchell & Urwin
Mitchell & Urwin was founded in 1996 by Richard Urwin and his then partner Adrian Mitchell, who left the business in 2003. Richard started life as a bricklayer aged 17 and has gone on to build Yorkshire's most successful family-run brick building company, serving the UK's leading housebuilders. It has its own specialist stone and brickyard where it makes products that are shipped nationwide. Richard now runs the business with his wife Susan, with a core team of employees and an extensive network of dedicated on site sub-contractors. Go to www.mitchellandurwin.com for more information.

Construction Industry Training Board
CITB is the Industrial Training Board (ITB) for the construction industry in Great Britain (Scotland, England and Wales). CITB uses its research and labour market intelligence to understand the sector's skills needs, and works with industry and government to make sure construction has the right skills, now and for the future.
consturc
CITB is modernising its funding approach to invest in areas that will deliver the best returns for industry, and enable the sector to attract and train talented people to build a better Britain.

For more information, images or interviews, please contact:
Melissa Talago
Campfire Communications
07944914917
Melissa@campfirecommunications.co.uk
This press release was distributed by ResponseSource Press Release Wire on behalf of Campfire Communications in the following categories: Business & Finance, Education & Human Resources, Construction & Property, for more information visit https://pressreleasewire.responsesource.com/about.