Business Leaders offer 900 hours of mentoring for student and graduate engineers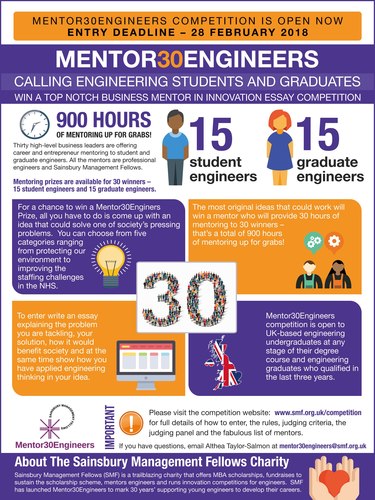 The 30 mentors include leaders from the Carbon Trust; Amazon Business UK; INSEAD; Laing O'Rourke, Honeywell Aerospace and RICS.
Engineers in Business Fellowship/Sainsbury Management Fellows

Engineering students and graduates can win a business leader as a mentor by developing stand-out ideas to solve some of the toughest problems in society.

Thirty business leaders have volunteered to be mentors in the new innovation competition, Mentor30Engineers. The 30 mentors include leaders from the Carbon Trust; Amazon Business UK; INSEAD; Laing O'Rourke, Honeywell Aerospace and RICS.

Mentor30Engineers has been set up by charity Engineers in Business Fellowship, the charity that awards the Sainsbury Management Fellows MBA scholarship which allows engineers to complement their engineering skills with a business education.

Mentor30Engineers is designed to inspire a passion for business innovation and education.

SMF President David Falzani MBE said: "Some of the most important issues we face are not just technical challenges, but ones that require the ability to link technologies to an understanding of the market mechanism, business skills and entrepreneurial commercial thinking. Mentor30Engineers gives engineers a chance to stretch their fertile minds and create solutions to big challenges in society."

Entering Mentor30Engineers

The competition is open to UK-based students and graduates from any engineering discipline and undergrads can be at any stage in their degree course. Full entry details are available on the EIBF/SMF website or entrants can contact the organisers at mentor30engineers@smf.org.uk.

Entrants select one problem from five areas - Healthcare, Environment, Social Care, Finance and Corporate Tax – develop and then describe their innovation in an essay. The entry deadline is 28 February 2018.

The judges are looking for originality, the feasibility of the ideas and evidence of engineering skill in the ideas. Entrants with the best ideas will win a leading business mentor - all were recipients of a Sainsbury Management Fellows MBA scholarship award. Each mentor will provide 30 hours of mentoring, supporting students throughout their degree period or through the early stages of their career.

The Judges

The judging panel comprises Sainsbury Management Fellows including President, David Falzani MBE, CEO of Polaris Associates and an honorary professor at Nottingham University Business School; James Raby, a venture capitalist; Cathy Breeze, SMF Director of Communications and entrepreneur Dr Robin Jones, a partner at Endeavit.
 
Completing the judging panel is Chris Earnshaw OBE FREng, Chairman of the RAEng Steering Committee for SMF who said, "The Mentor30Engineers initiative provides access to an amazing range of expertise and experience from people who have themselves been successful in business. It is also a great example of how those who have benefitted from SMF Awards are able to widen the impact of the scheme by reaching out to the next generation of engineering leaders who have a passion to address some of the major challenges facing society today".

Ends

NOTE TO EDITORS

Prizes / The Mentors:

The winners of Mentor30Engineers will also attend a prestigious Annual Dinner in May at which Lord Sainsbury, founder of the SMF Scholarship Award, will be the keynote speaker.

1. Nikhil Amin, Head of Amazon Business UK (Marketplace)
2. Alpesh Amin, Investment Director, Atlantic Bridge Capital
3. Michael Astell, Director, Furness Petroleum
4. Busola Banjo, CEO Programme Associate, Siemens
5. John Barton-Bridges, CEO, Jonah Capital
6. Adam Bazire, Director, RAMSO Services
7. John Blackett, Leader of Value Engineering Programme, Philips
8. Simon Bolton, Group Chief Operating Officer, Waterlogic International
9. Simon Bonini, Consultant
10. Simon Brod, Head of Origination, Vattenfall Energy Trading
11. Tom Delay, CEO, The Carbon Trust
12. Andrew Doe, Managing Director, Gizme
13. Simon Fowles, Strategy, Group Customer Experience, BT
14. Robert Gill, Consultant, Advisian
15. Dr Conor Hanley, CEO, BiancaMed
16. Graham Hastie, Assistant Dean, Degree Programmes, INSEAD
17. Kyle Henderson, Business Development Director, Honeywell Aerospace
18. Simon Hughes, Chief Commercial Officer, Green Energy Options
19. Shaun Kenny, Performance and Growth Manager for Central Graben, Total
20. Nick Laird, Principal, Laird Growth Catalysts
21. Adam Locke, Consultancy Partnership Leader, Laing O'Rourke
22. Dr Evaristus Mainsah, General Manager Client Financing, IBM
23. William Myles, Regional Managing Director – Asia Pacific, RICS
24. David Parkin, Director, Safety and Network Strategy, Cadent Gas
25. Dr Ernest Poku, Asset Manager, Ophir Energy
26. Philip Price, Business Support Manager, Be Living Limited
27. Hersh Shah, M&A Director, Process Safety, Halma
28. Nicholas Sullivan, Co-founder, Heritage Independent Living
29. Henning von Spreckelsen, Chairman, Shere Investment
30. Peter Young, Director Advanced Technology & Research, Arup

About SMF
The charity, Engineers in Business Fellowship runs the Sainsbury Management Fellows scholarship and annually awards £300,000 in scholarships to engineers to allow them to study for an MBA at the top international business schools.

Contact:
Althea Taylor-Salmon
Fortune PR
althea@fortunepr.co.uk
01992 551 335
07711 624 267
This press release was distributed by ResponseSource Press Release Wire on behalf of Fortune PR in the following categories: Business & Finance, Education & Human Resources, Manufacturing, Engineering & Energy, for more information visit https://pressreleasewire.responsesource.com/about.